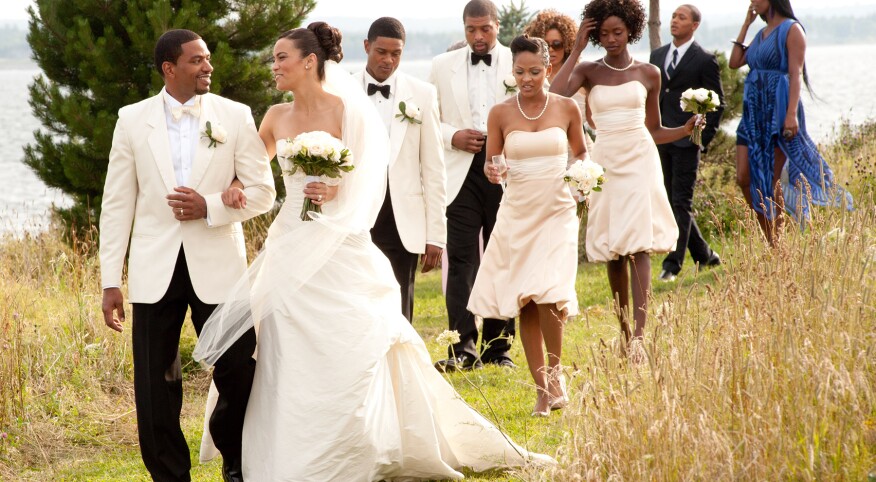 June is typically the time when calendars are booked with wedding plans or wedding invitations. Unfortunately, the global coronavirus pandemic has prompted many couples to postpone or cancel their plans for an elaborate or destination wedding, while others have decided to scale down their ceremonies, in compliance with the Centers for Disease Control and Prevention and state guidelines that restrict large gatherings, and to say their "I dos" in front of a small group of family and friends (wearing fly face covers, of course). Going a socially distancing step further, some brides will opt to wed privately and share their exchange of vows virtually.

But don't let the wedding bell blues get you down. Complete with family bickering, tears of joy, laughter and lots of dancing, the bliss (and stress) of a traditional wedding day are still yours to experience on screen. To put you in a sentimental mood, grab a box of tissues, raise a glass of bubbly and get ready to celebrate Black love with this roundup of 10 unforgettable wedding moments.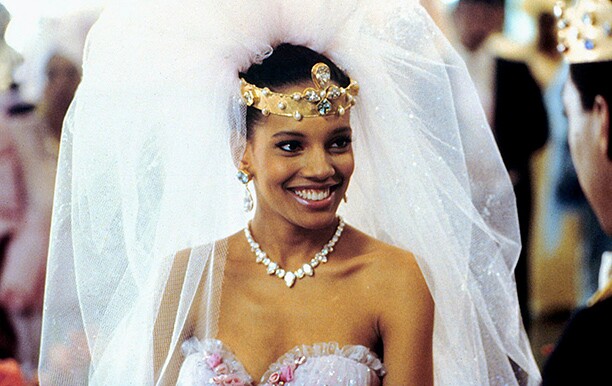 1. Coming to America (1988)

Who can forget the host of comical characters — many portrayed by chameleon Eddie Murphy — in this comedy classic about an African prince's quest to avoid an arranged marriage and find his own queen. After an over-the-top, African dancers-led, pre-wedding presentation of his parents' approved "queen to be" (Vanessa Bell Calloway), the film's hopeless romantic payoff comes in the fairy-tale royal wedding finale, where Prince Akeem lifts the veil and is surprised to see his blushing American bride, Lisa McDowell (Shari Headley). Streaming on Amazon.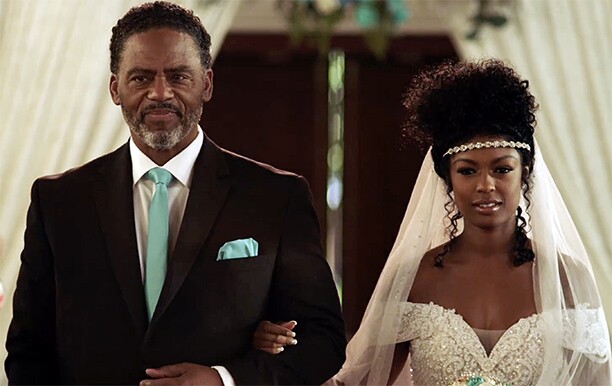 2. Always a Bridesmaid (2019)

Millennial single lady Corina (Javicia Leslie) reenters the dating scene with hopes to break her "always a bridesmaid" streak. Fittingly, she meets Mr. Right (Jordan Calloway) at a girlfriend's wedding, but Corina isn't ready to make a commitment until she can let her guard down and open her heart. In a touching scene with her father (Richard Lawson) before she walks down the aisle, Corina confesses, "I have learned that we have a choice, that we can choose love. I have learned that I can choose a happy ending." Streaming now on Netflix.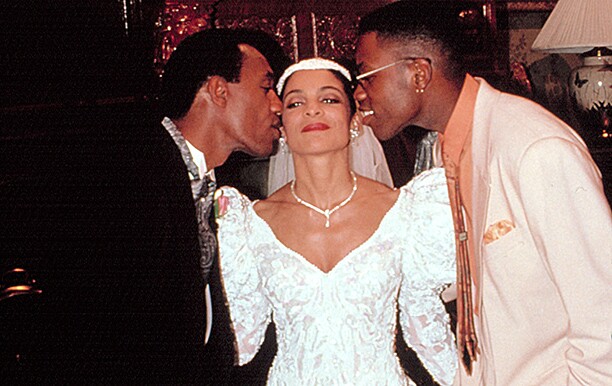 3. A Different World (1992)

Gen Xers grew up watching this must-see TV spinoff of The Cosby Show. And we collectively swooned during the Season 5 episode when Dwayne Wayne (Kadeem Hardison) interrupts ex-girlfriend Whitley Gilbert's wedding to declare his endless love ("Please, baby, please!) and stops his dream girl from marrying the wrong, albeit nice guy (sorry, Byron played by Joe Morton). Streaming on Amazon.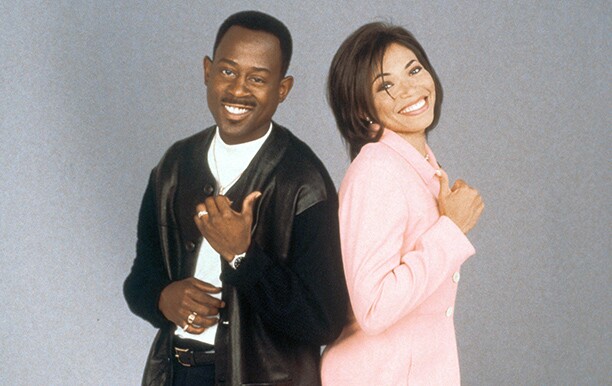 4. Martin (1995)

Funnyman Martin Lawrence kept us rolling with laughter throughout the '90s with his raucous sitcom, Martin. But his radio deejay character Martin Payne showed us his softer side during his elegant beach and Babyface-serenaded nuptials to longtime love Gina Waters (Tisha Campbell). You go, boy! Streaming on BET+.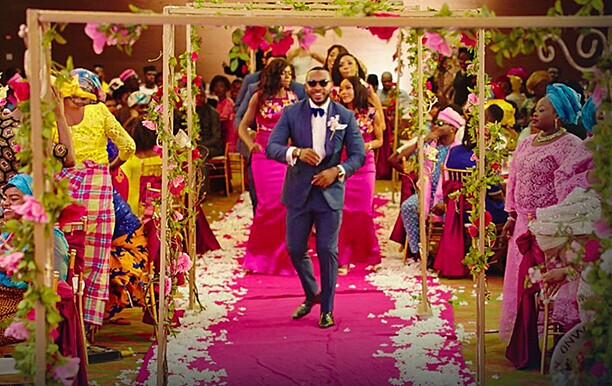 5. The Wedding Party (2016)

This Nigerian romantic comedy is full of family squabbles, suspense and slapstick laughs. True to its title, you will feel like a guest at the dramatic wedding ceremony, as virginal bride Dunni (Adesua Etomi) and her reformed playboy husband Dozie (Banky Wellington) overcome obstacles and jitters to say "I do." Then, you'll want to join in the dancing and celebratory fun at the festive wedding reception. Streaming on Netflix.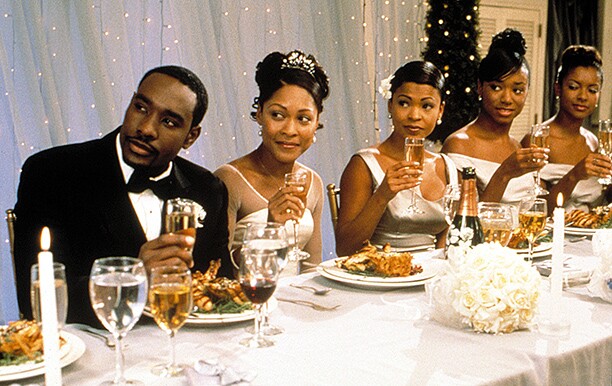 6. The Best Man (1999)

We love this movie about a likable and really attractive group of friends who fuss and fight but have an unbreakable bond. At the altar, Lance (Morris Chestnut) wrestles with feelings of betrayal and ultimately forgives the indiscretion between his bride-to-be, Mia (Monica Calhoun), and his best man, Harper (Taye Diggs), and in keeping with Black wedding tradition, the film ends on a high note with an ensemble Electric Slide to Cameo's "Candy." Streaming on Amazon.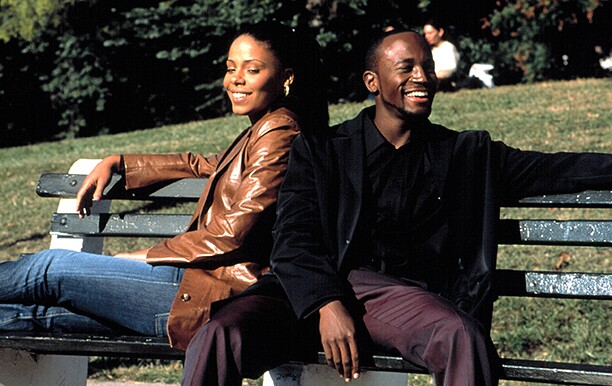 7. Brown Sugar (2002)

Childhood friends and hip-hop lovers Dre (Taye Diggs) and Sidney (Sanaa Lathan) are destined to be together. But as Syd watches Dre rock the wedding bells with another woman (Reese, portrayed by Nicole Ari Parker), her ride-or-die bestie Francine (Queen Latifah) nudges her to speak up, saying, "She's about to marry your man!" Streaming on Amazon.

8. Living Single (1997)

Before there was Friends there was Living Single, the Fox sitcom about four single, career-driven sister friends and their two male neighbors living in brownstone Brooklyn. And after years of flirting and coy courting, the show's two sweetest characters, Synclaire (Kim Coles) and Overton (John Henton), tied the knot in a tender episode featuring a soulful duet, "I Commit to You," belted by Kyle (T.C. Carson) and Khadijah (Queen Latifah). Streaming on Hulu.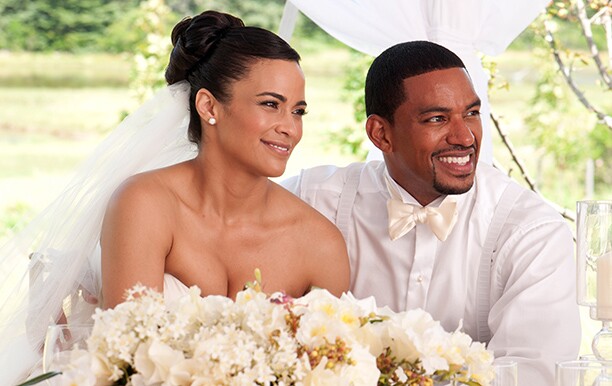 9. Jumping the Broom (2011)

Sabrina (Paula Patton) and Jason (Laz Alonso) seem like a picture-perfect match — that is, until her bougie mother (Angela Bassett) and his folksy mom (Loretta Devine) clash during their wedding weekend in Martha's Vineyard. Fortunately, their family feud is squashed in time for the happy couple to jump the broom, officiated by Bishop T.D. Jakes! Streaming on Starz.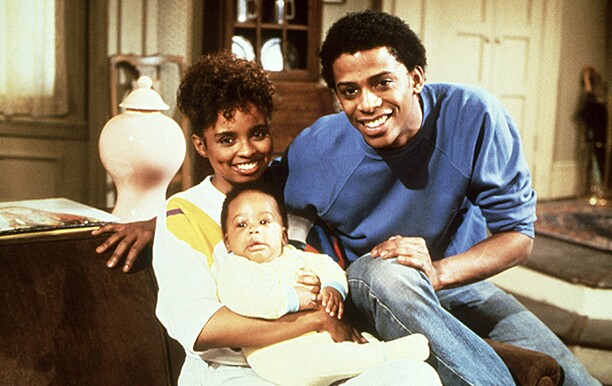 10. All My Children (2008)

Fans of All My Children have watched the decades-long, tumultuous love affair between brooding bad boy Jesse (Darnell Williams) and angelic, dimpled-cheek Angie (Debbi Morgan). So we got misty when Mr. and Mrs. Hubbard united in holy matrimony for the second time, with R&B star Ne-Yo crooning in the background. We even chuckled when Jesse — who in a classic soap opera plot twist was resurrected after being killed off in 1988 — proclaimed after "until death do us part" in the vows, "That ain't gonna happen this time." Yay, Black love wins! Streaming on iTunes.