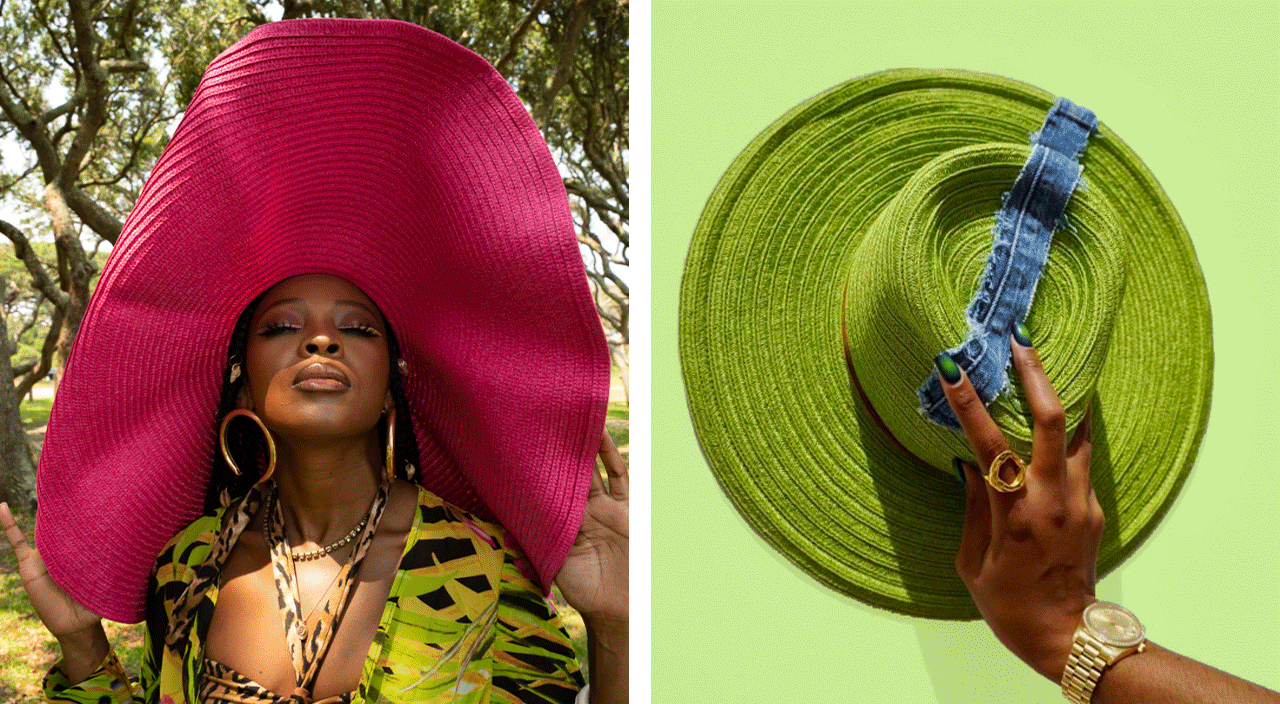 A sharp hat can take an outfit from great to glam. Looking your Sunday best has always included a stylish hat to complement your outfit, especially for church-going folks. Although times have changed and more casual dress is acceptable at many churches these days, the art of accessorizing a great outfit with a fly brim is not completely lost. Many hat shops, haberdasheries and custom milliners have disappeared over the years, but some have survived. And of those that are still here, only a few are Black-owned.

If you are looking to rock a sharp hat from a Black designer this spring, why not celebrate the Black hat brands still crafting custom brims with love? Here are a few hatmakers we found who are still thriving and still loving what they do. Some will give personalized advice on the best hats to fit your head size and shape, as well as the best hats to match your personal style and to celebrate Black culture.


Caribbean Cowgirl

Owner: Blogger Lanatria Brackett Ellis
Her Story: The brand created by this influencer and fashionista born to a Southern mom and a Jamaican dad is fairly new to the fashion world. Her hat collection features colorful fedoras and straw hats in fun styles like the Bermuda Baby, a big, floppy straw hat perfect for a beach day.
Price Range: $49 to $59
Where to Find: Shop her website.
ShopCaribbeanCowgirl.com
IG: @shopcaribbeancowgirl


Pretty AnntoiNet's

Owner: Hair fashionista Linda Antoinette Nelson
Her Story: Nelson makes fashionable hats and hair accessories from gentle-on-the-hair materials. Her quality hats and hair lingerie are crafted from luxurious silk, which doesn't cause breakage or rob the hair of moisture. The line includes colorful reversible silk bucket hats as well as silk beanies, berets, scarves, headbands, sleep caps, bonnets and loc tubes.
Price Range: $25 to $89
Where to Find: Shop her website.
PrettyAnntoiNets.com
IG: @prettyanntoinets


TomGFashion

Owner: Fashion blogger Tunmise Robinson
Her Story: Nigerian-born Robinson was a popular fashion blogger before she opened her online fashion boutique, TomGFashion. Her playful and colorful line of hats includes floppy straw hats, wide-brim and flat-crown fedoras, and her popular red-bottom fedoras.
Price Range: $39 to $250
Where to Find: Shop her website.
ShopTomGFashion.com
IG: @shop_tomgfashion


Frances Grey

Owner: Fashion designer Debbie Lorenzo
Her Story: Named after Lorenzo's great-grandmother, a seamstress from Jamaica, Frances Grey is a luxury millinery brand handcrafting sophisticated and one-of-a-kind hats worn by many celebs. Lorenzo is known for her modern interpretation of the straw fedora.
Price Range: $220 to $550
Where to Find: Shop her website or Nordstrom.com.
FrancesGreyny.com
IG: @frances.grey


Fruition Hat Company

Owners: Hat trendsetters Bryan Chatman and Stanzel Jackson
Their Story: Hat lovers turned hat designers, Chatman and Jackson have been crafting hats for men and women since 2018. They opened their Atlanta store in 2020, offering not only hats but also accessories and services including cleaning, maintenance, custom hat design and consultation.
Price Range: $40 to $480
Where to Find: Shop their store in downtown Atlanta or their website.
FruitionHatCompany.com
IG: @fruitionhatco


B.M. Franklin & Co

Owner: Hat designer Brandon Franklin
His Story: Franklin learned the art of hat making at the world-renowned hat company Worth & Worth in New York City. His love for hat design led him to open his Buckhead store, specializing in custom hats and high-quality ready-to-wear. Use the online design services, or call to consult with the team and create your custom hat. Hat-making classes are also available.
Price Range: $250 to $1,000
Where to Find: Visit his store in Atlanta's Buckhead neighborhood, or shop the website.
BMFranklinco.com
IG: @bmfranklinco


Hats by Bunn

Owner: Hat designer Bunn
His Story: In business for more than 20 years, Bunn personally designs and crafts each hat by hand with men and women of color in mind. His brand features funky styles that accommodate dreadlocks and other natural hairstyles.
Price Range: $90 to $250
Where to Find: Visit his shop at 2283 Seventh Avenue, Harlem, New York City, or the website, and then call the shop at 212-694-3590 to order.
HatsbyBunn.com
IG: @hats_by_bunn


Monrowe NYC

Owner: Model-turned-milliner Dani Evans
Her Story: The winner of America's Next Top Model Cycle 6, Dani Evans created a hat brand inspired by the unique, free-spirited style of her grandfather, a jazz musician from the South. Her brand is a unisex and contemporary take on the classic Western-style hat with inspirations from the jazz era.
Price Range: $245 to $385
Where to Find: Shop online at SaksFifthAvenue.com or on her website.
Monrowenyc.com
IG: @monrowenyc


Ashaka Givens

Owner: Hat and fashion designer Ashaka Givens
Her Story: In 1996, Givens was tasked with dressing up-and-coming singer Erykah Badu and created her now well-known funky and eclectic style. More celebrity clients signed on, including Missy Elliot, Rosario Dawson, Joi and Annabella Sciorra.
Price Range: $285 to $650
Where to Find: Shop her website.
AshakaGivens.com
IG: @ashakagivens

Note: All prices are subject to change.