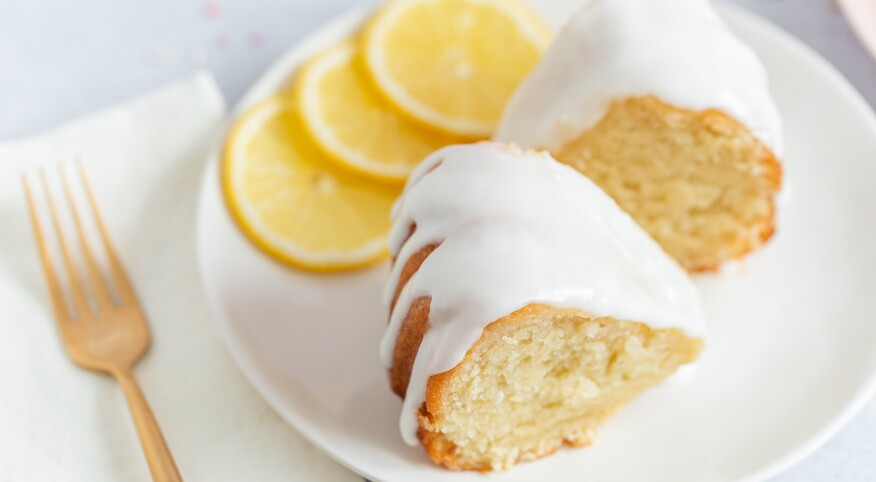 If going vegan has crossed your mind, whether it's to spice up your meatless Mondays or for long-term spiritual or ethical reasons, the good news is that brown rice and steamed vegetables is no longer the bland health-food standard.

Eliminating animal and dairy products from your diet has health benefits too. Research shows that adopting a plant-based diet can lower your risk of heart disease, lower your blood pressure and bad (LDL) cholesterol, reduce the risk of diabetes, and help you maintain a healthy weight. This applies to a diet high in fiber and full of whole grains, fruits, vegetables, legumes, nuts, olive oil and good fats like avocados. And while meatless options like the Beyond Burger and Impossible Meat are tasty meat substitutes and offer a good source of protein, vitamins and minerals, be aware that they are also processed, high in sodium and saturated fat, and higher in calories than ground turkey.

So instead of wondering, Where's the beef? tempt your taste buds with bold and palate-pleasing plant-based dishes at one of these five Black-owned, vegan restaurants and cafés across the country. (This is just a sampling; look for more vegan eateries near you.)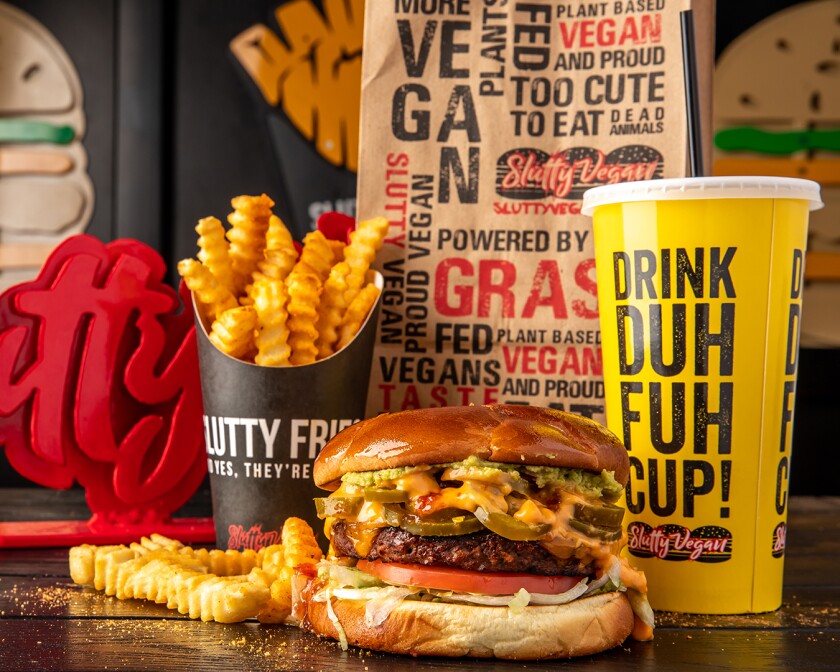 Slutty Vegan
Atlanta; Birmingham, Alabama; and New York City

Pinky Cole started with an Atlanta food truck, and now she has a mini empire of Slutty Vegan restaurants with multiple locations in Georgia as well as outposts in Birmingham, Alabama, and New York City. The Baltimore native's bangin' plant-based bites have revolutionized the way we think about fast food; popular options include the Dancehall Queen, a plant-based patty loaded with fixings like vegan cheese, caramelized onions and sweet jerk plantains, and the Chik'n Head, a plant-based chicken sandwich drenched in buffalo sauce and topped with pickles, coleslaw and vegan ranch dressing.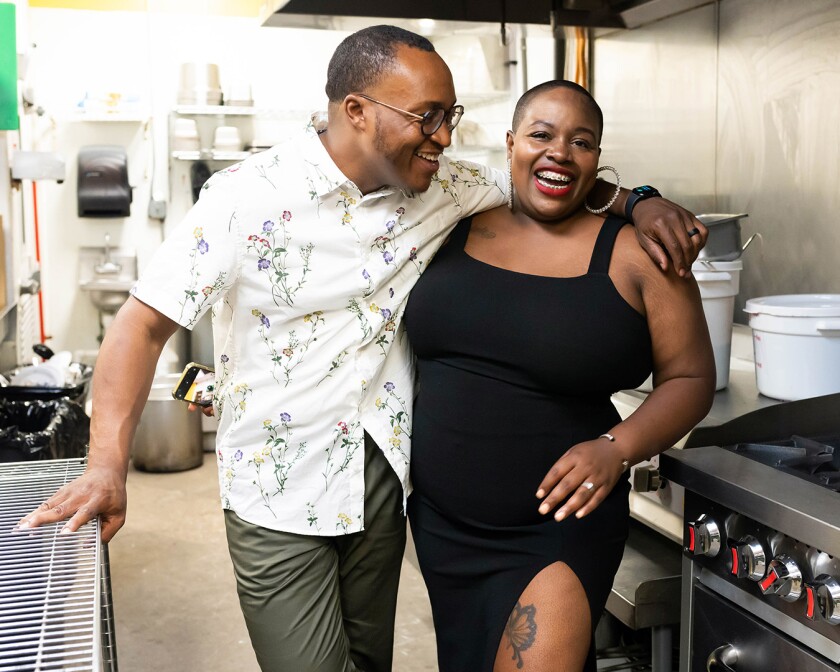 Hue Cafe & Apothecary
Owings Mills, just outside Baltimore

After owner Ejama McNeill lost her mom to cardiovascular disease, this mother of five boys took control of her family's and her own health by loading up on fruits and veggies and learning to make holistic remedies. "Collectively, we lost, maybe like 250 pounds," she told a local news station. In 2021, McNeill and her husband, chef Aaron McNeill, opened the tiny but mighty Hue Cafe & Apothecary, known for its flavorful take on comfort food. Menu highlights include fried cauliflower "Hue wings," street tacos made with braised jackfruit, and a fire-roasted yam topped with veggies and drizzled with a creamy lemon herb tahini dressing. One side of the café is dedicated to an assortment of natural health and healing gifts along with customized herbal blends.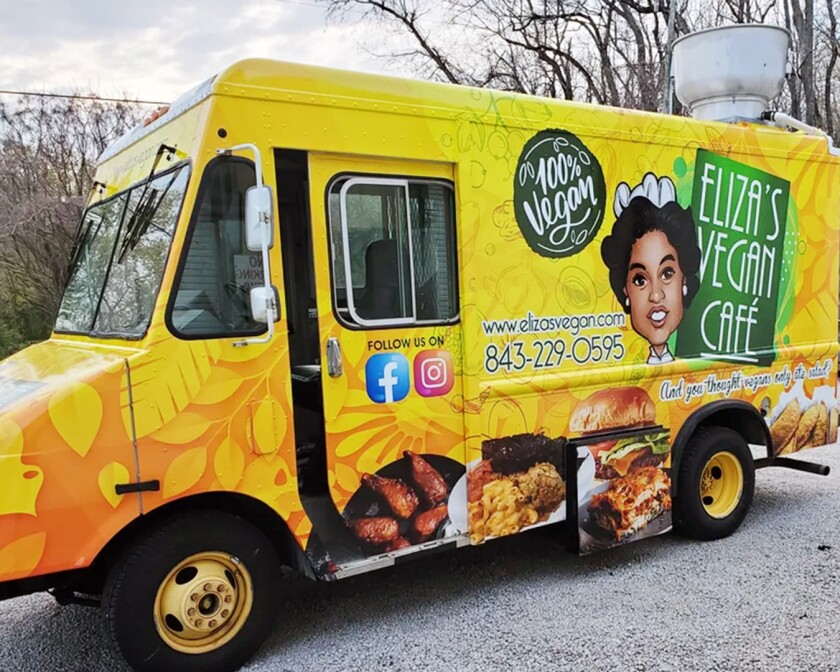 Eliza's Vegan Café
Florence, South Carolina

In summer 2022, owner Markeyshi expanded her food truck, named after her maternal grandmother, Eliza Jenkins, to a brick-and-mortar location that serves tasty "veganized" versions of her granny's soulful dishes, like vegan ribs and meatloaf, and dairy-free mac 'n' cheese and potato salad. If you want to get her attention when you visit, say her brand motto out loud: "And you thought vegans only ate salad?" Markeyshi went vegan in 2001 after a nearly decade-long "journey of dropping animal and dairy" from her diet. She explains: "The more I learned about what those foods did to my body, the more passionate I became about walking away from it all! I also have a strong love for animals. I couldn't continue to contribute to their suffering."



Rahel Ethiopian Vegan Cuisine
Los Angeles

This L.A. staple named after owner Rahel specializes in slow-cooked vegan stews made with simmering spices and wholesome ingredients like split lentils, chickpeas, carrots, tomatoes, zucchini and string beans. In Ethiopian culture, the tradition is to share from the same plate. So order a special combination platter and break a sour flatbread called injera together. Currently open on Fridays, Saturdays and Sundays.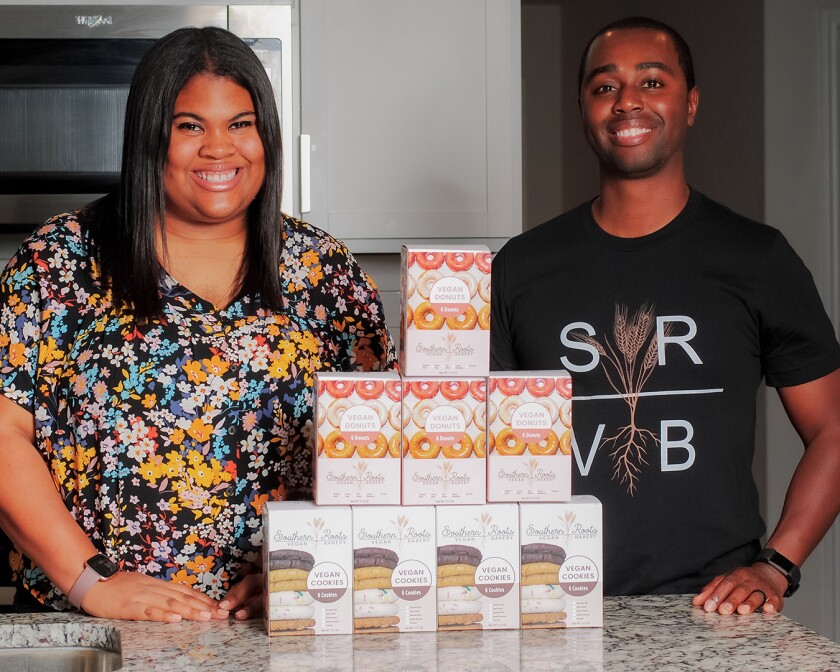 Southern Roots Vegan Bakery
San Antonio

Being vegan doesn't mean you have to abandon your sweet tooth. When Marcus Pitts and Cara Pitts were inspired to create healthier meal options for Cara's grandmother May Lee, the couple landed on a plant-based twist on traditional Southern desserts. Southern Roots got its start at church events and farmers markets, and an early break came when vegan chef and social-media influencer Tabitha Brown gave them a shout-out. "So y'all out here making cake doughnuts ... OK, Southern Roots. Honey, it's very delicious," Brown exclaimed on YouTube after tasting their original glazed, red velvet and lemon drop doughnuts. The good news is that you can have their vegan doughnuts, cookies, cakes and other sweet treats shipped to you nationwide.