What's even better than renting a house in one of your favorite getaway cities for a girls' trip or family vacay? Finding a fabulous luxury home with amenities like a fireplace, a heated pool, outdoor lounge space or a breathtaking view — while spending your hard-earned cash in the Black community!

Or maybe you want a charming cottage someplace warm and not too far from the beach. You can find that too. Need help locating good places to eat or fun things to do in your destination city? Many rental hosts provide a guidebook full of suggestions. All of this is just a few clicks away with popular home-sharing sites like Airbnb and Vrbo.

How to Find Black Hosts While You're Planning Your Stay

A cottage industry supporting travelers of color is emerging to link guests with vacation accommodations listed by people who look like them. One such resource is JourneyBlackHome.co. Another, Noirbnb.com, founded for and by Black travelers, features locations where Black guests will feel comfortable (though not all of the recommended hosts are Black). In many cases, you'll need to book via one of the home-sharing platforms such as those I listed earlier, with these directory sites simply offering a culturally focused look at what hosts have to offer. Of course, you can certainly enjoy perusing the home-sharing sites on your own. I had a great time playing armchair traveler, then reaching out to several Black and proud homeowners to hear their stories.

Check out these cool and unique accommodations, from high-end to affordable, in popular cities and vacation destinations around the country. Perhaps one of them will suit your needs for your next family reunion, girlfriends' getaway, romantic rendezvous, beach retreat or sightseeing adventure.


Miami

The Host: Amber, a Miami native who works in corporate healthcare
The Nabe: Her North Miami neighborhood is just far enough from the legendary South Beach party scene, but not too far. It's just 15 minutes from the beach and a short drive to the Miami Design District and the chic shops at Bal Harbour.
The Space: Bohemian cottage, newly renovated, with a private yard and enclosed patio
Guest Capacity: 2 bedrooms, 2 baths
Find It On: Airbnb


New Orleans

The Host: Mark, a New Jersey native who has fallen in love with The Big Easy
The Nabe: Quiet tree-lined street in the Bywater Historic District, known for its arts scene. Parks and restaurants are nearby. The French Quarter is a 25-minute walk, and Frenchmen Street is only a 15-minute walk.
The Space: Historic shotgun home. Quaint front porch and patio (patio is shared with tenants of the other half of this two-family home). Affordable, clean and simply decorated.
Guest Capacity: 2 bedrooms, 2 baths
Find It On: Airbnb


Atlanta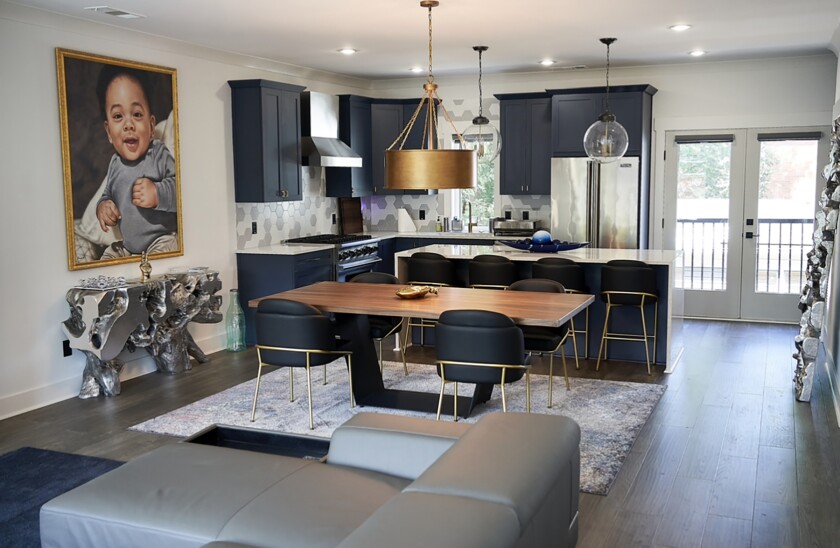 The Host: New York native Kami, a nurse and entrepreneur
The Nabe: Lake Claire, a quiet residential neighborhood in the heart of Atlanta. A 10- minute walk brings you to Pullman Yards, the popular cultural venue with historic ties to manufacturing, film production and railroad operations (including the famous Pullman porters). Hartsfield-Jackson Atlanta International Airport is 15 minutes away.
The Space: Brand-new luxury townhome with a sexy rooftop lounge, shiny new kitchen appliances and high-end furnishings
Guest Capacity: 3 bedrooms, 3 1/2 baths
Find It On: Vrbo and Airbnb

Oak Park, Illinois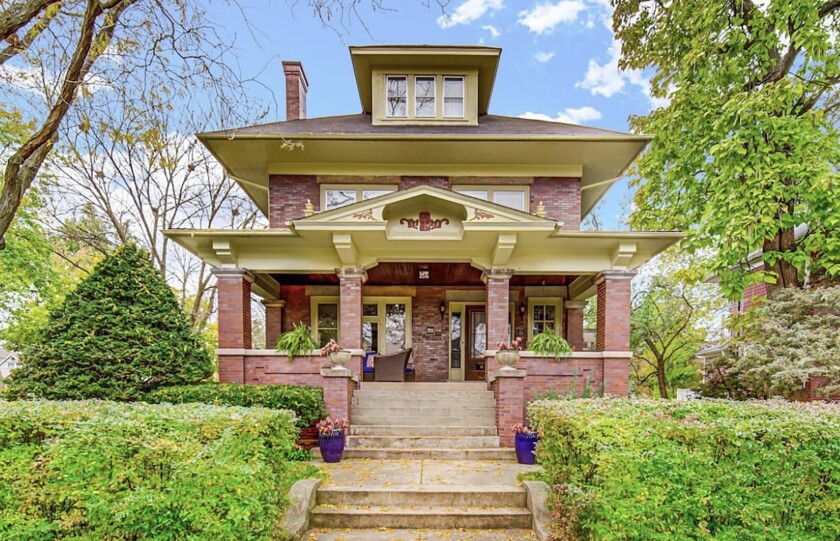 The Hosts: Camile, an attorney, and Kwabena, a software engineer
The Nabe: Quiet, family-friendly block in the gorgeous southwest Oak Park neighborhood, a few miles from downtown Chicago. Restaurants, three parks and a public pool are a few blocks away.
The Space: Stately, historic landmark. Elegantly decorated. Fireplace, hardwood floors, private entrance, private outdoor space.
Guest Capacity: 3 bedrooms, 1 bath
Find It On: Airbnb

Los Angeles
Two Choices: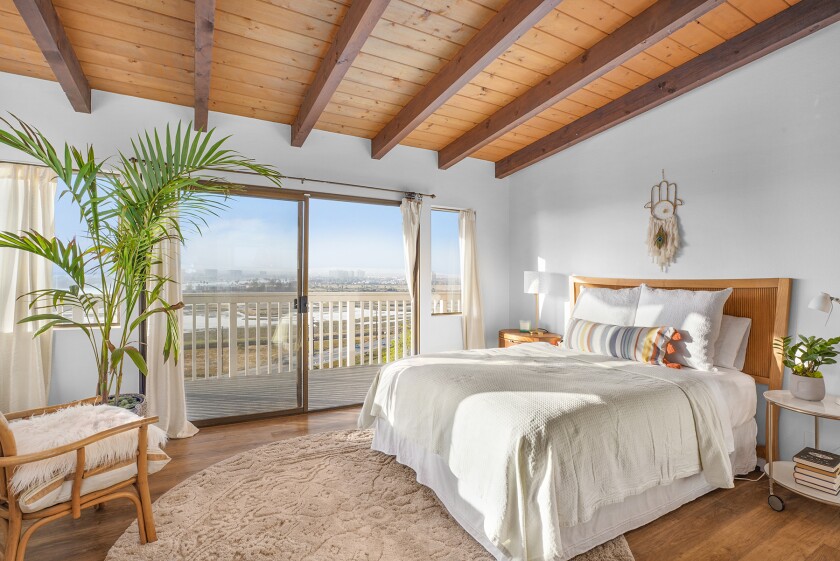 The Hosts: Lisa and her mother, Janice, both real estate agents
The Nabe: Beautiful West Los Angeles residential neighborhood in the heart of Silicon Beach's tech hub with stunning views. Five minutes away from Dockweiler Beach and a short drive to Venice, Santa Monica and Manhattan beaches. Los Angeles International Airport (LAX) is a 10-minute drive away.
The Space: Perched on a hillside bluff, the luxury home has breathtaking ocean and coastline views from every room, and glorious sunsets from its balconies and conversation pit with fireplace.
Guest Capacity: 3 bedrooms, 3 baths
Find It On: Vrbo and Airbnb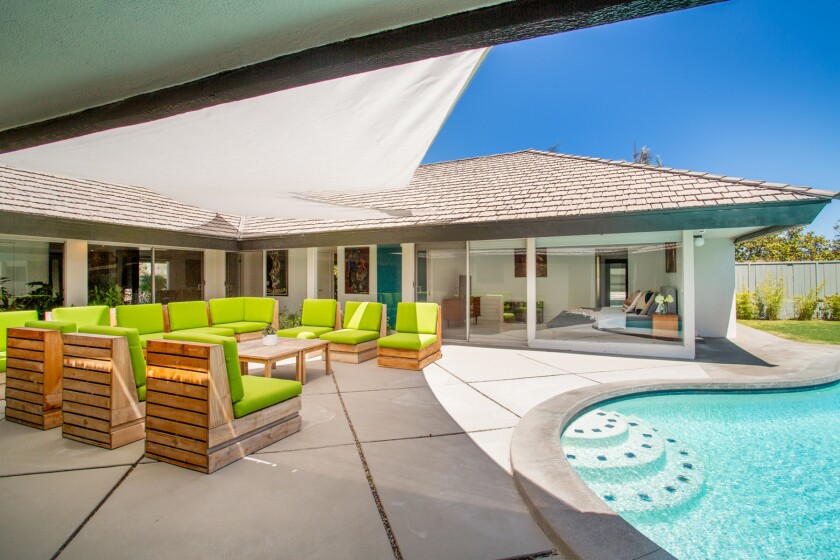 The Hosts: Andre, a film director/producer, and Lauren, a lighting designer
The Nabe: Sleepy residential hillside neighborhood with parks and hiking trails nearby. Quick commute to downtown.
The Space: Newly renovated mid-century modern gated property with a heated pool, a modern chef's kitchen, an outdoor lounge, a fireplace and cool vintage decor.
Guest Capacity: 4 bedrooms, 3 1/2 baths
Find It On: Airbnb

Philadelphia

The Hosts: Vanda, a radio show host, activist and financial broker, and her mom, Joyce, a retired property manager
The Nabe: A family-oriented community in historic West Philadelphia. Cafés, galleries and shops are nearby.
The Space: Classic Philly row house. Updated, simply furnished, clean, comfortable and affordable.
Guest Capacity: 3 bedrooms, 1 1/2 baths
Find It On: Airbnb


Washington, D.C.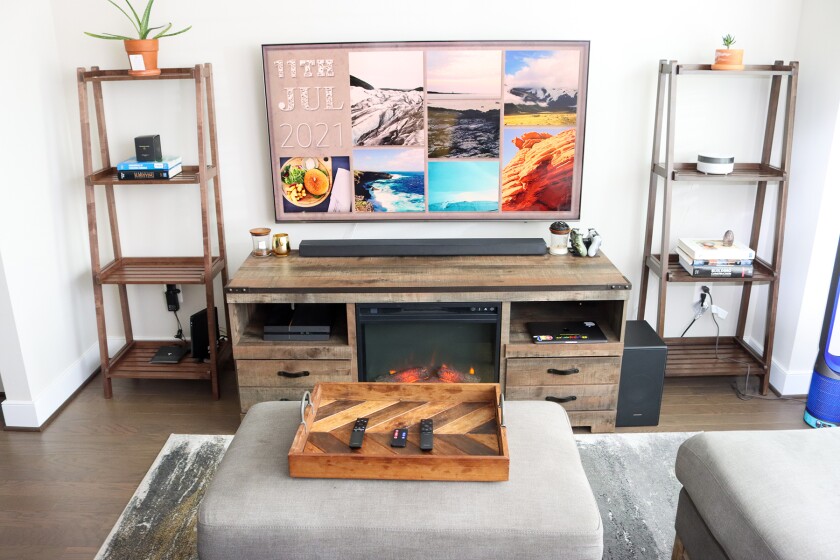 The Host: Derek, a cybersecurity engineer and part-time real estate investor
The Nabe: Quiet residential neighborhood minutes away from cafés, museums, the Southwest Waterfront and the Washington Nationals baseball stadium, Nationals Park
The Space: Updated, spacious, luxury D.C. row house features a modern kitchen, a formal dining room and outdoor living space. Derek also offers a Tesla Model Y in the garage that can be rented separately.
Guest Capacity: 3 bedrooms, 3 baths
Find It On: Airbnb

Brooklyn, New York City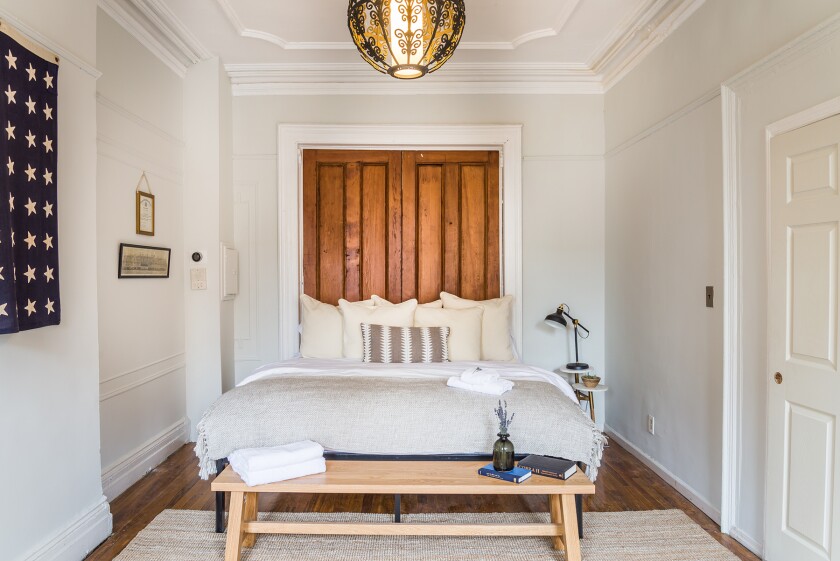 The Host: Brooklynite Gordon, vice-president of community affairs at a nonprofit, and his three sons
The Nabe: No longer the "do or die Bed-Stuy" that Notorious B.I.G. rapped about in the '90s, Bedford-Stuyvesant is a popular playground with upscale wine bars, lively coffee shops and a growing restaurant scene. It still retains the community and architectural charm that residents are proud of.
The Space: Outside, it's a classic four-story Brooklyn brownstone. The interior boasts an open-plan living space with a chef's kitchen. Decor is colorful, tasteful and eclectic.
Guest Capacity: 8 bedrooms, 4 baths
Find It On: Airbnb

Southampton, New York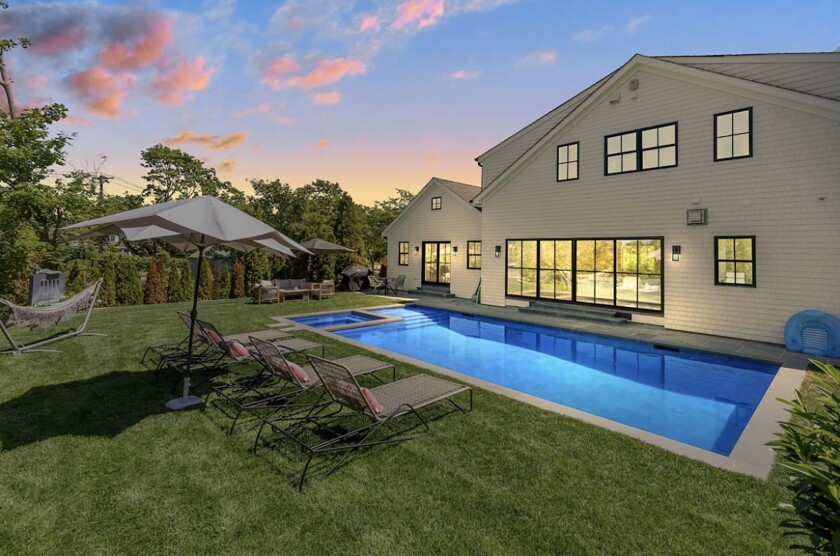 The Hosts: Harlemites Laura and Ray, a banker and a real estate agent, respectively
The Nabe: Southampton Village in the elite Long Island summer community of the Hamptons.
The Space: Newly built, simple yet elegantly designed home with high-end finishes. Features a media room, a 700-square-foot chef's kitchen, a bluestone patio and a heated pool.
Guest Capacity: 5 bedrooms, 5 1/2 baths
Find It On: Airbnb

Martha's Vineyard, Massachusetts

The Host: Cynthia, a network television sound engineer in Miami who grew up in Massachusetts
The Nabe: A quiet street in the historic vacation community of Oak Bluffs, rich in African American history
The Space: As a breast cancer survivor, Cynthia focused on creating a cozy and comfortable retreat with outdoor space for healing and relaxation.
Guest Capacity: 3 bedrooms, 1 1/2 baths
Find It On: Airbnb