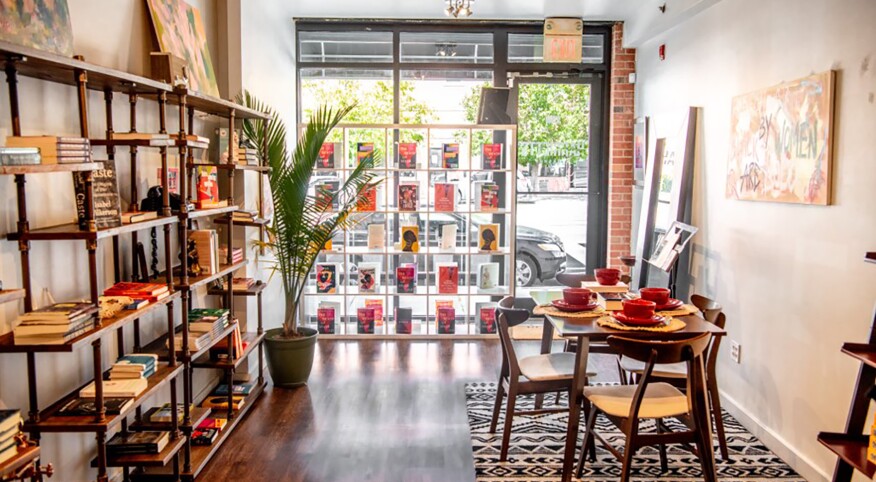 Toni Morrison once said, "Books are a form of political action. Books are knowledge. Books are reflection. Books change your mind."

So, in the spirit of amplifying Black voices and buying Black, when you need to find solace, inspiration or escape into the pages of a good book, here are eight Black-owned (many are also Black women-owned) bookstores across the country to support, with in-store and online shopping available.

Harriett's Bookshop, Philadelphia, Pennsylvania (OurSisterBookshops.com)

Owned and operated by Jeannine A. Cook, a fly sister with a freedom fighter spirit, her boutique bookstore's mission is to celebrate women authors, artists and activists. For reading and reflection, Harriett's, named after abolitionist Harriet Tubman, who fled slavery in Maryland and arrived in Philadelphia, offers a small outdoor space and a candlelit basement area called "The Underground."

The Listening Tree, Decatur, Georgia (ListeningTreeBooks.com)

With their children's bookstore, husband and wife team Omar and Kimberly Finley are committed to Black authorship, literacy, learning and entrepreneurship. The bibliophiles review every book from cover to cover to ensure that it aligns with their mission and offer a Young Entrepreneurs Program (YEP!), a ten-week online curriculum that teaches students between the ages of 8-18 how to own and operate their own business.

Harambee Books & Artworks, Alexandria, Virginia (HarambeeBooks.org)

Located in Alexandria's historic Old Town section, Harambee (Swahili for "working together") boasts an impressive selection of best sellers, rare books, apparel and artwork by Black authors and artists. The mission retired military man Bernard Reeves has with his eclectic bookstore is to empower, educate and encourage literacy, particularly among African American youth.

Sisters Uptown Bookstore, New York, New York (SistersUptownBookstore.com)

"Knowledge is key" is the credo behind Sisters Uptown Bookstore, and mother and daughter owners Janifer P. Wilson and Kori N. Wilson fill the stacks of their diverse community store with current and classic works by beloved African American authors.

Reparations Club, Los Angeles, California (rep.club)

Founded by South Central Los Angeles native Jazzi McGilbert, this hip bookseller and creative space is known for its positive vibes, colorful decor, virtual and in-person author events, game nights and a collection of vinyl record gems.

Source Booksellers, Detroit, Michigan (SourceBooksellers.com)

Janet Webster Jones, the daughter of a librarian, is a retired educator who handpicks all of the niche nonfiction books and specialty gift items like fair trade chocolates, oils and incense and shea butter products at her Source Booksellers. Contact the shop about when in-person events and mind, body and spirit classes will resume.

Fulton Street Books & Coffee, Tulsa, Oklahoma (FultonStreet918.com)

Upholding Tulsa's legacy of Black business ownership, booklover Onikah Asamoa-Caesar's bookstore is a local fixture for good coffee, books and meaningful conversation. And a large percentage of Fulton Street's collection focuses on the stories, narratives and lived experiences of people of color and marginalized communities.

Mahogany Books, Washington, D.C. (MahoganyBooks.com)

Black books matter at this beloved bookstore run by Ramunda and Derrick Young, an enterprising husband and wife team. Named after their daughter, Mahogany, the bookstore boasts one of the biggest inventories of Black books online and has a second brick-and-mortar location in Maryland.