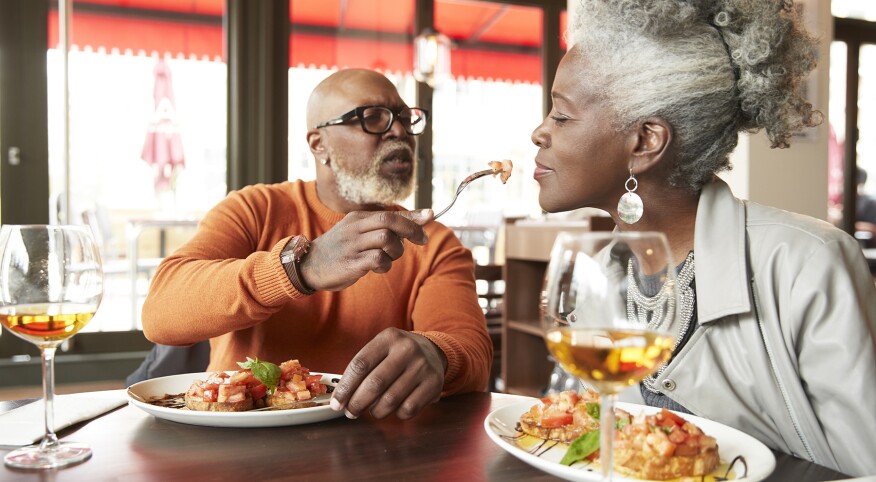 Black-owned businesses, especially restaurants, are still struggling to bounce back from the Covid lockdowns. They appreciate the public's support. Have you explored many Black-owned restaurants in your city — or do you have a go-to? Do you know what's new, hot and still open for business? Here are great options in eight major cities nationwide.

Entrée Pricing
$ $10-$25
$$ $25-$50
$$$ Over $50

New York
The Crabby Shack, Crown Heights, Brooklyn

TheCrabbyShack.com

Chef or owners: Co-owners Gwendolyn Woods and Fifi Bell-Clanton are moms and former entertainment industry insiders. Woods was an exec working with Sean "Diddy" Combs, and Bell-Clanton was a fashion stylist for Alicia Keys, Wyclef Jean and others. Both left their careers to open The Crabby Shack.
Hot dish: The owners' celeb friends and former clients are known to stop in. Spotted: Denzel Washington, Danielle Brooks, Gabrielle Union, Malik Yoba and Faith Evans to name a few. The well-known restaurateurs have appeared on the Wendy Williams and Tamron Hall shows, CNBC's The Profit and the Netflix documentary She Did That.
The space: Small casual dine-in or takeout with a beachy, nautical décor
People-watching: Celebrity sightings, along with a blend of local hipsters, artists, suits and families
Outdoor seating: Yes
Liquor: Yes
Vibe: Girls night out or boozy brunch with live jazz on summer Sundays
Known for: Their famous crab rolls and crab boils
Cost: $$


The Cecil Steakhouse, Harlem

TheCecilHarlem.com

Chef or owner: Ex-TimeWarner CEO and jazz aficionado Richard Parsons owns The Cecil Steakhouse, located within the renovated historic Cecil Hotel, built in 1895. The high-end restaurant stands in the location of the famous 1930s Minton's Playhouse.
Hot dish: Celebrity diners include Mariah, Nick Cannon and Fantasia. The spot is home to star-studded film and fashion-week events. Parsons also reopened Minton's next door. Minton's was frequented by Louis Armstrong, Thelonious Monk and more and was known worldwide as the "birthplace of bebop."
Liquor: Yes
The space: Upscale, modern
Outdoor seating: Yes
Vibe: Girls night out with guest DJ's, performances and live jazz next door at Minton's Playhouse.
People-watching: VIPs, colorful Harlem creatives and occasional celeb spottings
Known for: Steak and ribs
Cost: $$$

You may also enjoy: Top chef Marcus Samuelsson's popular Red Rooster Harlem or BLVD Bistro for its Creole-American fusion, also in Harlem


Miami
Lil Greenhouse Grill, Overtown

LilGreenhouseGrill.com

Owner/chef: Overtown couple Nicole Gates and chef Karim Bryant (Capital Grille, Prime 112, BLT Prime, The Butcher Shop) were running the Lil Greenhouse food truck when the opportunity to open a soul food café, the only full-service, sit-down eatery in the community, arose. Bryant, who grew up in Overtown, is also involved in the nonprofit youth development program the Optimists Club.
Hot dish: Oprah and Gayle King surprised the owners with a visit to the restaurant with CBS camera crew in tow for Oprah's Weight Watchers restaurant tour.
Liquor: Craft beers and wine
The space: Small, casual with simple décor, cozy booths
Outdoor seating: Yes
Vibe: Lunch with coworkers or dinner with the fam
People-watching: Frequented by Black folks from the community and nearby towns seeking good southern food.
Known for: Sandwiches, smoked BBQ ribs and wings
Cost: $


Red Rooster Overtown

RedRoosterOvertown.com

Owner or chef: Co-owner Marcus Samuelsson is a Top Chef Masters winner, a Food Network judge, host of PBS' No Passport Required and a favorite chef of President Barack Obama. Samuelsson owns more than a dozen restaurants, including Red Rooster Harlem. Red Rooster Overtown is located in historic Overtown in Miami.
Hot dish: Overtown is a historic district known as the "Harlem of the South" in its glory days (the 1930s–1960s). Samuelsson opened the upscale spot to boost the slow revitalization of the area, hoping other new businesses would follow.
Liquor: Yes
The space: Beautiful, upscale and modern
Outdoor seating: Yes
Vibe: Girls night out, happy hour, live music. Check out the pool hall upstairs.
People-watching: Upscale dining popular with Black clientele
Known for: Craft cocktails and fresh takes on soul food favorites
Cost: $$$

You may also enjoy: Bar One Miami, a high-end bar and restaurant from former Real Housewives of Atlanta-husband Peter Thomas and World Famous House of Mac for loaded mac and cheese and more.


Washington, D.C.
Carolina Kitchen Bar & Grill, NE

TheCarolinaKitchen.com

Owner or chef: Self-made Southern-dining magnate Lance London started Carolina Kitchen in 1996 as a takeout joint. Today he has multiple busy District-area locations. Also, he is a motivational speaker and a consultant to other Black small-business owners in the community.
Hot dish: The Hoodie Awards Winner for Best Soul Food is a go-to for Southern food, as well as a hot spot to socialize.
Liquor: Yes
The space: Modern, casual, classy with a colorful Vegas flair
Outdoor seating: Not at this location
Vibe: Lively and great for families and groups
People-watching: Locals and commuters from the train station downstairs
Known for: Adult milk shakes and craft cocktails, Southern Fried Lobster Tails
Cost: $$


Original Ben's Chili Bowl

BensChiliBowl.com

Owners/chef: Virginia Ali and her late husband Ben opened the historic Ben's Chili Bowl hot dog shop in 1958. Located on U Street, formerly known as the "Black Broadway," Ben's was a safe haven during racial unrest in the 1960s and frequent host to activists like Stokely Carmichael and Martin Luther King Jr. to name a few. Entertainers, including Duke Ellington and Billie Holiday, also swung by.
Hot dish: A visit to Ben's is a must when in the District. Celebrity spottings include Obama, President George W. Bush, Bruno Mars, Bono, Chaka Khan, Jimmy Fallon, DJ Khaled, John Leguizamo, the late Anthony Bourdain and others.
Liquor: No. Full bar is available next door at Ben's Next Door. (BensNextDoor.com)
The space: '50s retro with counter seats and tables
Outdoor seating: Yes
Vibe: Afternoon takeout or late night after the party (open until 2 a.m. on weekends)
People-watching: Celebrity spottings, after-party people-watching
Known for: Chili bowls, chili dogs and burgers
Cost: $

You may also enjoy: Georgia Brown's for upscale Southern in the District, or Horace & Dickie's for fried seafood takeout in nearby Glenarden, Maryland


Los Angeles
Hilltop Coffee + Kitchen

FindYourHilltop.com

Owner or chef: Co-owners Ajay Relan and Yonnie Hagos partnered with actress and producer Issa Rae (HBO's Insecure) on their downtown Inglewood location in 2019. They also have locations on Slauson and Eagle Rock.
Hot dish: Growing up in nearby View Park, Rae wrote all of her projects in coffee shops around LA and longed for a Black-owned shop in her hood. Coffee shops facilitate collaboration, she told la.eater.com, it's so important to have these spaces where you can be creative.
Liquor: No
The space: Sleek design, bright and massive with two floors
Outdoor seating: No
Vibe: A popular hang out for Black creatives and dealmakers
Known for: Coffee, drop top sandwiches
People-watching: Black creatives creating, VIPs and celeb guests from radio station KJLH across the street
Cost: $


Post & Beam

PostandBeamLA.com

Owner or chef: Legendary New York restaurateur Brad Johnson (Roxbury, Georgia, with Denzel Washington, and BLT Steak) opened Post & Beam 10 years ago in Crenshaw Plaza when he saw the need for a sit-down eatery serving diner and drinks in the community. Former Post & Beam head chef John Cleveland has since taken over.
Hot dish: A favorite of LA's Black locals, it is the first Black-owned restaurant to win a prestigious Los Angeles Times Gold Award.
Liquor: Yes
The space: Beautiful, modern yet cozy with an open kitchen and garden patio
Outdoor seating: Yes
Vibe: Great for a date night with jazz on weekends
Known for: Shrimp and grits, fried catfish
People-watching: Neighborhood locals and a few celebs and VIP dealmakers
Cost: $$

You may also enjoy: Pip's on La Brea for dinner and jazz and Stevie's Creole Café for world famous gumbo and more.


Chicago
Litehouse Whole Food Grill, Hyde Park

LitehouseWholeFoodGrill.com

Owner/chef: "The light of Christ and light food all under one roof," says owner Erik Nance about Litehouse Whole Food Grill. His mission with the restaurant was to bring healthy fast food to his community. Nance has said that Litehouse is "always friendly, always whole, always organic and always really, really good."
Hot dish: Litehouse provides about 20-30 free meals a day for those who are hungry. Customers can support Litehouse's efforts by going "premium," which adds $2.50 to their bill, or they can "pay it forward" and donate money for someone else's meal.
Liquor: No
The space: Modern, clean, no frills
Outdoor seating: No
Vibe: Quick lunch with coworkers or friends
Known for: Wraps, burritos, tacos and pizza
People-watching: Health- and community-conscious locals
Cost: $


Cleo's Southern Cuisine

EatCleos.com, CleosSouthernCuisine.com

Owner/chef: Kristen Ashley named Cleo's after her late grandmother, whose recipes inspired her Southern-meets-Creole dishes. Cleo's is a family-run operation, located in the Black community Ashley grew up in. Sports fans know Ashley as a sports journalist and the current head coach for the Whitney Young HS Lady Dolphins, her alma mater.
Hot dish: There's often a long line to get into the café to taste her chicken, which earned her the Time Out Chicago title "Queen of Fried Chicken."
Liquor: Yes
The space: Small, only a few tables, elevated casual with white marble touches
Outdoor seating: No
Vibe: Girlfriends' meetup or family takeout
Known for: Fried chicken and fish, 24-karat gold muffins
People-watching: Regulars and locals from the South Side and nearby
Cost: $$

You may also enjoy: Kenny's Ribs and Chicken, voted best BBQ, or try Booze and Bingo Wednesdays at Ina Mae Tavern.


Detroit
Griot Music Lounge

GriotDetroit.com

Owner/chef: Co-owned by comedian Karen Addison, along with husband Scott Boswell and associate Jonathan Taylor, Griot Music Lounge is a music-listening bar. With a full bar, the café serves up soups and street tacos.
Hot dish: Detroit music enthusiast Jonathan Taylor is the visionary. Appealing to old-school music lovers, the lounge plays full catalogs of blues, jazz, R&B or rock classic selections on vinyl. Karen Addison and Tony Roney serves as MCs.
Liquor: Yes
The space: Cozy, speakeasy-style lounge with art-covered walls
Outdoor seating: Yes
Vibe: Happy hour with friends or a fun date night
Known for: Nightly signature cocktails
People-watching: A grown-up spot for old-school music lovers
Cost: $


Le Culture Café

LeCultureCafe.com

Owner/chef: Drew Matthews Jr. has found fast success with this, his first restaurant. A former funeral director with a passion for cooking, he couldn't find a place where Black foodies could go and enjoy top-notch food in a beautiful setting. So, he decided to open that place himself.
Hot dish: A popular go-to spot for Detroit's Black professionals and food lovers in Black Bottom, the city's historically Black community. Now located in a larger space in Harmonie Park, the café continues it's reign.
Liquor: Yes
The space: Modern, upscale and sexy
Outdoor seating: No
Vibe: Date night
Known for: Seafood Overload Mac and Cheese, Culture Wingz
People-watching: A mix of Black professionals and food lovers from all over town
Cost: $$$

You may also enjoy: Detroit Vegan Soul for vegan, soy-free, gluten-free dishes or grab a take-out sandwich at Chef Greg's Soul-N-The Wall.


Atlanta
Slutty Vegan, Westview

SluttyVeganAtl.com

Owner/chef: Pinky Cole, a vegan for 10 years, started Slutty Vegan as a food truck serving tasty vegan burgers with fun names like Super Slut, Sloppy Toppy and Fussy Hussy. Her goal was to change the way people thought about vegan food and appeal to meat eaters.
Hot dish: Lines out the door. Celebrity superfans who come for the burgers. Cole is also dedicated to her Atlanta community. Her Pinky Cole Foundation has partnered with celebrity friends Chris Paul, La La Anthony, Gabrielle Union and Ludacris to provide food.
The space: Small, colorful, takeout-only burger bar
Vibe: Busy, loud, with fun energy
Known for: Vegan burgers and fries
People-watching: Celebrity and VIP spottings. Fans of Slutty Vegan include Snoop Dogg, Usher, Taraji P. Henson, Tiffany Haddish, Will Smith, Colin Kaepernick, Tyler Perry, Martin Lawrence and Missy Elliott.
Cost: $


Old Lady Gang, Castleberry Hill, Georgia

OldLadyGang.com

Owner/chef: Owned by multiplatinum singer/songwriter and entrepreneur Kandi Burruss, and her husband Todd Tucker of The Real Housewives of Atlanta, with dishes from Kandi's Mama Joyce and her sisters
Hot dish: RHOA fans know drama queen #MomaJoyce. Despite her issues, Burruss and Tucker love Mama Joyces' cooking and have set her, and sisters Bertha Jones and Nora Wilcox, up with Old Lady Gang. Be prepared to wait for a table.
The space: Casual chic with rustic touches, two floors and fun photos of the RHOA
Vibe: Bring the fam. Suitable for large groups.
Liquor: Yes
Outdoor seating: Yes
Known for: Deep fried deviled eggs, shrimp and grits
People-watching: Tourists and RHOA fans looking to spot Mama Joyce
Cost: $$

You may also enjoy: Ludacris' Chicken + Beer, where you can have a beer flight, chicken and more, or Frost Bistro & Bar for American fare, beer and wine.


New Orleans
Café Sbisa, French Quarter

CafeSbisaNola.com

Chef/owner: Alfred Singleton, a New Orleans native, began as a prep cook at Café Sbisa and is now co-owner and executive chef, serving traditional French Creole cuisine in the French Quarter.
Hot dish: The historic fine dining restaurant is the third oldest in the French Quarter, open since 1899, and located across from the French Market. The owners had to rebuild after Hurricane Katrina's destruction.
Liquor: Yes
Outdoor seating: Yes
The space: Two floors of old world charm, hand carved mahogany, murals, paintings
Vibe: Busy. Bring the fam or take a date to jazz brunch.
Known for: BBQ and Louisiana blue crab
People-watching: The French Quarter is always busy with colorful types, tourists and great food lovers.
Cost: $$


Li'l Dizzy's Cafe, Tremé

LilDizzysCafe.net

Owner/chef: Wayne Baquet Jr. learned the restaurant biz from his father Eddie Baquet Sr., of the legendary restaurant Eddie's. Wayne Jr. took over Li'l Dizzy's from his dad last year.
Hot dish: Family run Li'l Dizzy's is an institution in New Orleans. Great fried chicken, po'boys and gumbo served buffet-style are a matter of multigenerational pride to the Baquets. Bouncing back from the pandemic, Li'l Dizzy's is continuing their legacy.
Liquor: Yes
Outdoor seating: Yes
The space: Charming, old school, no frills, buffet-style
Vibe: Casual for lunch or family breakfast
Known for: Fried chicken, fried fish
People-watching: Neighborhood regulars, police officers, politicians. Obama and other former presidents, the New Orleans Saints and local celebs have also been spotted.
Cost: $

You may also enjoy: Loretta's Authentic Pralines for pralines and beignets, or Victory, a downtown bar famous for its craft cocktails