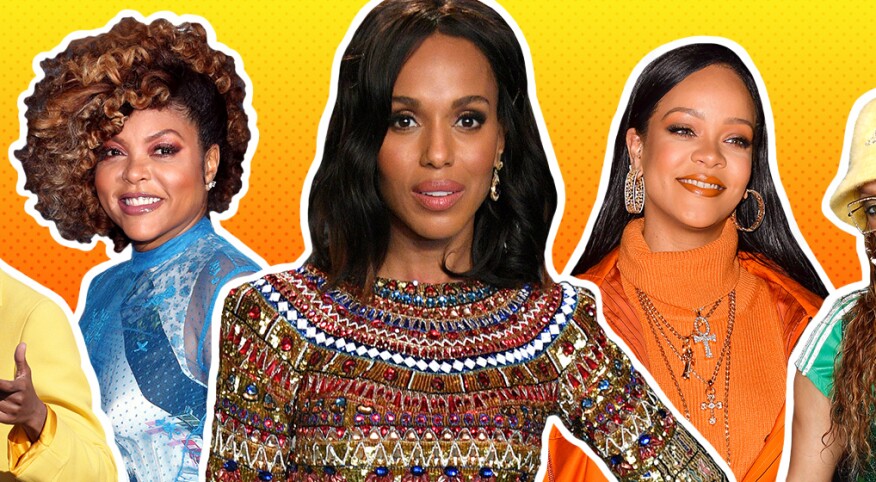 (Editor's note: We've followed her style advice in Essence, been inspired by her motivational musings and seen her on TV. For decades, Mikki Taylor has been the leading authority on fashion and beauty for Black women. She's the author of Self-Seduction: Your Ultimate Path to Inner and Outer Beauty and Commander in Chic: Every Woman's Guide to Managing Her Style Like a First Lady (inspired by Michele Obama, naturally). Now, Taylor invites us to see individual style as a reflection of our own storied journey with an extraordinary look at hers. Force of Beauty: A Newark Family Memoir is an Audible Original. And speaking of originality, here's her inspiration on how to radiate yours with style.)

As an editor who's held up the mirror on Black women for decades, I take joy in witnessing today's Black Girl Magic, which celebrates the beauty and power of Black women. I've watched us journey from the unsettling years when none of the makeup available looked like us or spoke to our needs and desires. I rejoiced when Beverly Johnson, Iman and Beyoncé appeared on the covers of magazines that didn't celebrate our beauty. As a former model, I, like my sisters, became a mix master, shaving rouge into ashy powders to warm them up and blending foundations to mimic our rich skin tones long before the industry caught up.

Celebrate Your Skin

Today is the future we dreamed of, one where Rihanna offers us Fenty Beauty and over 40 shades of foundation and Lupita Nyong'o and Kerry Washington smile at us from advertising pages. This isn't lost on us, because though Black beauty and how we perceive ourselves is self-referential, a key part of the evolution is the ability to see ourselves in the mainstream. "I couldn't pick up a Seventeen magazine when I was 13 and find something about my skin because I didn't see myself on those pages. It was as if I didn't exist," said Lisa Price, founder of the beauty brand Carol's Daughter.

Enjoy the (Hair) Journey

Prevailing attitudes about how we really want to look have also created a seismic shift in how we wear our crowns. We've gone from stereotypical style choices, and chemical dependency that saw us wed to relaxers, to embracing our own distinct "hair journeys" where we are wed simply to ourselves. These explorations see us owning all the chameleons that lie inside each of us.

How we are seen and heard has also been shifted as much by the Crown Act (created in 2019 by Dove and the Crown Coalition to end hair discrimination) as by those who've entered the hair care industry to change the game. Now we are directing the evolution from the salon to the laboratory. Even celeb sisters like Taraji P. Henson, Tracee Ellis Ross and Gabrielle Union are tending our curls with their signature hair care brands and shaping the narrative about what's beautiful to us.

Let Life Be Your Runway

Back in the day, Sunday hats in the Black church took your breath away, mink coats stole the show and a cinched waist was on lockdown thanks to the best girdles under the sun! We sashayed from our own runways to the street with the best of them, sewing our clothing on a dime, and no one was the wiser. According to celebrity stylist Wouri Vice, who works with Andra Day and singer-songwriter H.E.R., for us it's always been about originality. "There's always been a reason behind why we do what we do, and a brilliance in the way that we do it," Vice notes. When I first worked with Destiny's Child, Tina Knowles Lawson, Beyoncé's mom, was creating the distinctive costumes that formed their signature look born out of her own vision. And who can forget record-breaking sprinter Florence Griffith Joyner — FloJo — and the style she brought to the 1988 Olympics in Seoul? She blazed a trail for Serena Williams and how she mesmerizes us on the court today.

Be Who You Are — Bold and Beautiful

Vice says it all began with what was handed to us as a people: scraps. "Our ancestors took the same cotton that we once had to put through the cotton gins and created gowns," he says. What Black women have always proven is that style knows no limits, so whether it's supermodel Naomi Campbell, who brings a new dimension to anything she wears, or Vice President Kamala Harris rocking power in Converse sneakers, we need look no further for the evolution.

This article was adapted from aarp.org. Click here to learn more.