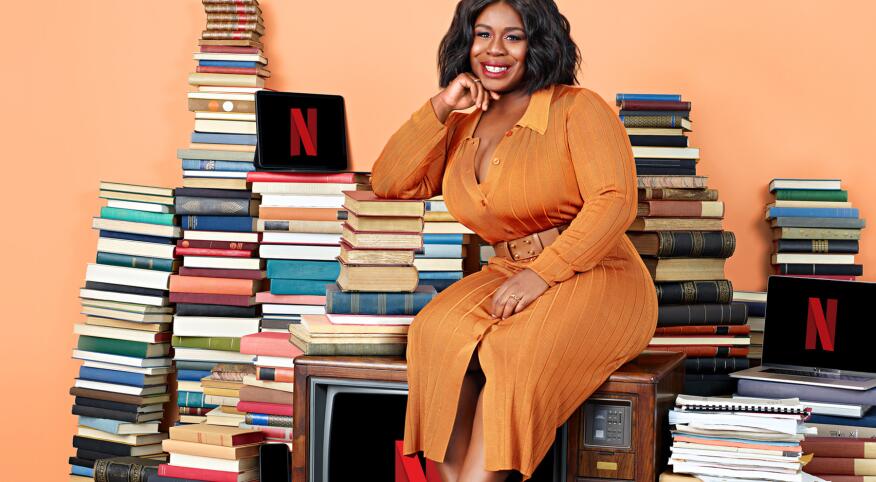 The wine. The plot twists. The confessions. The wine. The laughs. The food. The friendships. The wine. Many of us have enjoyed book clubs for years. I started one with other mothers when our kids were in grade school. And how excited we all were when Oprah announced her very first book club pick, The Deep End of the Ocean by Jacquelyn Mitchard, in 1996. Now that my son is grown, my sister and I join The Women of Color Book Club on Zoom. From Atlanta to Anchorage, our members focus on works by Black women writers. So, I was really excited when Sisters From AARP asked me to curate a list of great book club options. One of them we're hearing a lot about now is the new Netflix Book Club, which focuses on books adapted into films or TV series. Check it out, and some other boss bibliophile hangouts.

Netflix Book Club" data-cms-ai="0" >
Netflix Book Club

Launching this month and hosted by Uzo Aduba, star of Orange Is the New Black, the popular platform showcases books adapted into movies.

What they're reading: Passing by Harlem Renaissance writer Nella Larsen. The book-to-film adaptation stars Tessa Thompson and Ruth Negga and is written and directed by Rebecca Hall. It follows the story of two Black women choosing to live on separate sides of the color line in New York City in the 1920s.
What the host said: "Each month I'll pick a book being adapted by Netflix. And after we read and watch it together, we'll talk to the cast and author about how the books we love become the shows everyone is talking about."

Well-Read Black Girl" data-cms-ai="0" >
Well-Read Black Girl

This club, launched in 2015, has over 425,000 Instagram followers. Founder Glory Edim hosts monthly meetings, Twitter chats and a literary festival in Brooklyn, New York.

What they're reading: Titles include Peaces by Helen Oyeyemi.
What a member said: "[The book club] has made me feel a lot less alone. Originally, we allowed allies into the group, but that changed the whole experience. When the group became Black women-focused, it allowed us to let loose and to be ourselves."

The Girlfriend Book Club" data-cms-ai="0" >
The Girlfriend Book Club

Every month, this group, powered by the AARP newsletter of the same name, polls the group to vote on the book selection. Live discussions are on the third Tuesday of every month at 7:30 p.m. ET, in a closed Facebook group, which is free to join. You do not need to preregister or purchase tickets. The group regularly features the author at the live discussions and offers book giveaways done via random drawings.

What they're reading: Midnight at the Blackbird Café by Heather Webber
What a member says: "It is a women-only book club with live conversations and discussions with the authors. We may not all be in agreement about every topic but we can all share our opinions and be heard!"

Flowers Bookclub" data-cms-ai="0" >
Flowers Bookclub

Members meet quarterly to discuss the book with the author who wrote it.

What they're reading: Dear Black Girl by Tamara Winfrey Harris, among other titles
What a member said: "This book club gives me life. The last book we read … made me realize that I wasn't alone in some of the things I'd experienced or felt. When my depression was at its lowest during this pandemic/seclusion, reading was the light in the darkness. The Zoom meeting made me feel less alone in a world that doesn't necessarily love or embrace Black girls/women. Everyone was kind and welcoming."

Amerie's Book Club" data-cms-ai="0" >
Amerie's Book Club

Started by the Grammy-nominated singer-songwriter, producer and editor of the New York Times best seller, Because You Love to Hate Me. Books for the "modern reader" are chosen monthly and discussed via IGLive chat.

What they're reading: The Past Is Red by Catherynne M. Valente
What the host said: "I've found the best way to have [a] dialogue with my fellow book lovers is online, where [the] connection is energized and in real time," Amerie says on her site.

For Colored Girls Book Club" data-cms-ai="0" >
For Colored Girls Book Club

Gizelle Fletcher's Indianapolis-based group selects fiction, memoirs and essay collections by Black women, other women of color and nonbinary writers. Monthly in-depth interviews with the authors culminate the readings.

What they're reading: Libertie by Kaitlyn Greenidge, among other selections
What the host said: "Understanding that there isn't a binary of gender, I wanted to include people who may not identify as women," Fletcher told Shondaland.

Silent Book Club" data-cms-ai="0" >
Silent Book Club

The club that invites members to gather in person to read silently started in 2012 with friends Guinevere de la Mare and Laura Gluhanich, reading in companionable silence at a neighborhood bar in San Francisco. According to them, "Reading with friends enriches our lives and makes us happy. We love hearing about what people are reading (often in their other book clubs), and we think it's important to put down our phones and be social." The club has about 250 active chapters around the world.

What they're reading: Depends on the chapter. Find your local chapter.
What a member said: "I started my local chapter shortly after I moved without knowing practically anyone. I … have continued to be friends with many of … these lovely, bookish people."

Reese's Book Club" data-cms-ai="0" >
Reese's Book Club

Each month, actress Reese Witherspoon chooses a book with a woman at the center of the story.

What they're reading: Sankofa by Chibundu Onuzo
What the host says: "We make our choices thoughtfully and look for ways to deepen our connection to books, authors and ourselves."

Read a Book With Kara" data-cms-ai="0" >
Read a Book With Kara

Launched by journalist and author Kara Brown, with the goal of reminding "you that others exist in a true, deep way," and to help people engage in informed discussions.

What they're reading: Things Fall Apart by Chinua Achebe and Interior Chinatown by Charles Yu, among others
What the host says: "At a time when it seems like it doesn't matter, I say double down on the truth. You don't have to argue with people who deny the truth, but you should damn well know what the truth is."

Oprah's Book Club" data-cms-ai="0" >
Oprah's Book Club

Launched in 1996, Oprah's selections often become best sellers. She recently partnered with Apple.

What they're reading: The Sweetness of Water by Nathan Harris and Bewilderment by Richard Powers, among others.
What a member said: Oprah inspires me to become better as a teacher and a person to tackle any challenge that comes my way. I love a community of like-minded people, kindred spirits who read, question and have a passion for outstanding books.