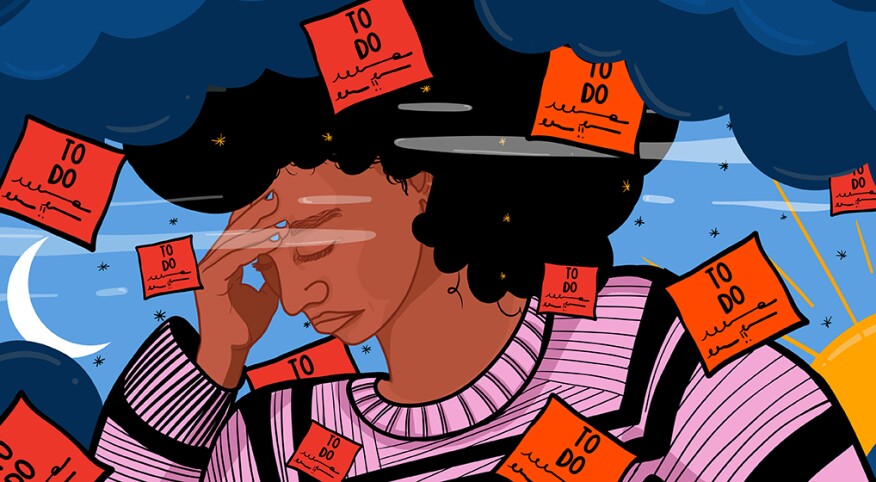 When folks hear about ADHD, they often think of white boys, who seem to be most associated with the condition. It is often undiagnosed in people who look like you and me, according to the Kaiser Health News, which notes that "For many Black women … finally having that answer comes with both relief and grief after years of suffering and being misunderstood."

That's why it's important to me to be as open as possible with others about what it's like to live with ADHD as a Black woman. I recently spoke on my podcast, Creators in COVID, about my experience as a freelance writer with ADHD trying to survive the pandemic.

During this time, I also turned 40. To say that lessons were learned during this time is quite an understatement. My life was more messed up than that of the Fresh Prince when he had to suddenly leave the Philly streets for Bel-Air. (I'm a movie critic. Plots speak to me.) ADHD does hit different after 40, this I already knew from my own research, but the changes were gradual. This pandemic only accelerated things; it was the fast-forward button on that old VCR.

ADHD over 40 was already a concern for me. I had read about the issues. The brain fog, loss of focus and the increased problems with executive functions collide with depression to cause most middle-age people to change their usual routines. My routine was already in chaos when the COVID lockdowns began in March 2020. I was teaching English classes at a community college and working as a freelance critic and writer. A few months prior, I had covered the Sundance Film Festival, resulting in articles for three publications. The SXSW Film Festival was coming up and I already had assignments lined up to cover while there.

Then the national call for self-isolation, in place, happened and persisted through May. I lost the fees that I would collect from the SXSW coverage. My university ordered everyone to virtual learning. I was able to gather more freelance writing work, but those editors wanted firsthand stories that coincided with the cultural upheaval I was watching take place on my screens and even in my town. My kids went into virtual schooling around the same time. Charlie was 17 at the time and Connor was 7, in the 11th and 2nd grades. Cate and Kara, then 21 and 20, lived outside of the area, one of them over 1,500 miles away. I made them come home because we did not know what the virus was and things were so uncertain. I felt that we would be better off living together than miles apart. They were not so certain and understandably grew uneasy.

The pressure of being in the house with a family of neurodivergent people like me, combined with the daily dose of bad news, sullen press briefings and the growing fear of what COVID could do, wreaked havoc on my productivity. Throw in the financial uncertainty from the pandemic's influence on work worldwide, along with the new problems balancing jobs with family duties, and you have the perfect storm that was my mental state in spring 2020. I was living amid symptoms that I thought I would meet at 45 but were taking place at 40 and continuing to 41.

Those symptoms are a part of perimenopause, which can begin in the mid-40s. The way it was explained to me in therapy is that my system freaks when the estrogen is leaving the body. Chemicals that are already imbalanced in my brain — serotonin and dopamine — decrease. This throws everything out of whack and leads to the mental changes like the ones I described.

Again, this is a gradual process. In an ideal situation, I would already be taking action with my therapist by the time my symptoms were enough to impede my daily life: hormone replacement therapy, a change in ADHD meds (or no meds at all) and other remedies to handle the symptoms of both menopause and ADHD. Some programs help women like me learn tips, tricks and hacks. My Adderall, color-coded timers, task apps, alarms and mindfulness hacks that usually kept me on track would no longer work. It is a lot to look forward to.

In 2020, as I approached 40 during the lockdowns, I was well aware that my turn was coming. What no one tells you is that all the stress and pressure from a once-in-a-lifetime world crisis could accelerate my journey to a middle-aged ADHD brain. I still think we are discovering what the possibilities are.

Whatever the case, brain fog prevented me from writing any coherent thoughts for days. That triggered a kind of depression that only exacerbated my problems. Somehow my time blindness gained a new feature: It turned day into night in a blink of an eye. Sometimes an hour felt like 5 minutes and 5 minutes a lifetime. I started journaling to help keep track of the days.

Disorganized is not a word to describe my world. Disaster area is more like it. And even after a major cleanup we still can't figure out how we lost a whole set of silverware and my 6-year-old's new pink shoes. No one had left the house for days on end. Where could they be?

The bright side is that I knew what was happening because of my prep for menopause, which I had started a few years prior. It just came much earlier than expected. With some extra therapy sessions, my online Facebook group and some compassionate editors, I now have a map for my mental health journey ahead. I look at it as a jump start on the road to middle age. I already knew what destination I was driving toward on this road. The pandemic just became the nitrous in my car, and when that switch was flipped, I got onto the fast track to learning about my aging ADHD brain.