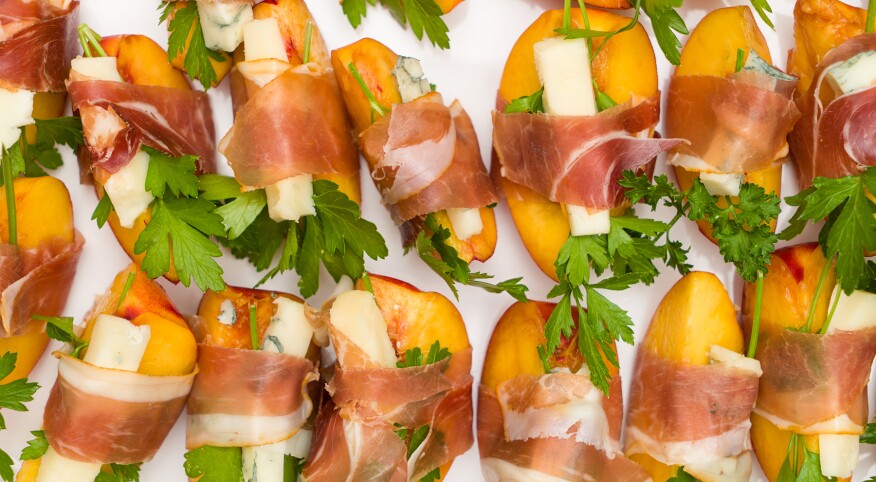 Starting Oct. 31, most people's blood sugar goes on a wild ride that doesn't stop until New Year's Day. It's not just what we ate on Thanksgiving or Christmas — it's the endless leftovers! From gingerbread-flavored morning coffee to trays of powdered sugar-dusted confections at the annual church cookie exchange, many of us use the holidays as an excuse to eat like Queen Latifah in Last Holiday!

Sweets and other carbs are notoriously bad for folks with type 2 diabetes, a disease characterized by elevated levels of sugar (glucose) in the blood. High blood glucose, or hyperglycemia, is caused by an inability to properly make or use insulin, the hormone that allows your cells to turn glucose into energy. Sugary foods and simple carbohydrates are broken down into glucose more quickly than protein or fats, so they have a larger impact on blood sugar.

Libations, which tend to flow freely this celebratory time of year, are another problem. "The liver is there to detox and remove the alcohol from your system. And if it's doing that, it's not able to release stored glucose to you, which can sometimes stabilize one's blood sugar," says Amy Kimberlain, a registered dietitian, certified diabetes care and education specialist and spokesperson for the Academy of Nutrition and Dietetics. That can increase the risk of hypoglycemia, or low blood sugar.
"The right snacks at the right times can help slow down digestion, keep blood glucose levels steady and prevent the kind of hunger that leads to overeating."
And even if you can resist the incessant pressure to wash down Cousin Norma's red velvet cake with a cocktail or two, most celebrations revolve around one giant carb-laden food-coma-inducing feast. Not being mindful of portions at meals is another trap for anyone with type 2 diabetes because large portions can play havoc with blood sugar. Skipping meals — perhaps in anticipation of stuffing ourselves with holiday macaroni and cheese later on — is a bad idea for similar reasons.

Before you add this to your seasonal stress, be assured that there is a single strategy that can help you handle all of the aforementioned issues with ease, though it's a surprising one: snacking. "People tend to equate snacks with 'treat foods,' but they don't have to be unhealthy," says Grace Derocha, a registered dietitian, certified diabetes educator and spokesperson for the Academy of Nutrition and Dietetics. In fact, a few well-planned snacks can be key to getting you through the holidays without crazy blood sugar surges or weight gain.

The right snacks at the right times can help slow down digestion, keep blood glucose levels steady and prevent the kind of hunger that leads to overeating," says Derocha. "When you have type 2 diabetes, it's especially important to eat regularly for steady energy." Ideally, she says, someone with type 2 diabetes will want to eat every three to six hours for optimal blood sugar management.

Calorically, a snack should be small. New Jersey-based registered dietitian and certified diabetes educator Erin Palinski-Wade, author of 2 Day Diabetes Diet, recommends keeping them to around one-third to one-half as many calories as you eat at a meal. And, ideally, a good snack has a balance of lean protein, healthy fats and carbs. A good general rule of thumb is to look for snacks with 15 to 30 grams of carbs as well as some fiber, she says. This combination helps keep blood sugar levels steady and hunger at bay.


Pros' Smart Snacking Tips for the Holidays

So how should you snack to maintain healthy blood sugar and weight during the season of ultimate temptation? Nutrition pros have a few tips for every taste.


Savory
"Deviled" eggs. Not only are they a great source of protein, which keeps you full longer, they make a great base for so many other flavors. Try a healthier take on deviled eggs by halving a hardboiled egg and topping it with salsa, guacamole or pesto for some extra veggies, plant-based protein and healthier fat, says Derocha. You can also slice it and have it over a piece of whole-grain toast.
Sweet potato toast. These orange root veggies are in season and full of vitamins C and A. Derocha likes to slice a sweet potato into quarter-inch (or thinner) planks, toast them until crunchy and top them like toast. Use cheese, nut butter or mashed avocado.
Pita pockets. Stuff half a whole wheat pita with hummus, cucumber and tomato, says Kimberlain.
Salty
Pistachios. One ounce, or just under 50 nuts, provides 6 grams of plant-based protein per serving, plus fiber, and nearly 90 percent of the fats found in these nuts are the better-for-you mono and polyunsaturated type. The protein-fiber-fat trio may help keep you fuller longer, says Palinski-Wade.
Pickled vegetables and cheese. When you're navigating holiday charcuterie boards, pair some pickled vegetables with cheese for max flavor and minimal calories, says Kimberlain. Pickles, olives and cornichons all have a briny flavor that cuts through dairy fat, and the combo will fill you up for less.
Prosciutto-wrapped melon or mango. "Spice on fruit is a fun flavor profile," says Derocha. She likes to squeeze some lime juice on slices of melon or mango, sprinkle with chili powder or cayenne and wrap it in a single slice of prosciutto for a flavorful kick.
Sweet
Creamy fruit dip. Make your own quick high-protein dip by mixing equal parts of your favorite nut butter with plain Greek yogurt and a dash or two of cinnamon. "While more research is needed, there is some evidence that this spice may help control blood sugar," Derocha says. Either way, it makes a delicious creamy dip for banana or apple slices.
Chocolate chip energy balls. Derocha likes to make batches of these no-bake bites and freeze them so there's always a fast, healthy snack around. For the holidays she makes what she calls Grinch balls: A few teaspoons of matcha, a finely ground powder made from processed green tea leaves (the natural caffeine provides an energy boost), one-half cup of nuts, 10-15 pitted dates (a natural sweetener), a tablespoon of coconut oil and a small amount of coconut flakes or mini chocolate chips. Combine everything in a food processor or blender, pulse to desired consistency and roll into one-inch balls.
Pomegranate yogurt bark. Spread plain Greek yogurt on parchment paper and mix in seasonal fruit (kiwi and pomegranate seeds are festive choices), nuts or mini dark chocolate chips. Freeze, then break apart and enjoy a piece at a time.
Note: This article was reported by Jill Waldbeiser for AARP and adapted for Sisters by our editors. Learn more here.