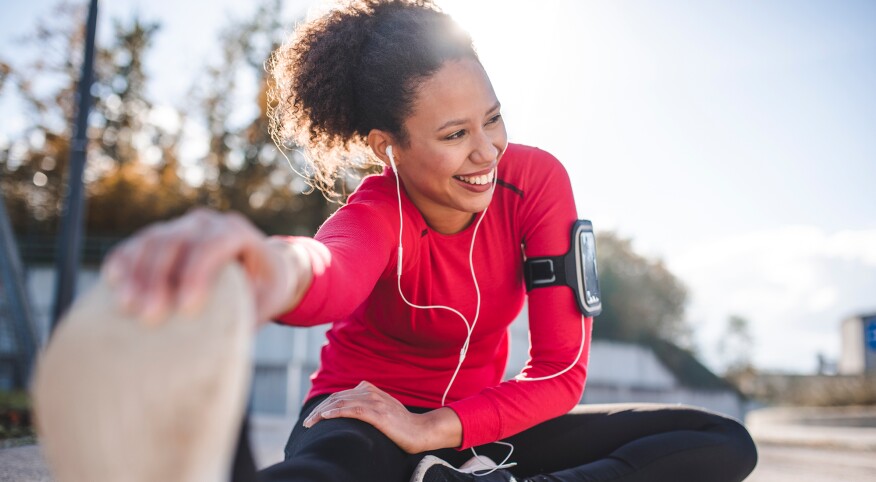 Fitness apps created by Black wellness experts will take your at-home and on-the-go workout to the next level.

Work out with these fitness apps from Black wellness experts that provide training in yoga, HIIT, strength and toning, boxing, stretch, cardio, nutrition and more. Whatever your fitness passion, budget or skill level, there's an app here for you, ranging from five-minute workouts (if you're crunched for time) to one-hour full classes. This is content created with the wellness needs and interests of people of color in mind.

Yoga Green Book

This fitness app and content platform connecting the Black yoga community offers wellness editorial as well as unlimited yoga classes for beginner to advanced levels, taught by Black yogis from across the globe.
Creator: Carla Christine, an electrical engineer who turned to yoga for her debilitating anxiety and is now a certified instructor
Download the app at: YogaGreenBook.com
Subscriptions: $20/month


The Power Method

The Power Method app offers four- and six-week fitness programs, including strength, yoga and HIIT for every level of fitness, with 15,000-plus workouts from more than 200 instructors and wellness guides.
Founder: Kehinde Anjorin, a personal trainer and strength coach known for her strength classes on Halle Berry's popular fitness, health and wellness platform Re-Spin.com
Download the app at: PowerInMovement.org
Subscriptions: Start at $15/month


Ridge Davis, Powered by Playbook

This fitness app has classes and workout sessions focused on strength, toning and cardio as well as specialized abs, booty and arms classes. Nutritional advice is also available.
Creator: Celebrity personal trainer Ridge Davis from Ridgid Fitness, also known for his popular classes on Halle Berry's Re-Spin.com
Download the app at: RidgeDavis.com
Subscription: $15/month


Trifecta Strong

Known for HIIT and intense boxing, this app is meant to level up your at-home workout with classes taught by professional athletes and other well-known fitness experts.
Founder: Paul Bamba, a celebrity personal trainer and former U.S. Marine
Download the app at: TrifectaStrong.Com
Subscription: $15/month


Sworkit

This app offers affordable access to a library of more than 500 at-home and on-the-go workouts, including their six- and eight-week fitness programs and classes like yoga, strength, stretch, cardio and more.
Founder: CEO Gregory Coleman, an electrical engineer and U.S. Air Force Academy graduate, command pilot and ranking colonel in the Air National Guard
Download the app at: app.Sworkit.com
Subscription: $60/year


Tone House TV

Train like an elite athlete with unlimited super-intense interval sessions from Manhattan's Tone House studio, dubbed the "toughest workout in NYC." All fitness levels are welcome, but newbies should try the rookie sessions first and see how they fare before moving on.
Founder: Alonzo Wilson, a former college defensive lineman and trainer for NBA players and top models
Download the app at: Apple's App Store or Google Play
Subscriptions: $20/month, $75/six months or $100/year

Note: All rates are subject to change.