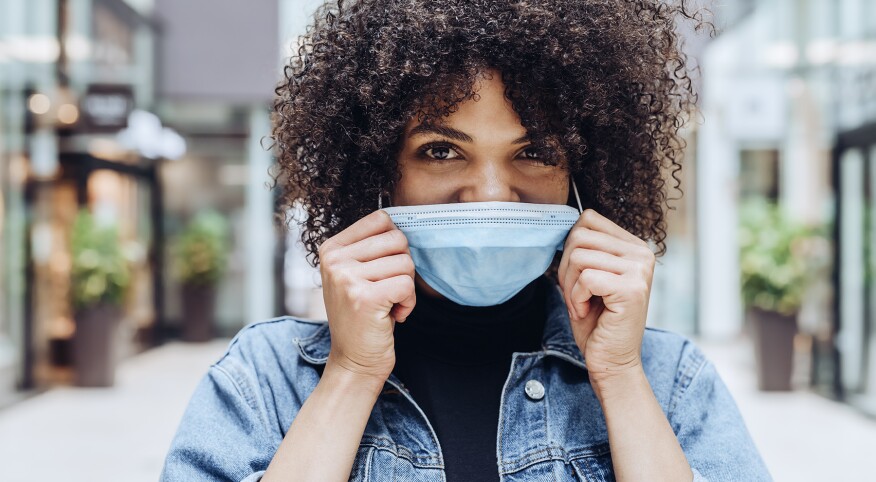 Yes, they're darned uncomfortable, but we won't be taking these protective masks off for good anytime soon. And most of us are perfectly fine with that. After all, in the age of COVID-19, face coverings are as essential to saving lives as seatbelts. (I'm talking to you dude at the supermarket wearing yours like it's a chinstrap.) But what we could stand to lose pronto is the skin issues, such as "maskne" (a combination of the words "mask" and "acne"), that skin care specialists say have become commonplace in the areas around the nose, mouth and chin. The repetitive friction from the mask against the face, plus the moisture that accumulates from exhaled air, factor in.

According to the American Academy of Dermatology (AAD), our ubiquitous accessories can cause rashes, itchiness, acne and even peeling skin. Now add to that the fact that the weather is changing, exposing us both to cold, drying air outdoors and drying indoor heat. Then there's the stress that we're all under due to the pandemic, and stress can trigger skin issues. Being tense and anxious can cause the body to release the stress hormone cortisol, which in turn can increase oil production in the skin and contribute to breakouts, according to WebMD. Experts recommend a few simple considerations in how we care for our complexions.

Cleanse gently with a product that is mild and fragrance-free before putting on your mask and again after taking it off for the day. Even if you're not wearing makeup because you're working from home or no one really sees it, you need to remove dirt, oil, bacteria and irritants. Rinse with lukewarm water.

Two fragrance-free options:
CeraVe Hydrating Facial Cleanser, $14.64 (amazon.com)
Anne's Apothecary Black Honey Facial Cleanser, $15 (annesapothecary.com)

Read the label on your moisturizer. The AAD recommends products containing ingredients such as ceramides, hyaluronic acid and dimethicone. You also want to match your moisturizer formulation with your skin type. Opt for a cream if you have dry skin, a gel if it's oily and a lotion for normal or combination skin. Use it right after cleansing to create a moisture barrier that can also help protect against friction. And while you're moisturizing, don't forget a swipe of lip balm.

Three moisturizer options:
CeraVe Facial Moisturizing Lotion with Broad Spectrum SPF 30, $16.69 (target.com)
Neutrogena Hydro Boost Water Gel with Hyaluronic Acid, $9.99 (neutrogena.com)
Peter Thomas Roth Hyaluronic Cloud Cream Water Drench Moisturizer, $52 (sephora.com)

Give your skin a breather. Skip makeup if you can or opt for products that are oil-free and non-comedogenic. Consider wearing breathable cotton masks and carry them in multiples so you can change them when they get damp. Wash reusable masks in fragrance-free detergent. Remove the mask for 15 minutes or so when it's safe to do so, such as when you're alone in your car; outdoors and socially distanced; and when you're home in a room by yourself.