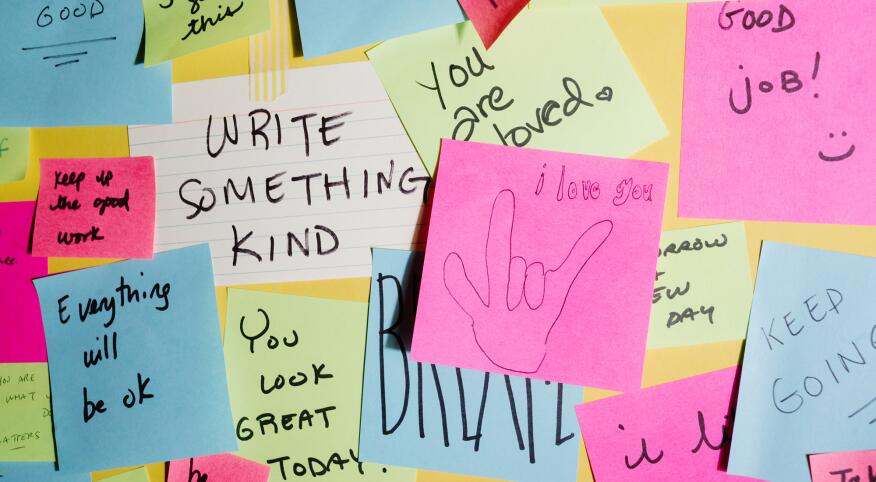 "You've got to do better!" "That was so stupid!" There's that sister again, there to beat me up when I'm down. Sad thing is, that sister is me. The relentless thought thug.

We often believe that if we show compassion for ourselves when things go wrong, we will never grow, we will become complacent. We confuse criticism, internalized beliefs about ourselves and the feeling that we aren't good enough with "healthy striving for growth and development," writes clinical psychologist Adia Gooden, in an article on her website, dradiagooden.com. "Being compassionate to yourself does not mean giving yourself a pass or letting yourself off the hook for mistakes." Being kind to ourselves can help us face and take responsibility for the things we've done wrong, allow us to reflect on them, and motivate us to find ways to move forward.

Research has found that practicing self-compassion lowers levels of anxiety, depression and stress, thereby supporting overall health and well-being. You'll be happier, more motivated, have more understanding of yourself and what you are going through — so important during times such as now when the coronavirus has nerves on edge. Being kind to yourself helps you have more resilience to get through stressful times, major changes and life-altering events.

1. Be your own BFF. If your bestie were going through difficult times or feeling depressed over a mistake, would you berate her? Or would you lend a sympathetic ear or a helping hand? Be patient and understanding with yourself. Show yourself compassion even when you don't feel good about yourself and especially when you can't control how things are. Giving yourself support and comfort helps you get through difficult situations and even leads to growth and transformation.

2. Get out of your head. We can't completely eliminate negative thoughts. They will arise, especially when things go wrong. Using those negative thoughts in positive ways will help you be more in control of your reactions. "It is hard to learn, grow, and love when we are in an overly critical environment; even if that environment is just in our heads," says Gooden.

3. Nobody's perfect. Have you set your standards too high? Sometimes we have to let go of our ideas of perfection. Are you living by the standards set by others and doing what others expect of you? Let go of the preconceived notions of yourself and embrace your individuality.

4. Make your weaknesses into strengths. If there is something that you don't like about yourself, examine the situation. Make sure it really is something that needs to change (that you want to change) and then make a plan.

5. Pat yourself on your back. Appreciate your achievements, however small — you didn't have that extra slice of chocolate cake. You exercised instead of watching Netflix. You finished a project. Give yourself the gold star.

6. Make more time for Me Time. Take a few minutes (or several) each day to do whatever helps you decompress or brings you joy. Meditate. Dance. Take a walk. Work on goals. Learn a language. Pursue a hobby.

7. Practice self-care. Take care of yourself, particularly in moments of stress and anguish. Maintain a healthy diet, get enough sleep, and be attentive to other things to maintain your mental and physical health.

8. Give thanks. Write down what you are grateful for and remember those things you take for granted — a network of friends, a place to live, a great meal — to help you focus on what you have instead of what you don't have.

9. Let go of the need to please. Let go of outside validation. Sometimes what we think of ourselves comes from our childhood experiences and how others view us (such as how we look, or what we are supposed to believe about ourselves and our world). Don't link your happiness and goals to outside influences.

10. Talk to others. Build a support network of people to help you place feelings in context. Just be sure they are truly supportive. If these steps don't help and emotions are getting out of hand, don't be afraid to seek professional help.