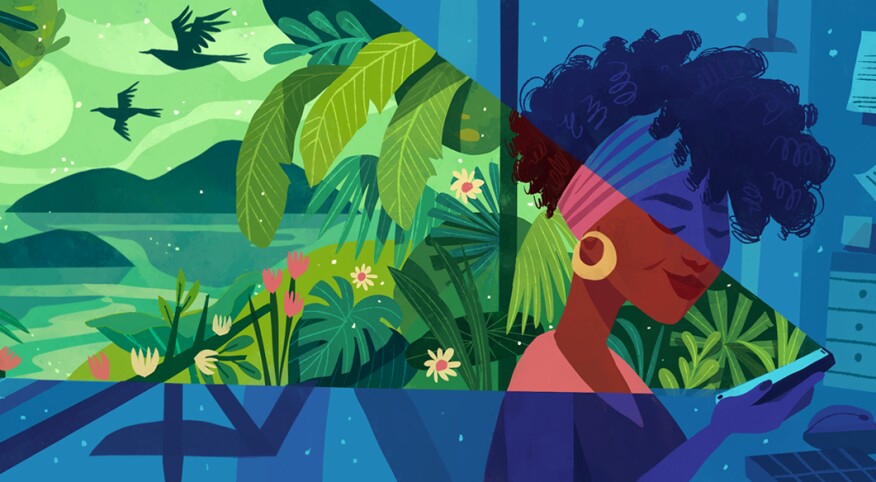 From the editors: The Black community is coping with historic challenges relating to social justice, health and the economy. We're all in this together. During this turbulent time, Sisters From AARP is prioritizing new and existing content that supports our readers' mental, physical and economic safety and well-being, including this story. Feel free to email us at sistersletter@aarp.org and share your thoughts on how we, as Black women, can best support one another now.

"Meditation is not a panacea for all the problems in the world but it is a wonderful support for cultivating resilience and well-being," says Sebene Selassie, a meditation teacher whose sessions are featured on the new Liberate app. "Most of us Black women are caregivers and changemakers and that is part of what makes us amazing and magnificent. But too often we deplete our energy and resources taking care of others and our communities."

That's hitting home in profound ways right now as so many of us are caring for sick loved ones, homeschooling, trying to make ends meet, supporting loved ones through grief or serving as essential workers in jobs such as health care. Selassie stresses the need to replenish ourselves. "Meditation is time that we set aside specifically for ourselves, knowing that our self-care must come first if we are to continue to serve our larger purpose."

To take time for some self-care, here are mindfulness apps that you can use anywhere and anytime. They also provide free resources tailored specifically to address the fear and uncertainty created by COVID-19.

For the people: Liberate (iOS, Android)

While studies have shown the health benefits of mindful meditation for African Americans, research also suggests that meditation practices need to be adapted to the culture to be fully effective, including using meditation teachers of color. Created by Julio Rivera, Liberate is the first mindfulness/meditation app geared toward people of color. It has a large selection of free 5-, 10- and 20-minute guided meditations, as well as talks and Q&As with meditation teachers. Sessions focus on topics like self-worth, self-love and compassion, reconnecting to the ancestors and coping with microaggressions.

If you want variety: Insight Timer (iOS, Android)

Insight Timer claims to have the largest library of free meditations with 40,000 to choose from, including comprehensive mindfulness content like 10-day/10-minute courses (such as Reprogramming the Brain for Happiness), talks about relaxation, charts to track your progress, music tracks for relaxation and more. Newbies can start with a free 7-day course to learn how to meditate. More experienced meditators can also set a timer and meditate in silence. I like the 10-minute Morning Ritual by Jason McGrice to start the day.

How you doin?: Stop, Breathe & Think (iOS, Android)

OK, you won't get a greeting from Wendy Williams, but the SBT app checks in on how you feel physically and emotionally before you meditate, then gives you a choice of meditations geared to your current state. There's access to free meditations and activities, and you can also find free things on the website under 19 topics like Mindful Breathing, Body Scan, Forgiving Yourself, Nature Sounds and Gratitude. On the free meditations I tried, I felt like I was listening to Siri and there were no serene sounds accompanying it, but if you like simplicity this may work for you.

If you have trouble with sleep and relaxation: Calm (iOS, Android)

This also has a web app so you don't have to download the app to get to the free content. The website even has calming sounds as you search for meditations, but there's not a large amount of free stuff without the subscription. The free offerings are pretty basic and designed more for beginners, but you can start with the app's 7 Days of Calm, a weeklong beginners program, and follow it with other free sessions that could get you through a couple of months without repeating them. For instance, there are other 7-day series topics. You can also try single meditation sessions (ranging from about two to 30 minutes) on stress, increasing focus, managing emotions, personal growth and bringing mindfulness into your relationships. Calm is especially good if you have problems sleeping; it even has sleep stories (adult bedtime stories) to help lull you to sleep.

If you need to get out of your head: Headspace (iOS, Android)

Headspace, an app that's especially popular with busy executives, offers a lot to improve sleep and reduce anxiety. There is a basic free version with meditations and exercises that teach meditation and mindfulness, but it's geared more for beginners. It includes 10 meditation sessions, three sessions of Everyday Headspace (one-off sessions that change every day of the week) and a Falling Back to Sleep Wind Down meditation. Many reviewers agree that to get to the better stuff you need to have a subscription, which starts at around $6 per month with an annual plan. Consider a free two-week trial. Also, because of COVID-19, the company is offering free access to Headspace Plus through 2020 to health care professionals with a National Provider Identifier or other valid information.