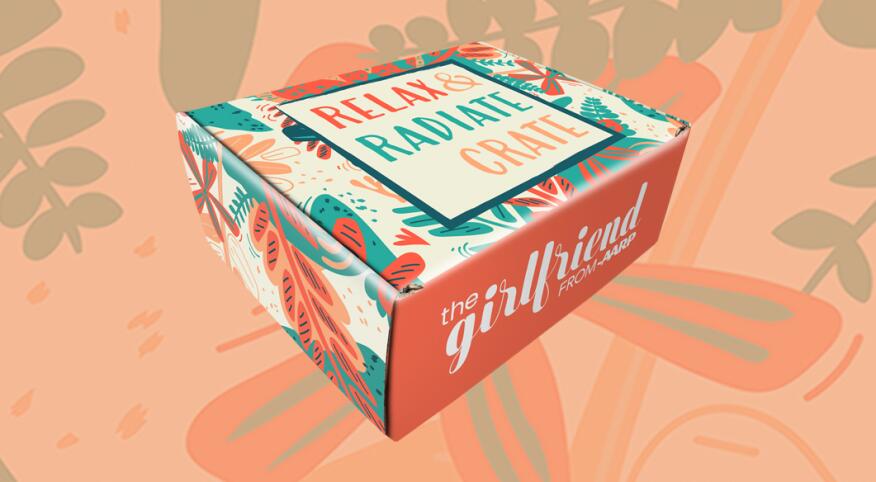 There's no doubt about it. This year's pandemic has taken a toll on our well-being. I'm the editor of The Girlfriend, AARP's sibling site celebrating Gen X women and friendship, and I can confirm that every friend I have is suffering pervasive stress. And that's just one reason we're launching something special — just for you. Right now.

Drum roll, please ... welcome to the Relax & Radiate Crate, brought to you by The Girlfriend. It's a quarterly box that costs $45 even though the crate includes top trendy picks for the season, with a total retail value of more than $200! Inside, you'll find a seasonal selection of unique and custom-designed home, beauty, and wellness items. Perhaps even something to help you make your home even more of a sanctuary during these times. We won't spoil the surprise, but our first Fall Crate contains a special mix of self-care items designed to help you unwind and radiate your best self, including a bestselling book!

The aim is to help you relax and radiate your best self — even in these trying times. But this is more than just a special treat. It's also designed to create a meaningful community, which is why we want to help you connect and reconnect with friends and other wonderful women just like you.

So sign up today and you'll receive your first crate in early September. And you'll also enjoy access to special giveaways and contests by joining our Relax & Radiate Club on Facebook. The club is only for Relax & Radiate Crate subscribers.

We're super excited to share this offer with The Girlfriend and Sisters readers. You deserve to relax.