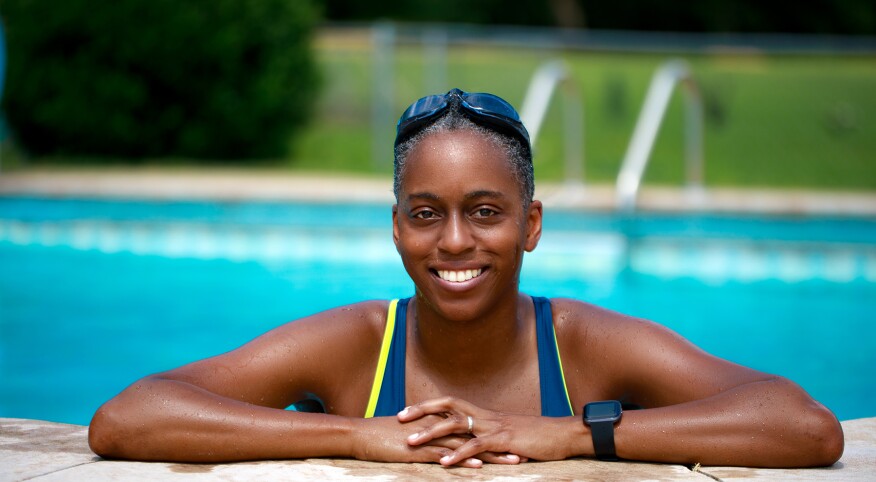 "Run to the other side," the swim instructor directed. She had coaxed me from the poolside, carrying me on her hip in order to acclimate me to the water. But now she wanted me to run. My 7-year-old brain couldn't process how this woman (the only white employee at our local YMCA) expected me to run from over-my-head depths of the pool's center to the shallow end. I clung to her, or tried as best as I could, as she pried my arms from around her neck.

In the '80s, swimming pools were scarce on Chicago's predominantly Black South Side, where my mother enrolled my brother and me in swimming classes at the local Y. My tiny body refused to relax; it didn't float with the ease that I was assured it could. The pool water itched my face, burned my eyes and inflamed my sensitive sinuses. Until the instructor took special interest in me, I had mostly shivered in the shallows, camouflaging my tears in the chlorinated water.

"I'm going to leave you out here," the instructor warned. There was no trace of the sympathy she had used to coax me into her arms. "You have to run to the other side."

I felt her hands release me as she tread away further into the deeper end. So I ran, gasping and flailing, reaching the pool's edge just as my head fully submerged beneath the surface. She retrieved me and carried me back out to the middle of the pool. We did this running — not swimming — exercise nine more times.

I did not learn to swim.

Setting a milestone goal

More than 30 years later in 2016, as I planned to celebrate my 40th birthday at an all-inclusive resort in Mexico, I set a goal to learn to swim. My body and my relationship to it had evolved, which also meant that my body's relationship to water had changed. I had become more buoyant, in both the literal and figurative senses. It seemed that the city was changing as well, as more pools had been added to the South Side.

So I purchased swim goggles and a nose clip for my eye and sinus sensitivity. And I enrolled in lessons at my local park district. The Black 20-something instructors patiently coached a crop of adult learners, many who seemed, like me, to have a great deal of water trauma and shame. For the first three weeks, I watched as one instructor sat with a Black woman, who appeared slightly younger than me, on the edge of the pool until she gained enough confidence to get in. Another instructor performed exercises with a Black man, perhaps my older brother's age, hesitant to submerge his head under water.

For my part, my "no" and "I can't" during the first few lessons were met with patience and "We won't force you to do this, but I know that you can." And I did. With an instructor swimming encouragingly beside me, I jumped in the deep end. I floated. And I swam my first lap.

"I think I've found my perfect exercise," I confessed to my then-girlfriend Tiffany. "I feel like I could really be good at this once it becomes natural."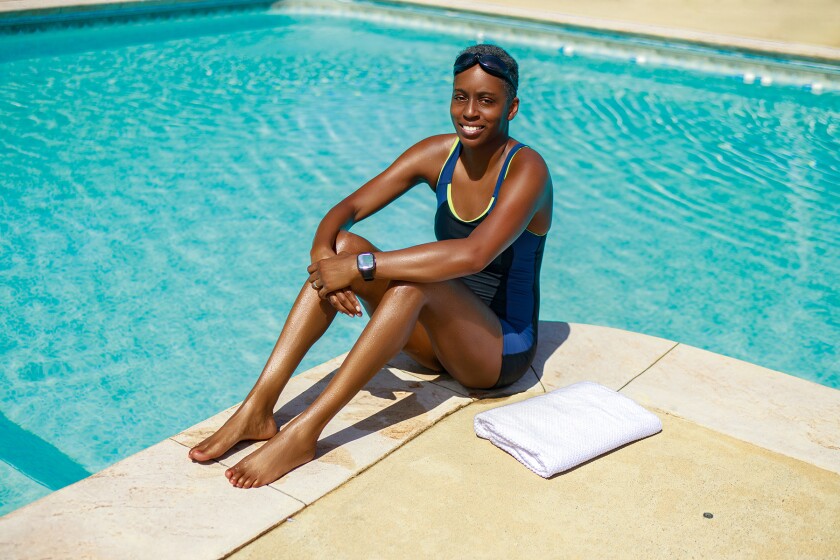 Victory was short. In addition to a long Chicago winter, the following year left no room for swim practice. My 2017 began with accepting an assistant professorship in creative writing, signaling our need to relocate to Arkansas. Then, my father passed and I was responsible for his affairs and memorial service. My house, placed on the market, required some costly repairs. One of my writing projects, a webisode called "Quare Life," received production funding, and we filmed it at my home. Plus, Tiffany proposed and I accepted. In 2018, we married privately, relocated to Arkansas and then had a 100-person wedding at an all-inclusive resort in Mexico, where a resort guest patiently showed me how to submerge in water without the nose clip.

Sometimes returning to the drawing board isn't such a bad idea, I convinced myself in 2019 at the start of my first full year at the university. I stared into the six lanes of the 25-yard pool of my new university's aquatic center. There were no instructors, just two student lifeguards keeping me in their periphery. I spent the next 10 weeks on a self-directed swim practice. But each time I moved toward the deeper end, I became paralyzed with fear staring at the 4-foot drop to 9 feet and then to 12 feet. I missed the attentiveness of my Chicago Park District kids. Finally in the ninth week of practice, I completed my first (and only) lap in the university pool.

Finding new strength

When the COVID-19 pandemic hit, the university gradually shut down and we quickly shut in. In addition to the fear and anxiety apparently part and parcel of a pandemic, I felt a fair amount of shame for worrying about my derailed swim practice once again right at the point of a major milestone, the first lap. But Tiffany and I were reaching another milestone: the purchase of our forever home. As interest rates plummeted to all-time lows, we found ourselves able to buy a property with a swimming pool.

The previous owner had taught swimming in our 48,000 gallon, in-ground saltwater pool. Today, it feels like an incredible honor to be its new caretaker. When we and our friends and family were vaccinated beginning in the early spring of 2021, they came to visit. And swim. Bolstered by their support during my second day in the pool, I swam my first lap. Then my second. And a third.

I've spent the majority of my life being afraid of water and feeling ashamed of my inability to swim. My first swim instructor so long ago at the YMCA did not cause this fear, but her sink-or-swim methods certainly antagonized it. Taking control of my fear has taught me a lot about our ability, particularly as Black women, to endure and even become stronger from what are essentially unnecessary hardships. And so I think of the children that Tiffany and I plan to raise (another post-40 adventure) and how they will be strong swimmers because I have persisted to make these laps.