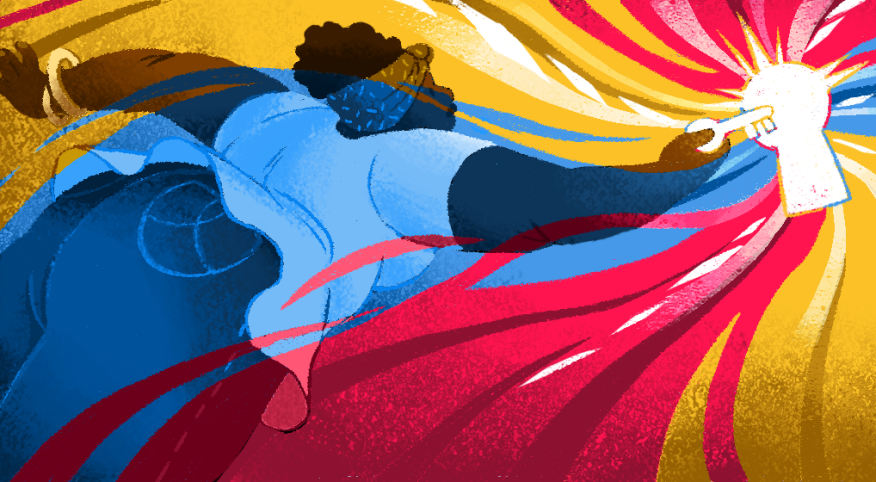 Throughout the course of this tumultuous year, I've discovered and rediscovered many talents that have been dormant for years. I learned how to play the keyboard. I started dancing again. And I took advantage of many writing courses to further my craft.

I've always wanted to jump into creative nonfiction, but I struggled with finding my own voice. Through a virtual intensive (one that, if not for the pandemic, I wouldn't have otherwise been able to take in person), I gained the confidence to pen a creative nonfiction piece that earned me a spot in a competitive mentorship program.

There have been deep creative shifts as I look ahead to entering my 40s, an idea that is also explored in the 2020 Netflix film, The Forty-Year-Old Version. If you haven't had a chance to watch it, I highly suggest doing so. It's not just for rising 40-year-olds either. Inspired by creator Radha Blank's real life, the almost 40-year-old protagonist is frustrated with a stagnant career in theater. She then decides to reinvent herself and follow a lifelong dream of becoming a rapper. Because dreams never expire.

Pamela Woolford, an interdisciplinary artist from Columbia, Maryland, also has found more creativity as she's gotten older. Woolford, 53, has been an artist for much of her life but says she has gained more confidence than ever before. "At this point in my life, my power suit is no makeup, no bras and no effs to give — and that sums up where I am as a middle-aged woman. As I get older, I am stripping myself of fears that serve no one, especially me," she continues.

And although creativity can change as we age, Shannon Crenshaw, a licensed therapist in Birmingham, Alabama, notes that self-discovery does not have an age limit. Aminata Cisse, a psychiatrist and founder of Am Taar Wellness in Miami, also notes that being creative can help drive our purpose.

While tapping into your creativity may shift with age, "it's also a continuous process," says Crenshaw. "When finding your own voice, you should ask yourself one simple question: "What do I want?" she explains. "Don't weigh work, family or money — just look at what you need. In your practice, it could be travel. It could be more quiet time. Perhaps good friends or intimate connections," she continues.

Crenshaw adds that she has Black female clients who are like Woolford, and they are not always completely confident but definitely more willing to make adjustments. "It's like they aren't waiting on permission to be their own awesome selves."

Cisse also finds that creativity can boost overall well-being. She says her patients have noticed an increase in self-esteem from tapping into creativity. "Just being able to create transforms how we look at ourselves. We are multifaceted — not just a mom, wife or employee, but you're also able to create beautiful things for [yourself] and for others to enjoy."

If you're wondering how to unlock your ingenuity — whether it's writing a novel, trying a new recipe, color coding your closet or something else entirely — Cisse and Crenshaw confirm that you can consider the following tips.


Experiment often. You never know what you're capable of doing until you try. Perhaps you can try a new exercise program. Or change that hairstyle that you've been rocking for the last decade. And once you try, continue to experiment frequently.
Find clarity. Removing unnecessary things will help you focus on what's most important in your life. Toxic habits, bad relationships and negativity in general can stunt your creative growth.
Ask yourself vital questions. Questions like the one Crenshaw posed above can help you to evaluate your purpose and inspire your imagination. Ask these guiding questions as well: If you only had a few hours in a day, how would you spend them? What changes would you like to see in the world? What gives you hope?
Listen to your gut. Remember that thing called intuition? Trusting your inner voice surely can help you to find your creative voice.
Consult the kid inside. You can spark creativity by revisiting what you were good at as a young person. "I really loved art as a kid. I took art classes and everything. That passion was lost when I began filling my days with work, but I've recently tapped back into this passion as a form of self-care," says Cisse.

Unlocking your creativity, or boosting it, can be a process. But never give up. Once you find your own voice, joyful living can be at your fingertips!