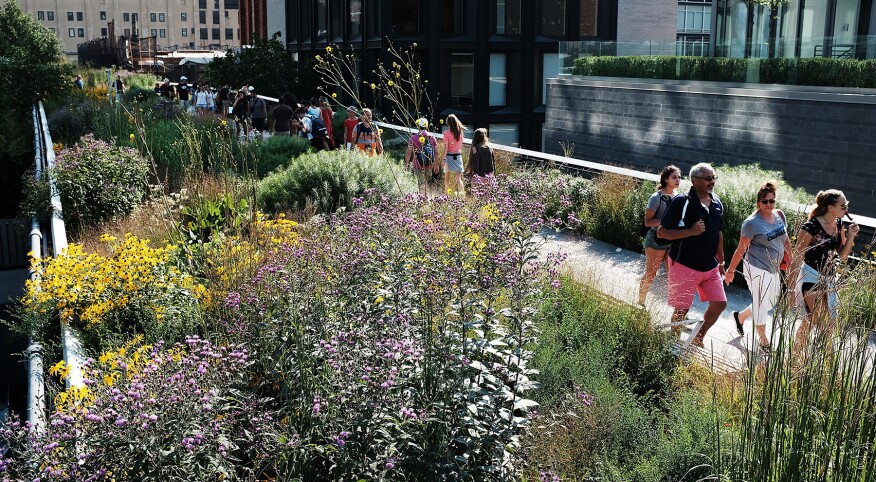 We can all agree that walking does a body good. Research shows that walking for at least 30 minutes each day can lower the risk of heart disease and stroke, prevent and control type 2 diabetes, lower cholesterol, strengthen your bones and help maintain a healthy weight. Walking can also reduce stress and boost your mood. For these physical and mental health benefits, I often like to lace up my supportive walking shoes (Dr. Scholl's, Vionic and Adidas are a few of my go-to brands) and literally take a hike.

During the pandemic, I spent extended time with my family in Baltimore, and my best friend and I took several soul-soothing and heart-to-heart-talk-filled morning walks through Cylburn Arboretum, a 200-acre hidden gem on the city's northwest side that's free and open to the public, with hundreds of specimens of trees, flower gardens, wooded trails and a historic mansion (temporarily closed to the public). When I'm home in Brooklyn, New York, my old standby the Brooklyn Bridge has become too crowded, so I enjoy finding new places to stretch my legs. And thanks to a friend's Instagram feed, I discovered and then took a guided nature walk through Shirley Chisholm State Park, a 400-acre park with panoramic views of New York City and a colorful mural of Chisholm, a Brooklynite who was the first African American Congresswoman and the first Black woman to seek a major party's nomination for President.

Ready to go on your own trek, girl? Consider these free and accessible urban paths across the country.

The High Line, New York City
A hoppin' city highlight, this former elevated railway line is a popular outdoor space that features public art, gardens, sweet and savory snack options, seasonal events and wellness programs.

Kenneth Hahn State Recreation Area, Los Angeles
A well-manicured state park in Los Angeles County with scenic footpaths and trails, lawns and landscaped areas, a fishing lake, a lotus pond and picnic tables.

BeltLine, Atlanta
This vibrant 22-mile loop built on unused railroad tracks connects locals and visitors to many of the city's neighborhoods via trails, bike paths, parks and public art, and is lined with restaurants, bars and shops.

Buffalo Bayou Park, Houston
Walk, run, cycle and soak in the natural beauty and historic sites in this 160-acre urban green space that flows through the heart of downtown Houston to the East End.

Romare Bearden Park, Charlotte, North Carolina
Named after Romare Bearden, an acclaimed visual artist from Charlotte, the 5.4-acre park is surrounded by the city's skyline and features a 30-foot "Spiral Odyssey" sculpture and a lighted waterfall.

Palmer Park, Detroit
Meet and greet like-minded folks at this community park that engages the diverse local community with seasonal programs like yoga and tai chi classes and a walking club that meets twice a week.

Riverfront Canal Walk, Richmond, Virginia
Learn about Richmond's rich history via the public art, statues and exhibits on this 1.25-mile stretch along downtown Richmond's waterfront. Don't miss the towering bronze Emancipation and Freedom Monument, representing Black Virginians freed from slavery.