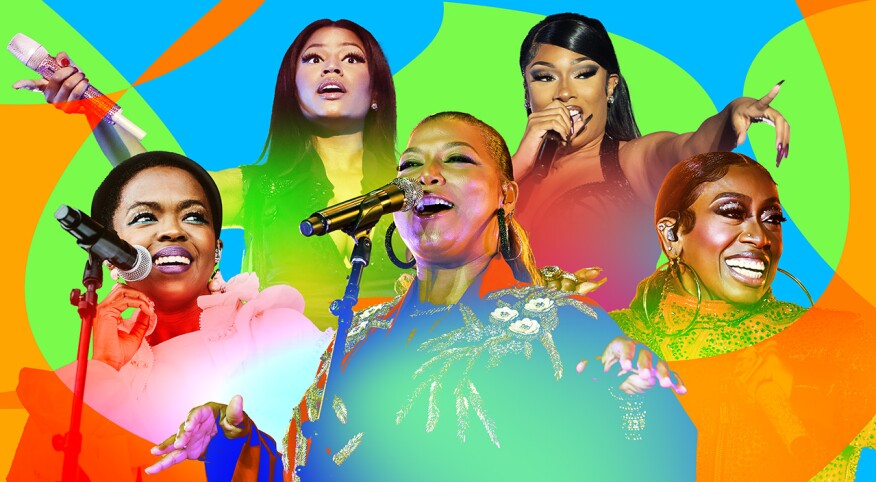 We're celebrating the genre's birthday with a playlist that puts the ladies first – with hot tracks by our favorite new- and old-school lyricists. C'mon fly girls, let's bust a move!

As an art form, hip-hop has come a long way, baby, from its humble beginnings in 1973 at a back-to-school party hosted by DJ Kool Herc in the Bronx. Since then, the culture has shape-shifted to embrace the street smarts of East Coast rap, G-funk from the West Coast, Southernplayalisticadillacmuzik vibes, spiritual rap and genre-bending styles that defy categorization. Hip-hop has also impacted the global pop cultural landscape and influenced our lingo ("That was fresh!"), how we dance (from doing the Running Man to twerking) and our choice of streetwear.

Rap's female elite have broken barriers too. In 1999, Ms. Lauryn Hill had the first hip-hop album to earn the Grammy award for album of the year with her debut solo, The Miseducation of Lauryn Hill, and she was the first woman to win five Grammys in a single night. In 2003, Queen Latifah became the first female rapper to earn an Oscar nomination. And this year, Missy Elliott became the first female hip-hop artist to be inducted into the Rock & Roll Hall of Fame. (A Tribe Called Quest was nominated too.)

For some of us, rap music provided a soundtrack for our younger adult lives. During my freshman year at Howard University in the late '80s, Afrocentric and Native Tongue vibes ruled and De La Soul's "Me Myself and I" boomed from cars zipping past the Yard. In the early '90s, I was inspired by the jazzy, bohemian Brooklyn musings and style of Digable Planets (you know, they're cool like dat), not to mention crushing on the trio's front man Butterfly. After graduation, as a budding journalist I got my break writing for Vibe, Rap Pages and The Source.

Similarly, fellow Sisters From AARP scribe Gerrie Summers launched her career in the world of rap as the founding editor of Word Up! magazine, which debuted in 1987 during hip-hop's golden era.

"I could see that the music form was evolving, but I have to admit I had no idea that it would blow up as much as it has," says Summers. She gives a special shoutout to MC Lyte for her "mad skills and distinctive voice"; Queen Latifah for her "style and uplifting rhymes"; and Salt-N-Pepa for their "hot jams and showstopping performances." These hip-hop divas are represented here on several timeless tracks, but notably with "Lyte as a Rock," "U.N.I.T.Y" and "My Mic Sounds Nice," respectively.

We hope this 50th-anniversary playlist takes you on a fun trip down memory lane and keeps you in step with what's happening in hip-hop now. In addition to positioning the "Ladies First," the playlist is packed with tracks from male MCs we love like 2Pac ("Dear Mama"); LL Cool J ("Around the Way Girl"); Outkast ("Prototype"); and Kendrick Lamar ("HUMBLE."). Nostalgic R&B collaborations are also in the mix, including Diddy, Faith Evans and 112 on "I'll Be Missing You"; Erykah Badu and Common on "Love of My Life (an Ode to Hip-Hop)"; SWV featuring the Wu-Tang Clan on "Anything"; and Brandy with MC Lyte, Yo-Yo and Queen Latifah on the "I Wanna Be Down" remix.




Wanna keep the party going? Check out our Hip-Hop @45 playlist.