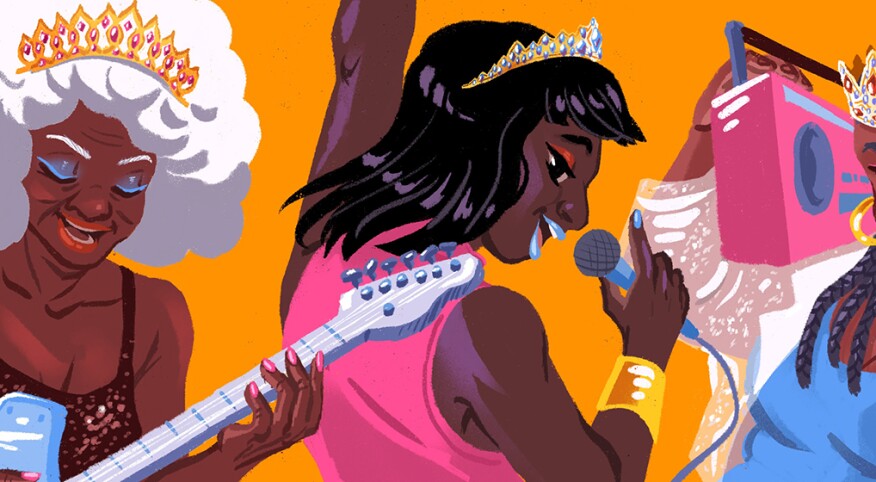 "We got rhythm. We got pride. We birth kings. We birth tribes," Beyoncé belts on her celebratory, Black queens anthem, "Black Parade."

Yaaas, Queen Bey!

You are royalty, sis. So hold your head up high, and don't forget your place on the throne, no matter what obstacles you may face.

To celebrate Sisters' third anniversary, we're saluting you, our majestic readers. With our latest playlist of 26 empowering and inspiring songs, we want to remind you of just how beautiful and resilient you are. For you, your royal flyness, we kick off the playlist on a high note with "Video," India.Arie's jubilant ode to self-love. "But I learned to love myself unconditionally. Because I am a queen," croons the regal neo-soul singer.

Queen-themed and uplifting hits from music royalty are also in the majestic mix, including "Respect" by Aretha "Queen of Soul" Franklin; "Work That" by the reigning Queen of Hip Hop Soul, Mary J. Blige; "Ladies First" by Queen Latifah and Monie Love; "Q.U.E.E.N." by Janelle Monáe and Erykah Badu; "Queen of the Pack" by Patra; "I'm Every Woman" by Chaka Khan; and "Queen of the Night" by Whitney Houston.

Let's hear it from the boys, too. While Billy Ocean ("Caribbean Queen"), Jason Derulo ("Queen of Hearts") and Mali Music ("Royalty") shower you with the praise and appreciation you deserve, on "Queen Tings," newcomer Masego gives a shout-out to some of the dope celebrity queens we love, including Lupita Nyong'o, Regina King, Danai Gurira, Rashida Jones and Solange Knowles.

On the closing track, "Wake Up," featuring Sa-Roc, the lovely Ledisi invites you to lean into your queendom. "Stand up, wear your crown. Stay up high, they got to see you now," she coos.

That's right, get comfortable with your Black reign, and share this playlist with the queens in your life.