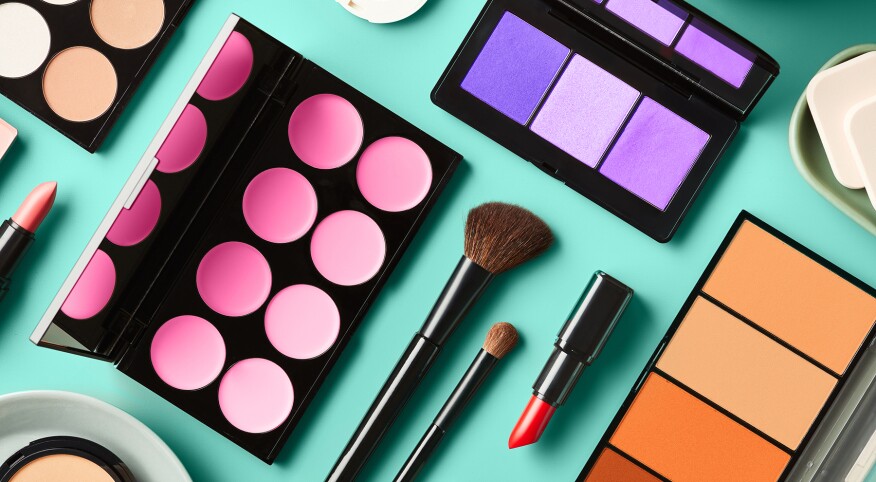 Our makeup and hairstyling options allow us to play up our best features, explore emerging aspects of ourselves or refresh a look with a few brushstrokes or a salon visit. That all comes with a cost. Whether you love a flawless beat or prefer the "no makeup" makeup look, we're all looking for ways to save a few bucks at the beauty counter. One way to do that? Know which items are worth the splurge and which offer budget buys that get the job done. More smart ways to look fly on a dime:

Sign up for loyalty programs

Many beauty retailers offer members exclusives and perks, such as free shipping, birthday gifts, early access to product launches, complimentary beauty classes and points earned for every dollar spent. Check those receipts! Drugstore chains may offer rewards, points and discounts at the register. Some expire quickly but can actually be used on the same visit. If you're shopping for a long list of items, consider splitting the list, checking out, then using any discounts you receive to purchase the remainder.


Try before you buy

You can ask for a sample of almost any product, from foundation and concealer to skin care and fragrances, at stores like Sephora, Ulta and M·A·C Cosmetics, as well as at Macy's and Nordstrom's beauty counters. Shopping online? Oftentimes, you can add free beauty samples to your cart, though you're usually limited to whatever items the store has pre-curated that day. If samples aren't available, consider purchasing the travel size.


Embrace multitasking items

For instance, many of Fenty Beauty's Killawatt Freestyle Highlighter shades pull triple duty as illuminator on face and body, eye shadow and blush. Want defined lashes, tamed flyaways and brows that won't budge? Maybelline New York Great Lash Clear Mascara checks all those boxes. Bonus: With multipurpose beauty items, you'll save space on your vanity and in your makeup bag.


DIY whenever possible

Lip scrubs, cuticle oil, shaving cream and plenty of other everyday items can be replaced by ingredients you likely already have in your kitchen panty. It's always wise to do a patch test on your skin first to check for irritation.


Give dupes a chance

The beauty aisle at the drugstore has come a long way, with many of its formulas giving prestige brands a run for their money. Got a signature lip color you can't do without? Seek a comparable shade for a fraction of the cost. Good to know: Urban Decay, IT Cosmetics, Yves Saint Laurent, Giorgio Armani and Lancôme fall under the L'Oréal Luxe Division, making many of L'Oréal's formulas comparable to its high-end counterparts.


Stock up wisely

New product launches and collections are exciting, but overlooking what you already have leads to a greater chance of items expiring before you get a chance to use them. Similarly, BOGO (buy one, get one) deals are most beneficial if you're picking up tried-and-true favorites and/or items you go through quickly.


Go to beauty school

Did you know that many cosmetology schools offer haircuts, facials, waxing, nail treatments and chemical relaxers? Students are under the supervision of their instructors, so you'll walk away looking amazing at lower prices.


Reduce your carbon footprint

Several popular brands offer recycling programs that benefit the planet and your wallet. When you return Kiehl's empty full-size products to the store, you're awarded 10 points that can be redeemed for services or vouchers. Meanwhile, at M·A·C Cosmetics, you can trade in six empty makeup containers for a standard lipstick. Loyalty program members can also choose between a standard Lipglass and a small eye shadow.


Take advantage of your FSA contributions

Flexible spending accounts (FSAs) go beyond copays, prescriptions and deductibles. Some lesser-known eligible expenses include feminine products, sunscreen or SPF-infused makeup, and various acne treatments. Need another reason to join the club? The cash you set aside in an FSA is pretax, so you'll save money on items you purchase repeatedly. (Check out the FSA Store in its entirety online.)


Earn cash back

Apps like Ibotta, Rakuten and Shopkick make it easy to unlock cash-back rewards for in-store and online purchases, including your beauty-related splurges. Also, major credit card companies often offer cash-back incentives, which cardholders can redeem for gift cards or statement credits.


Know the store's return policy

If a product is the wrong shade or doesn't meet your expectations, don't hesitate to return it, and shop at stores that offer cash refunds or store credit. Walmart, CVS, Rite Aid, Target, Sephora, Ulta, Macy's, M·A·C Cosmetics and Sally Beauty all accept returns and exchanges.