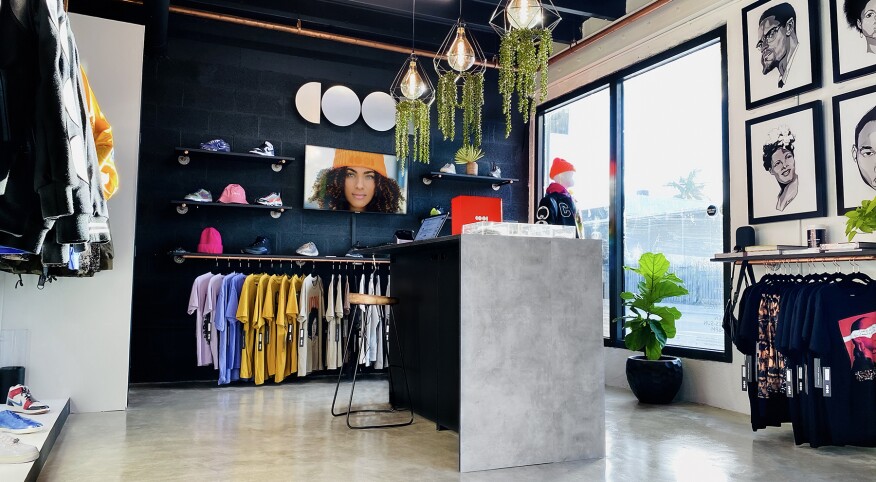 Whether you are in search of that head-turning dress for a special event, a bold piece of statement jewelry or a gift for a hard-to-shop-for friend, why not support a Black-owned boutique near you? Here are some shops around the country. They offer diverse collections ranging from gifts to books, to vintage handbags, to bridal and plus-sized fashions.


Art to Ware, Port Authority, Manhattan, New York City
(ArttoWare.com, IG: @arttoware)

Cool finds: Clothing, accessories, gifts, books and novelties, all handmade by socially conscious local artists.
Owner: Young adult author and creator of the popular blog TheCreativeCookie.com, Lesley Ware. She envisioned the boutique as a place where artists, designers and creative visionaries can showcase their work and shoppers can find unique pieces.


Statement Piece, Brooklyn, New York City
(StatementPieceNY.com, IG: @statementpieceny)

Cool finds: Distinctive clothing and accessories for men and women. Choose from the boutique's hand-selected and custom designs to find unique special-occasion outfits, interesting gifts or handmade jewelry.
Owner: Shari Andrews, who has roots in the worlds of modeling and fashion, embraces an aesthetic that is bold, fearless and fashionable.


NiLu, Harlem, New York City
(Shopnilu.com, IG: @shopnilu)

Cool finds: A unique retail experience in the heart of Harlem, NiLu's well-crafted and culturally meaningful accessories, thoughtful gifts and beautiful home goods are sourced from independent makers and artists.
Owners: After running a very successful floral shop for 15 years, Katrina Parris, along with husband Mark, opened the specialty gift and home boutique. NiLu is named for their sons Nigel and Luke. The shop was a way to slow down and spend more quality time with their boys.


Closet Savvy Consignment, Newark, New Jersey
(ClosetSavvyConsignment.com, IG: @closetsavvyconsignment)

Cool finds: High-end designer handbags, accessories and clothing, "cuz ain't nobody paying full price," says their website. Book a free virtual consignment session.
Owner: Isabel Livingston grew up in Newark and opened the chic brick-and-mortar version of her online consignment shop in 2015.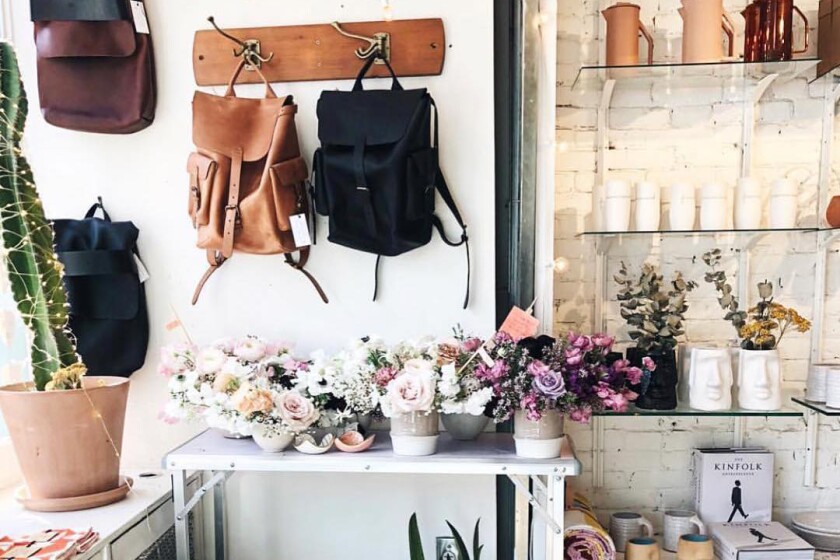 Olives & Grace, Boston
(OlivesandGrace.com, IG: @olivesandgrace)

Cool finds: Locally sourced specialty foods and unique handcrafted gifts; gift boxes for all ages and occasions. Winner of "Best Gifts" Boston, the shop is also a resource for corporate gifts.
Owner: Founder Sofi Madison opened the shop in 2012 to build community engagement.


Marsh + Mane, South Street, Philadelphia
(MarshandMane.com, IG: @marshandmane)

Cool finds: Hair and skin care, styling tools, candles, gifts and grooming products. They also offer makeup and natural hair workshops.
Owner: Jenea Robinson, a former public relations director for VisitPhilly.com, sought to create a hair care boutique for Black women that is calm and inviting. The beautiful and peaceful shop is staffed with associates who are knowledgeable about Black hair and skin care needs.


Somewhere, Navy Yard, Washington, D.C.
(SomewhereOfficial.com, IG: @somewhere.official)

Cool finds: Trendy sneakers and men's streetwear are found in the back of the store, while handcrafted beverages, like chai and matcha lattes and Vietnamese coffee, are found in front.
Co-Owner: Dominick "Dom" Adams is a Washington-based fashion guru. He and co-founder Will Sharp also own the Southeast Asian café/streetwear boutique Maketto in the district.


Pantora Bridal, Los Angeles
(PantoraBridal.com, IG: @pantorabridal)

Cool finds: Gowns designed with the Black bride in mind. The dress silhouettes are made for curvy figures, and their lace is available in seven shades to complement to our skin tones. There is a second location in Brooklyn, New York.
Owner: Andrea Pitter is a graduate of New York's Fashion Institute of Technology. Pitter seeks to ensure that Black brides enjoy bridal designs fit for them both physically and culturally.


Philthy Ragz, Ladera Heights, Los Angeles
(ShopPhilthy.com)

Cool finds: Chic and comfortable styles for busy women with curves. Shoppers love the unique clothing store as much for its laid-back vibe and groovin' tunes as its edgy, high fashion statement pieces.
Owner: Founder and designer Gaynelle Winston White's store/showroom has become a retail destination for socialites, savvy locals and celebrities.


Kenneth Wingard, San Francisco
(KennethWingard.com, IG: @kennethwingard)

Cool finds: Home decor and furnishings, including pillows, clocks, candles, wall hangings, mirrors and most anything else needed to make a fashionable and cozy home. The shop also offers some clothing items.
Owner: Kenneth Wingard was an on-camera designer for the OWN show Home Made Simple, and the Hallmark Channel's Daytime Emmy-nominated show, Home & Family. He has designed home furnishing merchandise for Crate & Barrel, Martha Stewart, Restoration Hardware and Target.


Meow and Barks Boutique, Atlanta
(MeowandBarksBoutique.com, IG: @meowandbarksboutique)

Cool finds: Plus-sized women's clothing and accessories; unique, colorful, sexy and trendy fashions. Check out their Haute Now, Saturday Love and Resort Wear collections. There is a second location in Jacksonville, Florida.
Owner: Traci Evans is a plus-size fashion designer, stylist and seamstress. Her fashions are inspired by the cultures and colors of locales like Cuba and Dubai.


Tags Boutique, Atlanta
(TagsAtl.com, IG: @tagsboutique)

Cool finds: Unique and sexy luxury-for-less fashion for women. Shop trendy jumpsuits, sets and dresses, as well as tops and bottoms, shoes and outerwear.
Owners: Kandi Burruss, entrepreneur, platinum singer/songwriter and cast member of The Real Housewives of Atlanta, along with her friend Peaches Chin. Chin handles the day-to-day business of running Tags.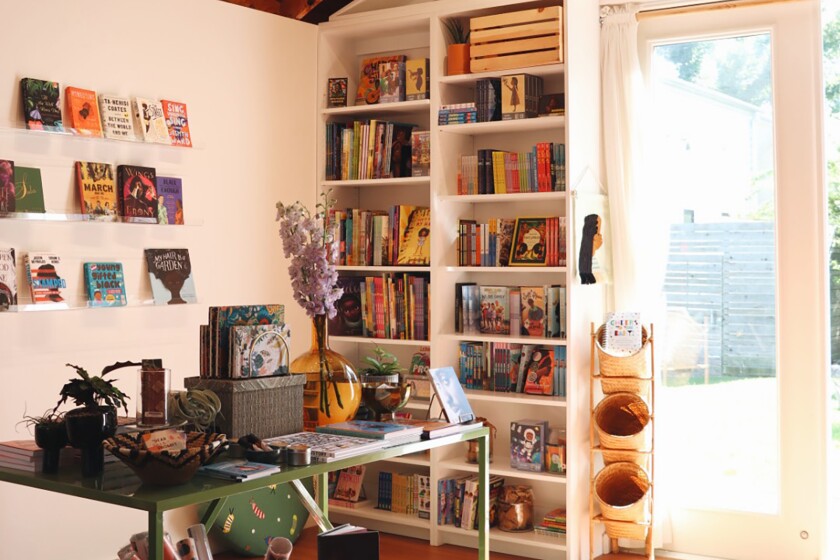 Kindred Stories, Third Ward, Houston
(KindredStorieshtx.com, IG: @kindredstorieshtx)

Cool finds: Books, journals, notebooks, art, pottery, coffee, tea and candles. A unique place to gather, the store hosts author talks, book clubs and community events. Patrons often stop in for a cup of coffee.
Owner: Terri Hamm is committed to amplifying Black voices and bringing diverse stories to the local community of Houston with curated events for the community.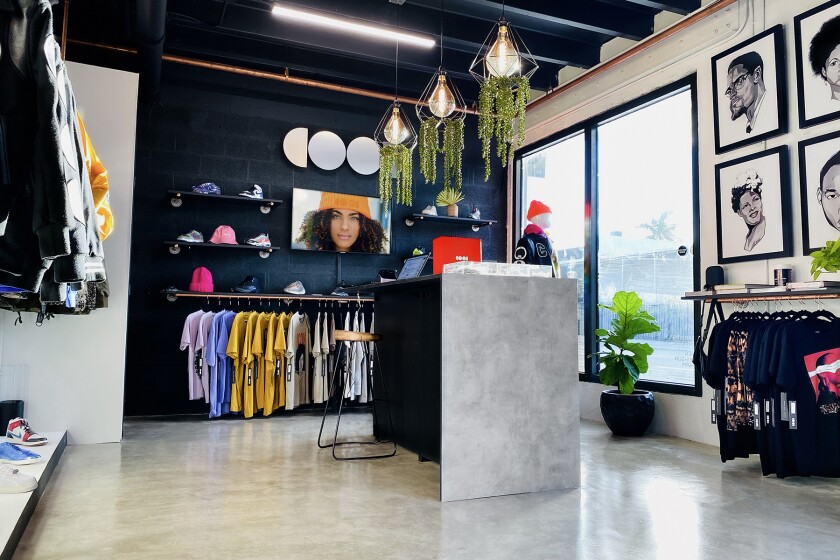 COOL Creative, Miami
(ShopCoolCreative.com, IG: @coolcreativeinc)

Cool finds: Accessible, casual, well-made fashions for men and women, including sweatshirts, hoodies, outerwear, tops, bottoms and accessories. Working with local area churches, the owners donate a portion of proceeds to schools, beautification projects, mentorships, internships and more.
Owners: Terrance and Johanne Wilson. Their desire to wear clothing that represents the experiences of people of color, as well as their love of art and passion for social justice, inspired their line of statement-making pieces.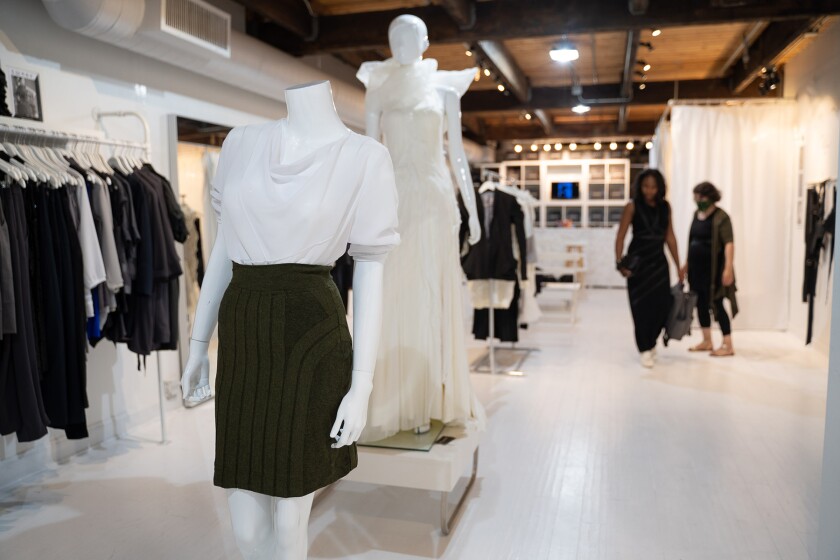 Shernett Swaby, Chicago
(ShernettSwaby.com, IG: @swaby_rebel)

Cool finds: Upscale edgy and artistic women's fashion with an architectural aesthetic. The collection includes couture pieces, as well as everyday dresses, tops and bottoms and outerwear.
Owner: Canada's Shernett Swaby is a Project Runway Canada alum. Most of the designs in her store are sewn by hand.


Art Loft, Midtown Detroit
(ArtLoftDetroit.com, IG: @artloftdetroit)

Cool finds: Trend-setting gifts, housewares, statement clothing from hip local designers, shoes, handmade jewelry and functional art from around the world.
Owner: Rachael Adadevoh-Woods, originally from Ghana, is also a jewelry designer.