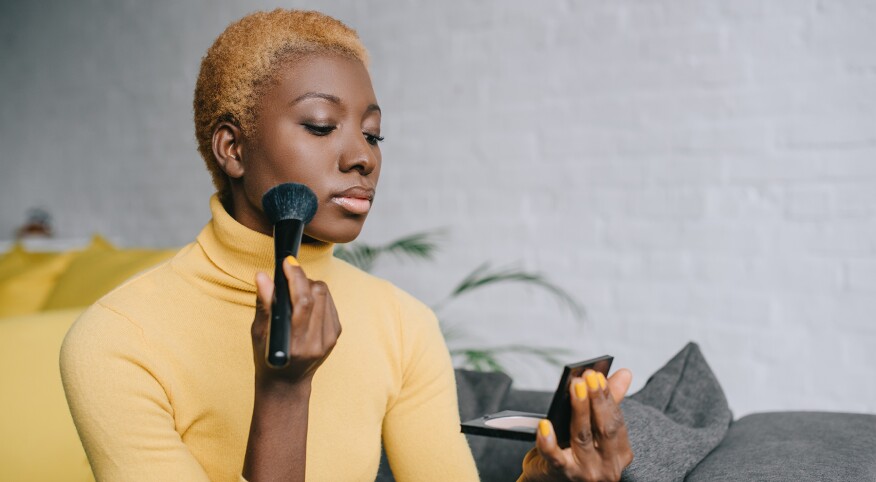 Thankfully, gone are the days when sisters had slim pickings at the makeup counter. While some brands back in the day carried shades to complement the full spectrum of beauty, with Fashion Fair and Mac Cosmetics being among the first, most failed to offer the variety that's available today.

From classics to current favorites, we're filling you in on some foundations that are friendly to our skin as it changes. Plus, we asked professional makeup artists to let you in on a few tips and tricks.

Stick with cream and liquid formulas

According to Shawntay Fisher, celebrity makeup artist whose client list includes Ava DuVernay, Robin Roberts and Jasmine Guy, cream and liquid formulas work better on mature skin, as they don't settle into creases and fine lines as much. "With these particular formulas, you have the option to make them as full coverage as you'd like, or you can thin them out with a moisturizer for lighter wear," she says. Good to know: Less product is more, especially on mature skin.

Determine your undertone

Finding the right shade starts with knowing your undertone, aka the hue underneath the surface of your skin, which never changes. Selecting a foundation that doesn't match yours can make you appear pale, red, orange or even gray.

One way to find your undertone is to look at the veins on the underside of your wrist. If they appear blue, your undertone is cool. If they appear green, your undertone is warm. Can't tell? You may be neutral. However, this method doesn't work for all Black women. If this is the case for you, try holding a piece of gold and silver jewelry against your skin. If the gold looks better, you probably have a warm undertone. If you wear silver better, you most likely have a cool undertone. If you wear both equally well, you may have a neutral undertone. Standing in front of a white background can also make your undertone more apparent.

Find your shade

Fisher suggests finding a shade that's closest to the most pigmented area of your skin for a more balanced look (the neck and chest are good areas to test). To ensure the right match, step out in natural lighting to get a true sense of how the foundation appears on your skin.

Some sisters find their perfect match by mixing two or more shades of foundation. If you're dealing with variations in pigmentation on different areas of your face, or with hyperpigmentation, this might be the way to go. "Some brands offer a free trial or a deluxe sample, and even blister cards with different shades for you to try before you buy," says Mindy Green, licensed cosmetologist and owner of MG Beauty.

Perfect your technique

Start by giving your face a good cleanse. Smooth on SPF moisturizer to protect your skin from sun damage, and let it absorb into your skin for a few minutes. Then, consider adding a primer to extend the wear of your foundation. Next, apply small dots of foundation on all areas of your face. On your forehead and cheeks, blend outward from the center using a brush or a sponge. Blend down on your nose and chin and be sure to blend into your hairline and neck as well. Set with a finely milled powder.


Here are some foundation options to try that are flattering on mature skin:

1. Fashion Fair SkinFlex Stick Foundation ($37, sephora.com)

This single-stick, multipurpose foundation is designed specifically for deeper skin tones. Giving sheer to full coverage, this semi-matte formula claims to correct hyperpigmentation and smooth out your complexion. For a light finish, swipe once onto the skin, pat and blend with your fingertips. Want more coverage? Swipe two to three times and blend using a foundation brush.

2. Pat McGrath Labs Sublime Perfection Foundation ($68, sephora.com)

If you're looking for a natural finish, consider making room on the shelf for this foundation by award-winning editorial and runway makeup artist Pat McGrath. Sure, her formula is pricey, but there's a reason the Brit beauty mogul was awarded the title of Dame by Queen Elizabeth last year. Long-lasting, yet hydrating, this liquid formula promises to help combat fine lines and wrinkles. Don't need much coverage? Applying a few light dots of foundation onto your face and blending with your fingertips may do the trick. For medium coverage, start with thin layers of product and gradually build using a foundation brush.

3. Fenty Beauty Pro Filt'r Soft Matte Longwear Liquid Foundation ($36, sephora.com)

With a melanin-loving 50 shades, this oil-free, lightweight formula provides medium to full coverage. It also contains innovative technology that helps your skin adapt to any climate. For medium coverage, dispense one pump and blend out with a damp sponge. If you're going for full glam, apply another pump and blend using a foundation brush.

4. Mac Cosmetics Studio Radiance Face and Body Radiant Sheer Foundation ($35, ulta.com)

If all you need is light coverage, this sheer, waterproof foundation could be your new go-to. Perfect for a minimalist look, this hydrating formula may provide just enough coverage while giving your skin a natural glow for as long as eight hours. Apply to the skin using a foundation brush, a sponge or your fingertips and blend away.

5. Nars Natural Radiant Longwear Foundation ($49, sephora.com)

Available in 34 shades, this lightweight, full-coverage foundation claims to keep you glammed up for 16 hours. The formula contains a blend of fruit extracts that can help your skin appear smoother over time. For optimal results, take one pump of foundation, warm it with your fingertips and blend it in to achieve that au naturel look.