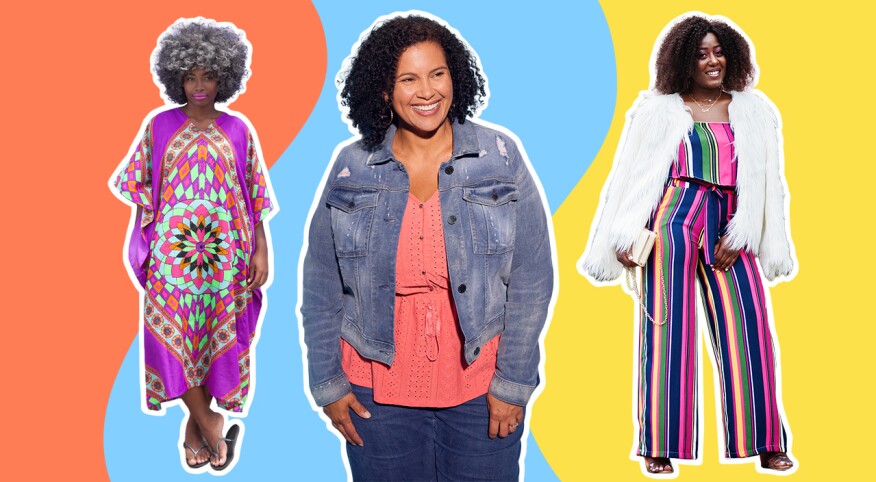 All bodies are beautiful, and we sisters love our curves. But if menopause, your metabolism or too many desserts have added some "jelly" to your belly and you're not happy about it, there are some easy ways to minimize it until you do. Read on for our favorite tips to help tummy-camouflage the tummy. You'll find more at aarp.org.

Shift the focus Concerned folks will notice a bit of pudge? Give their eyes somewhere else to go by making another part of your body the highlight. A chunky necklace, dangling earrings or bold eyeglasses draw attention from your waist to your face. A sparkly clutch or statement shoes also divert attention, too. A shift or A-line dress will skim your mid-section, and if it's knee-length or just below, all eyes will be on your lovely legs.

Let it flow Skip belts and fitted dresses and turn to flowy kaftans, maxi dresses and skirts, which allow you exhale without embarrassment. To ensure the look reads as "high fashion" instead of "house dress," choose colorful or patterned styles embellished with beads or embroidery. And prioritize V-neck silhouettes, which frame your face and offer a glimpse of skin.

Put on a great jacket on In the same way that curtains frame a window, a structured jacket – worn open to reveal a contrasting color top or dress – is a nifty trick for framing your torso, reducing the width of your body at the waistline. For a more casual look, a cardigan, vest or shirt also works well.

Jump into a jumpsuit The romper's been reinvented as a streamlined one-piece outfit that floats right over your stomach and ends at the ankle. Bypass belted styles (which have a utilitarian, coveralls vibe) in favor of jumpsuits made of flowy matte jersey with wide, floor-skimming legs.

Own it and flaunt your shape Whether its small or substantial, belly bulge is a common issue for women over 50. There are steps you can take to reduce it, but you may never have the flat tummy of your youth (or your dreams!) Our advice: Accept and embrace your body for the shape it's in right now.