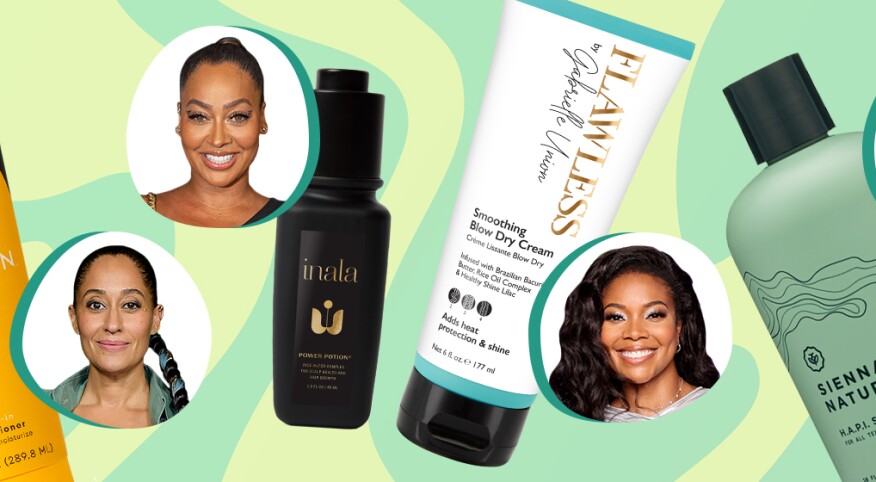 Have you ever admired Tracee Ellis Ross' juicy curls? Kenya Moore's luscious locks? The many natural hairstyles of Issa Rae? It's no surprise that when celebrities work with some of the most talented hairstylists on the sets of films and photo shoots, they pick up plenty of game-changing secrets, and they're eager to share them through their own brands. When it comes to hair care, specifically, more famous faces are tossing their hats in the ring, transforming the hair aisle. Wondering which lines are actually worth trying? Here are six celebrity-led brands created to give you red carpet–worthy tresses.


Pattern
(PatternBeauty.com)
Founder: Tracee Ellis Ross
Price range: Most products between $12 and $25
Cool pick: Leave-In Conditioner ($25)

Tracee Ellis Ross proudly rocked her larger-than-life curls before the natural hair movement was in full swing. Ten years in the making, Pattern's products are crafted to meet the needs of curly, coily and tight textures, while keeping porosity in mind. The Leave-In Conditioner was named best for textured hair by The Hollywood Reporter, and its blend of honey and natural oils remains a holy grail product for many naturalistas. "Wonderful, light, beautifully scented conditioner that brings out the very best in my hair," one reviewer wrote. "I use it as a base before adding other curl product or before blow-drying if I decide to wear a straight style. Absolutely love this stuff!!!" The full collection also serves up a variety of tools and accessories, including a microfiber towel, a hair pick and velvet scrunchies.


TPH by Taraji

(TPHByTaraji.com)
Founder: Taraji P. Henson
Price range: Most products between $10 and $15
Cool pick: Never Salty ($13.99)

Oscar-nominated actress Taraji P. Henson missed cosmetology school by one year, but that didn't stop her from styling her friends' hair in her apartment between classes at Howard University. Now, she's sharing her wealth of knowledge on a much larger scale. With offerings ranging from a tingling shampoo and conditioner to a sugar-based scrub, TPH by Taraji takes a scalp-first approach. Every product promises to deliver "nourishment, protection and deep cleansing solutions" for all hair textures. "Love this product. I use it a couple times a week," one reviewer wrote about the scalp serum. "I like the cooling sensation on my scalp. I love the shape of the bottle and how I can apply the product straight to my scalp."


Inala
(ShopInala.com)
Founder: La La Anthony
Price range: Most products between $30 and $55
Cool pick: Power Potion ($55)

Rice water is an increasingly popular ingredient within the natural-hair community due to its purported anti-inflammatory and strengthening properties. Inspired by La La Anthony's own hair-loss journey, the star product of her new hair-care line, Inala, promotes healthy hair growth and strengthens damaged hair. Formulated with rice water, biotin and arginine, the Power Potion leave-in treatment promises an increase in hair growth in four to six weeks and can even be used on eyebrows. The line also includes a scalp massager and a natural bamboo wide-tooth comb to boost blood circulation, making it easier for nutrients to reach hair follicles.


Flawless by Gabrielle Union

(FlawlessCurls.com)
Founder: Gabrielle Union
Price range: Most products between $7 and $10
Cool pick: Flawless Smoothing Blow Dry Cream ($9.99)

Born out of her decades-long frustration with Hollywood stylists who didn't have the slightest idea about textured hair, Gabrielle Union and celebrity hairstylist Larry Sims developed Flawless to cater to all your washing and styling needs. The hair-care line, relaunched in 2020, offers affordable hydrating cleansers, repairing conditioners, defining stylers, heat protection and even scalp-care options. In 2021, Essence named the Flawless Defining Curl Cream as a Best in Black Beauty award winner.


Sienna Naturals
(SiennaNaturals.com)
Founder: Hannah Diop (now partnered with Issa Rae)
Price range: Most products between $14 and $30
Cool pick: H.A.P.I. Shampoo ($18)

All-natural, vegan products are hard to come by within the natural-hair community, but that's the deal at Sienna Naturals. Say goodbye to harsh sulfates, parabens, silicones, phthalates, petroleum and artificial fragrances. After launching the brand in 2012, founder Hannah Diop partnered with Issa Rae to take the dermatologist-tested hair-care collection to the next level. Product buildup can hinder hair growth, but many clarifying shampoos on the market are too stripping, especially for Black hair, which tends to be drier. The H.A.P.I. Shampoo is formulated to cleanse your hair while adding moisture and definition back into your strands. Other standout items include the Untangled Conditioner and the Daily Elixir Scalp Oil, which was named best scalp oil by Cosmopolitan magazine.


Kenya Moore Haircare
(KenyaMooreHair.com)
Founder: Kenya Moore
Price range: Most products between $10 and $17
Cool pick: Moore Edges ($9.99)

This six-product collection from Kenya Moore, known for her waist-length tresses, is all about fostering growth and length retention by strengthening hair follicles. The edge control, for instance, is infused with ingredients like sweet almond oil, tea tree leaf oil and rosemary extract intended to reverse thinning or nonexistent hairlines that have resulted from wearing tight weaves and braids and lace-front wigs. The line also offers a color-safe shampoo and conditioner, along with growth supplements.