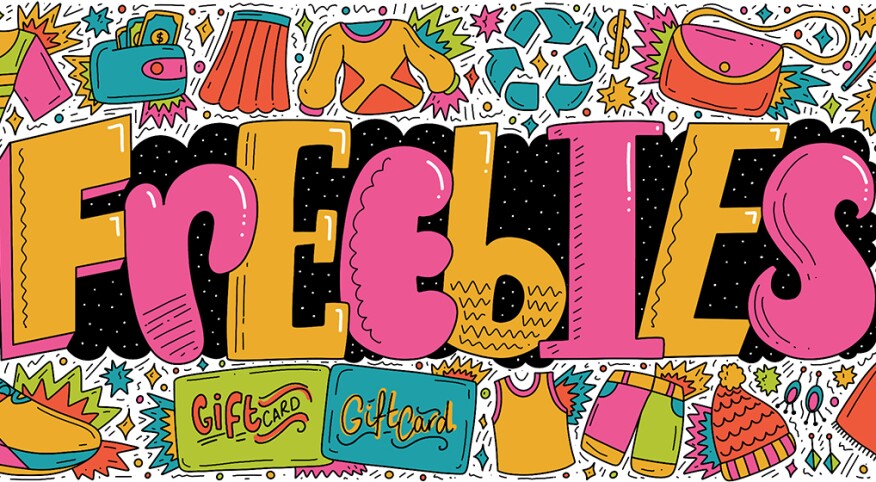 Are you a fitness junkie? A planner of girls' nights? A social-media butterfly? A garage-sale guru? A deal or discount hunter? An eco-conscious consumer? A sister who's tired of clutter? No matter your personality, you're about to learn ways you might leverage your lifestyle to score fashion freebies — little tricks some of the best-dressed women use to impress for less. Six approaches to consider:

Become an active-wear product tester. Do you enjoy a daily walk or workout? Companies like Reebok offer volunteer apparel testers premium athletic gear and shoes at no cost in exchange for detailed feedback about the products. If you're active, you might consider applying. These programs aren't always limited to elite athletes, as one might expect. For instance, the Reebok program seeks testers who run, walk, play or train daily to test new shoe models before commercial release, though you'll have to return them after the testing period. If you qualify to be a "wear-tester" for Brooks, you might test shoes, tops, bras, shorts and other running gear. Nike, Under Armour, New Balance, PUMA, Columbia Sportswear and Adidas offer similar product-testing programs. Visit their websites for details, restrictions and eligibility requirements.

Join a referral program. Are you that girlfriend to whom others turn for intel about the best hairdresser, restaurant or bargain? Clothing sites such as Rue La La, ThredUp and Stitch Fix offer rewards for referrals. Shoppers can earn credit for purchases when friends sign up for an account. For instance, Rue La La, which offers up to 70 percent off designer clothing brands such as Christian Louboutin, Chloe, Burberry and Chanel, offers a $10 credit. As these credits add up, they can be used to purchase fashion. ThredUp is an online resale marketplace, specializing in fashion for women and children. Users send high-quality clothing that they no longer want to ThredUp; the company assesses it and offers cash out or a credit toward apparel on the site. In addition, ThredUp offers $10 per new customer referral. Stitch Fix is an online styling service that will curate a selection of clothing, shoes and accessories for customers to try on at home, then either purchase or return. Account holders get a referral link, which can be shared via text, social media or email.

Rack up rewards points. Are you someone who loves saying, "I paid for it with points?" Sites such as Ibotta and Swagbucks allow users to redeem loyalty points. Swagbucks points are redeemable toward the purchase of gift cards from brands such as Amazon and Visa or cash back through PayPal. Typically, 1,000 Swagbucks points (their digital rewards currency) equal $10, and promotions on their Instagram page alert you to deals to earn more. Additionally, users can earn gift cards by participating in website activities such as taking surveys, watching videos and discovering new brands. Ibotta is a free app that awards cash back when users shop and pay for everyday purchases through the app. Ibotta partners with fashion retailers such as Overstock, Foot Locker and Brooks Brothers.

Participate in online clothing swaps. Are you an eco-conscious consumer who loves thrifting and always recycles? Clothing swaps allow you to curate your wardrobe, shop sustainably and take a step toward zero-waste living. On the Rehash clothes swapping site, users post a picture of the gently used clothing item they wish to trade in for a covetable clothing item that's brand spanking used. The site also lets you mention specific items you're interested in so others know what you're in the market for.

Host a clothing swap party. Are you the activities director of your crew? Consider throwing a clothing swap party for stylish friends. (Encouraging guests to come vaxxed and masked can limit everyone's risk of transmitting or catching COVID-19, naturally.)

Browse virtual bazaars. Do you get a thrill from free or cheap finds online? Consider looking into local garage sales groups on Facebook. Some groups indicate a maximum dollar amount, like "nothing over $20." Simply send a request to join and you can view and arrange to pick up any free items listed. Craigslist sellers list cars, homes, electronics and clothing. Navigate to the "free stuff" link in the "for sale" section. The Freecycle Network at Freecycle.org is the largest online recycling and reuse network on the planet, with local chapters in communities around the world. Everything on the site must be offered for free. You can search and view posts, then use the direct messaging system to set up an exchange.