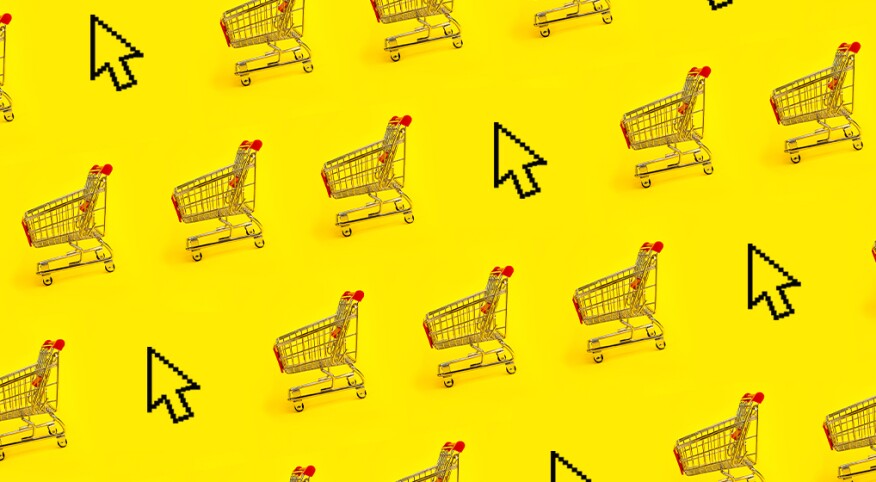 If you're a fan of strolling your neighborhood boutiques or discovering new ones while on vacation, you know there's something special about buying from small local shops. The experience is quite different from what you get at big chain stores — from unique items made by never-before-heard-of brands to exceptional personal attention.

But thanks to online shopping, we have access to stores we may never step foot in. And because of the pandemic, even more small boutiques and brands turned to e-commerce to keep their businesses going. With this fantastic access, though, it can be hard to discover and sort through the countless options online. And it can be daunting to order from a place you've never been to. So, we're highlighting a few hidden gems for you, as well as offering some tips to get the most out of your online browsing.

These boutiques and brands offer unique clothing, accessories and housewares at various price points and styles. Browse and bookmark their websites; you'll want to visit them again and again.

Alice Alexander

For inclusive sizing and sustainable clothing, take a look at Alice Alexander. The Philadelphia-based company began out of the founder's own frustration with dressing her self-described "fat-bod." Since coming on the scene a few years ago, Alice Alexander has developed a loyal following who love the brand's versatile and flattering pieces and positive body-image message.

The company's best-selling style — the Cass Dress — is a strappy LBD (little black dress) that is both forgiving and flirty and can be lounged in or worn for a night out. Alice Alexander's upcoming line includes thoughtfully designed pieces like their "Sally Flight Suit," a utility jumpsuit, and their "Donna Tee," a drapey wear-with-anything top. Sizing on styles ranges from XS to 4X and from 0 to 30. (AliceAlexander.co)

Dem Two Hands

For a varied selection of clothing, shoes, accessories and housewares, browse Dem Two Hands. The New Jersey-based boutique is the type of store you wander into and walk out with unexpected goodies you can't wait to bring home.

The shop has a solid online representation of their collections, as well as styling suggestions, customer photos and stock levels of their items. Their clothing and accessory offerings include comfortable dresses, jumpsuits, caftans and hand-made jewelry, while their housewares include candles, vases and other unique finds. The boutique posts a weekly "Fashion Show Friday" YouTube video previewing their new styles. (DemTwoHands.com)

Everybody & Everyone

Take a peek at Everybody & Everyone for sustainable fashion, all-inclusive sizing and eco accessories. The company offers sizing from 00 to 24 and is committed to an environmentally friendly supply chain. You'll find comfortable loungewear, work-friendly pieces and some outerwear. (EverybodyEveryone.com)

FKSP

FKSP, which stands for Folake Kuye Style Pantry, offers beautifully made, unique silhouettes. You'll find asymmetrical tops, button-front dresses, figure-flattering jumpsuits and swing skirts — all evoking a sexy glamour of decades past. Many of the styles also come in beautiful floral prints. Prices fall in the moderate range and sizing typically goes from XXS to XXL. (ShopFKSP.com)

One Savvy Design

Finding a good consignment shop is hit or miss. Finding one online can be even more challenging. One Savvy Design, based in Montclair, New Jersey, is a luxury consignment boutique that offers pre-owned (and sometimes new) clothing, shoes, handbags and other accessories. If you're looking to splurge on a designer item but don't want to pay retail price, browse their collection first.

All items are carefully inspected and authenticated. The boutique does an excellent job of showcasing its inventory online, and email list subscribers are notified of new arrivals. (OneSavvyDesign.com)

Taylor Jay

Taylor Jay has a flagship store in Oakland, California, but if you won't find yourself on the West Coast anytime soon, its online selection is the next best thing. The company offers multiple collections, including a work-from-home line, a travel-friendly assortment and loungewear. You'll find simple, sexy and comfortable silhouettes that easily transition from work to play to chillaxing. Price points are midrange with a few premium-priced items. (TaylorJayCollection.com)

The Tiny Closet

If you love the idea of having a capsule wardrobe (a curated and small selection of clothing) — and even if you don't — the Tiny Closet Shop is worth a look. The Los Angeles-based company is centered around the capsule wardrobe concept and offers a selection of well-made statement pieces that coordinate with each other and can be worn year-round.

Their "capsule" includes modern basics such as drapey tops, high-waisted pants, dresses that can go from running errands to dinner and head-turning outerwear. Additionally, each fall and summer, the company offers a Seasonal Shop, a selection of styles in season-appropriate fabrics and colors, to freshen up your closet. You can incorporate all their pieces into any wardrobe — capsule or not. Items are made to order, and some include options to customize your preferences. (TheTinyClosetShop.com)

Quick tips for savvy online shopping

As you discover new brands and online shops, follow these tips to maximize your shopping experience.

1. Sign up for emails. Before you click off that pop-up window inviting you to join their email list, be aware it likely has a discount code for your first order. Additionally, many online boutiques and brands provide perks to their email subscribers, such as presales, behind-the-scenes peeks and other exclusive offerings.

2. Become a fan! In addition to signing up for emails, follow the social media accounts of your favorite shops for of-the-minute updates. Also, familiarize yourself with their loyalty or membership programs, if they have one, which may offer discounts on all orders or other bonuses.

3. Get familiar with sizing. It may take an order or two to figure out your size at a new store, especially if the boutique offers multiple brands. Don't let this deter you from ordering; often, if you reach out to the shop, they can help you figure out your sizing.

4. Know the exchange, return and shipping policies. These policies will vary from store to store. In some cases, items will be final sale, especially if they were tailored to your measurements. But in other instances, the shops may be very generous with their return and exchange policies. And many of the boutiques offer free shipping for orders above a specific amount.

5. Develop a relationship. Don't be afraid to reach out to the stores if you have a question or don't see something you're looking for. Often, you'll hear back from the designer or owner directly. These small boutiques desire to offer exceptional customer service and have repeat customers, so feel free to communicate with them.

6. Know what to expect. While we've gotten used to receiving orders the day after placing them (hello Amazon), know the experience from online boutiques will be a little different. Most stores will let you know their current processing time, but it could take a couple of weeks or more if items are made to order. So if you're ordering something for a special event, give yourself plenty of time!