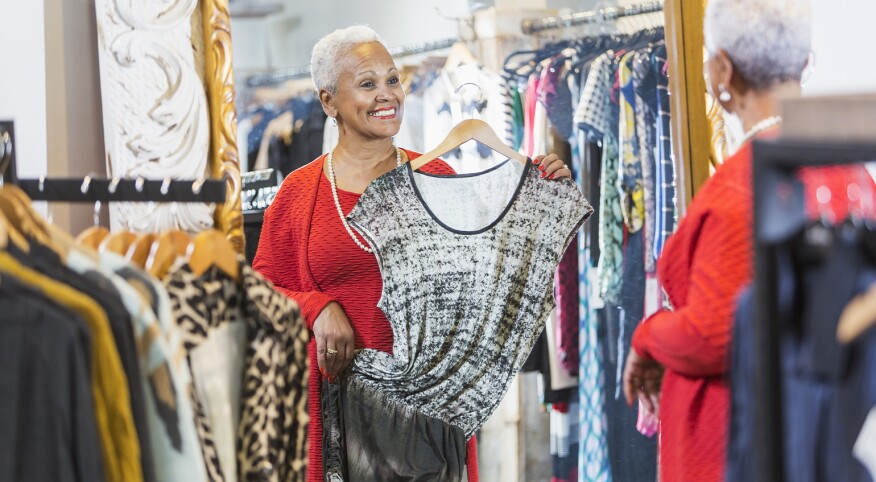 One of life's pleasures is shopping. But if you're plus-sized like I am, buying new clothes can be challenging. Beyond beloved staples such as Lane Bryant and Ashley Stewart, many mainstream retailers seem to think that style stops at size 14/16, and that if you're larger than that, you can't possibly want fashionable, on-trend pieces.

But there's a revolution happening in retail and on the runway. On New York's Spring 2020 Fashion week runways, casting of plus-size models hit an all-time high. Several fashion brands, such as Anthropologie and Rebecca Minkoff, introduced extended sizes this year.

Recently – and not a moment too soon – I've noticed that more stores are taking customers like me into account, extending their sizes to include those of us who have a few more curves to compliment. Finally I'm beginning to be able to go into some of the shops my straight-sized friends love and find things that don't just cover but celebrate my shape. Here's hoping the example set by these size-inclusive labels will spur retailers who as of Fall 2019 haven't yet taken the hint (I'm looking at you Banana Republic, Gap, H&M, Urban and Zara!) to do the same. Because fashion is for every body and style transcends size. Here's are some great labels to shop now:

Anthropologie: Known for feminine, boho-chic clothing, the retailer released its APlus by Anthropologie collection, which runs to size 26W/3X, last March.

ASOS: Find all the styles your smaller friends are sporting at this U.K. based online store, which carries sizes up to 26 .

City Chic: This Aussie brand (sold online and at Macy's and Nordstrom) is a one-stop shop for daytime or evening wear that's bold, sexy, glam and chic in sizes up to 24W.

Draper James: Rom-com actress Reese Witherspoon's line is unapologetically pretty and inspired by the femininity of a traditional Southern belle. Clothing comes in sizes up to 24W/4X.

Eloquii: With imaginative prints and sharp silhouettes, this brand offers high-quality looks for a fraction of the price of most designer duds in petite and regular lengths up to size 28.

eShakti: Looking for customizable clothing? This online retailer sells dresses and separates up to size 36W with the option to affordably tweak necklines and sleeve and hem length. Shipping takes about a month, so plan accordingly.

J.Crew: This famously preppy brand has expanded its size range – and that of its spin-off Madewell– to include up to size 24W/3X.

LOFT: Finally curvier sisters can snag stylish office wear and casual classics at this mall go-to, which recently extended its range to size 26.

Mango: Available in its own stores and also in select branches of J. C. Penney, Mango recently launched Violeta, an edgy, rock 'n roll-ready collection that goes up to size 22.

Modcloth: Love 1950s-inspired dresses, novelty prints and full, feminine skirts? Find your fix here, where sizes go up to 4X.

New York & Company: Shop modern work wear and casual clothing – as well as a capsule collection designed by Gabrielle Union – in sizes up to XXL/20 at this mall and online staple.

Old Navy: The casual clothing and jeans at Gap's sister brand hug larger busts, waistlines and hips and come in petite and tall lengths and sizes up to 4X.

Rachel Roy: Known for her elegantly draped matte jersey pieces, both of this designer's collections ­– Rachel Roy and Rachel Rachel Roy – offer wearable and stylish options for curvy fashionistas who wear up to size 24W.

Reformation: This eco-friendly brand launched a permanent plus-size collection earlier this year, with feminine wrap, empire waist-, A-line- and sweetheart-neckline dresses up to size 3X.

Standards & Practices: Aimed at the woman who wants to feel comfortable but still look like she put some effort into her outfit, this store sells casual-chic separates in sizes up to 3X/24.

Torrid: Whether or not you consider this mall store's clothing, which runs to size 4X/30, too youthful for your taste, you'll definitely appreciate its comprehensive selection of undergarments, accessories and wide-fitting shoes.

Yours: From maxi dresses to lingerie to sweatshirts, this U.K.-based retailer sells an impressive array of affordable staples and special-occasion clothing in sizes up to 34 and ships internationally.