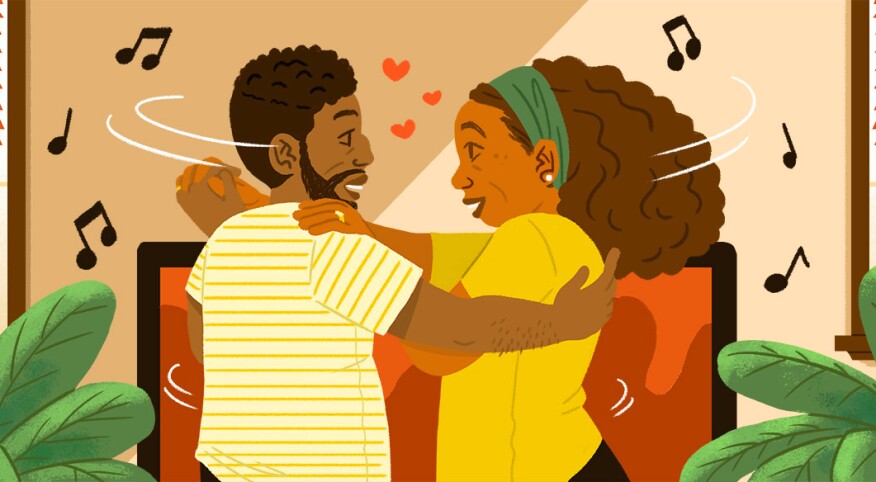 During a time when we are more disconnected from the outside world, it's more important than ever to connect to your partner. One of the simplest ways to do this is to maintain a weekly date night. Couples who have been together for a long time often fall into the routine of nightly Netflix (sometimes even without the "chill"), but with a little extra effort, you can reignite romance.

Even if you are spending most of your time at home these days, you and your boo can take many approaches for an engaging and intimate experience. Here are 10 creative ideas, with details on how they can potentially improve your love life.

Have a nostalgic date. In my 15 years of dating and relationship coaching, I've discovered that sharing stories about a happy time in your past can build a deep, intimate connection with your partner. Open up your old photo albums and take a walk down memory lane or try an activity you used to do together to bring back bonding memories. This date is ideal for anyone who is feeling distanced from a partner, as it has the power to make you feel closer and remember why you are together.

Gaze at the stars. Looking at the sky provides you both with the perfect opportunity to get closer, talk more in depth and keep each other warm under a clear night sky. If you can't name the constellations on your own, try an app like Star Walk or Sky View to guide you. This date is perfect for curious couples who want to observe the little things that we often overlook in busier times.

Take a blindfolded trust walk. One of the best ways to build intimacy is to put complete trust in your partner. Turn trust-building into a game by blindfolding your partner (with consent) and safely leading them around the house. Taking away one of your senses can heighten the others, so you might notice the sound of your partner's voice, or their scent, in a new way. This date can be helpful for anyone who has experienced a breach of trust in a relationship or feels they are growing apart.

Make a gourmet meal. Preparing a meal together can help foster important relationship skills, including patience and communication. My husband and I are longtime fans of boxed meal kits, which you can order in advance. But you also can cook from scratch at home. This date works best if you've had miscommunication in your relationship and need to work on compromise.

Introduce a sip-and-paint night. Have you allowed yourself to be artistic and playful in recent times? If not, try a sip-and-paint night together. You can order art supplies for delivery, then pour a glass of wine before you begin. This date is wonderful for couples who feel caught up in the pressure of their day-to-day routine and need to relax and find more levity in their relationships.

Play "never have I ever." If you've been together a while, it may sometimes feel like you know everything about your partner. Yet this game, in which you share things you've never done, can reveal your deepest secrets in a playful way or perhaps help you plan a post-quarantine bucket list. This date is for those who are looking to rediscover magic and curiosity in a long-term relationship.

Laugh together. My single clients tell me they're seeking someone with a sense of humor. Stream your favorite comedy special or play "make me laugh" and find your silly side.

Take an online dance class. Physical touch and eye contact can be effective flirtation tools. Dancing allows you to have both simultaneously. This is the perfect time to brush up on your foxtrot without the concern of looking awkward in front of other couples. Many studios are offering live and recorded online classes. This date is ideal for sparking physical passion between two people.

Splurge on dinner and a movie — the home edition. Previously, I found dinner and a movie to be an uninspired date. Now, it feels like a treat. Make it even more special by ordering in from that place that seemed impossible to get before but now offers easy takeout or delivery. Then light some candles, transfer the food from takeout boxes to fine china dishes and stream a new release for a fraction of movie theater prices. This date is for more traditional couples who want to do something special together but are a little nervous to try an outside-the-box date idea.

Listen to music. Take yourself back to a simpler time by sitting down at the piano or putting on a record (if you still have one). Otherwise, you can catch a live-streaming concert, tune into a battle of your favorite singers online or listen to your favorite playlist. (Try this "playlist for lovers" from Sisters.) This date works for couples overwhelmed by the pace of life and craving a slower, simpler date, or those who feel disconnected and want to develop more compassion for one another.

No matter what you choose, staying at home doesn't have to mean the end of romance. Sometimes a change in routine is all that's needed to spark the passion again.