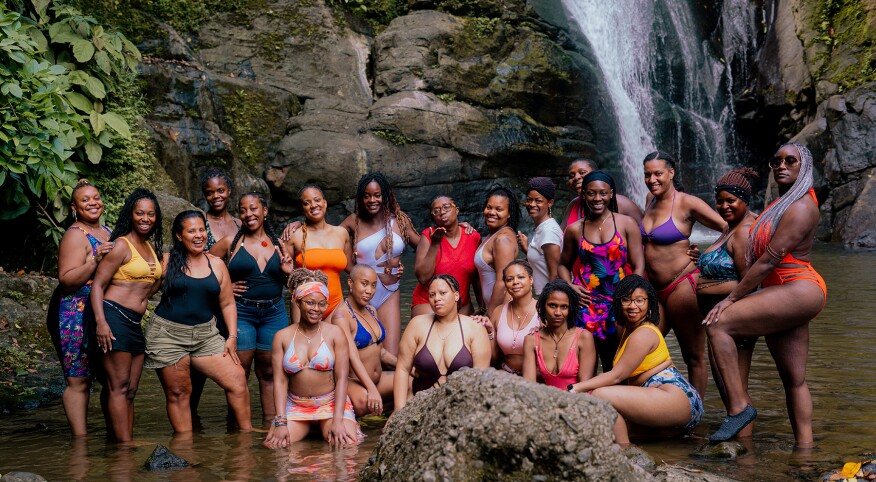 Their itinerary is simple: culture, camaraderie, cardio and calm. They are good friends traveling together or new friends who met after they arrived in Ghana on December 1. They are GirlTrek members who have gone global on their walking and wellness mission. By the time the nine-day trip is over, the multigenerational group of women will have hiked elevated trails among the treetops of tropical rain forests, enjoyed the sounds of African drums on the beach, witnessed firsthand the art of making shea butter and made incredible bonds and memories. They will have rested and rejuvenated themselves. The travelers on the Diaspora Treks, hosted by Africa With Us (AfricaWithUs.com), are part of an exciting trend. Black women are boarding planes to amazing destinations in the U.S. or abroad to enjoy wellness, cultural and spiritual journeys together.

Perhaps they will inspire you to gather your own crew for a spa trip, resort retreat or reenergizing excursion that you plan yourself. If a preorganized healing retreat better fits your self-care plans in 2023, you'll want to start checking out travel groups now so that you'll be in the know about upcoming events. To start, consider these offerings and organizations.


Breathe Easy Retreat, Bali, Indonesia, April 22-28, 2023

OMNoire.com

It's time to inhale and exhale — and inhale and exhale again. For seven days and six nights, participants will embrace the freedom that comes with being fully present at the Maya Ubud Resort & Spa in Bali. Hosted by wellness entrepreneur Krystal A. Antoine, the spiritual experience kicks off with a welcome dinner to make guests feel right at home. Trip highlights will include Bali's mesmerizing beaches, a calming massage and flower bath, daily yoga and meditations, an elephant sanctuary and frequent temple visits. Antoine explains on the site, "When your cup overflows, you need to make sure you have something left for you."


Black Women Healing Retreats, Costa Rica, May 7-15, 2023

BlackWomenHealingRetreats.com

The upcoming Costa Rica trip largely focuses on doing the inner work, whether it's through journal sessions or facing traumas and trigger points. But there's plenty of fun and adventure planned, too, from surfing and zip-lining to hiking while surrounded by scenic waterfalls. Participants will also learn about the benefits of plant-based eating, the alternative therapy of crystals and how to use herbs for medicinal purposes — separately, there's a four-week virtual retreat dedicated to the latter. "I don't have opportunities to connect with other women of color due to the community I reside in, and left the retreat feeling part of a positive sisterhood," one past participant wrote.


Find Your Tribe

If you discover an appealing retreat that has already passed (such as that wonderful girls' trip to Ghana) or for which signup is closed, no worries! Get on the group's mailing list or check their sites periodically to be aware of future offerings. A few other sites to consider:


The Whole Experience

TheWholeExperience.org

When travelers book a trip through The Whole Experience, salsa dancing lessons, cooking classes, kayaking and wine tastings are just some of the fun activities they might enjoy while exploring countries like Greece, Italy, Thailand, Kenya and South Africa. But rest, relaxation, restoration and all-around healthier living is the through line at every event. "You will meet beautiful queens from all around the globe that have beautiful souls, and you'll leave [with] at least one newfound relationship," one past participant of the Thailand retreat wrote.


I Am That Woman Movement

IAmThatWomanMovement.org

At events held by the organization I Am That Woman Movement, the journey of self-discovery is the main attraction as accomplished women learn the tools and resources needed to help them make the most out of their next phase of life. Recently, sisters of diverse backgrounds gathered in Hollywood Beach, Florida, to dream up new possibilities around their careers, finances, existing relationships and well-being through morning prayers, meditation and professional development courses, to name a few. There's also an annual Women's History Month brunch slated for March 2023.