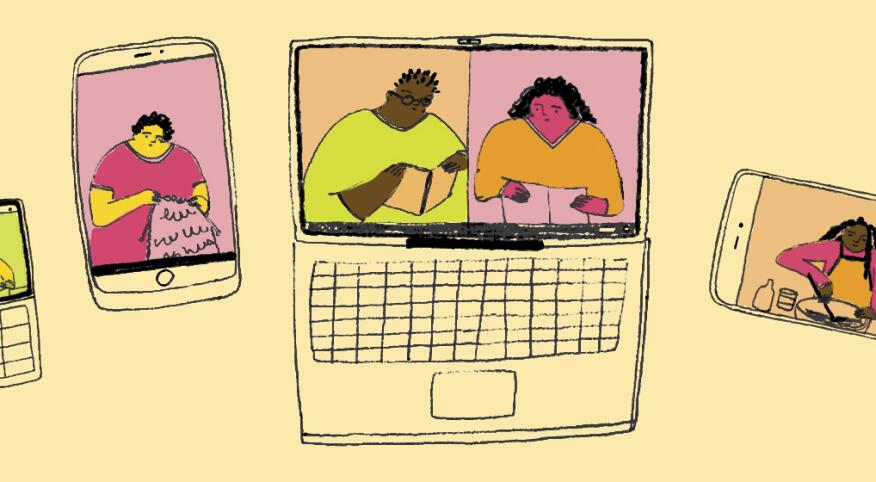 2020 was a rough year. And as the holidays are showing, it can be especially hard when so many of us are isolated at a time that's meant to be social. So, how do we find our joy when it feels as if we're surrounded by sadness, stress and separation? Since the pandemic started, Americans are turning to the internet for social engagement like never before.

Sisters From AARP researched large and lively girlfriend groups on social media and websites. All have open membership, are free to join and count good and grown Black women among their members. Then we asked some of those members to share insider impressions about the communities. They joyfully shared how these gathering spaces connected them to new friendships with ladies all over the world. They've discovered like-minded enthusiasts who enjoy and encourage the same passions, a welcoming vibe and a true sense of support.
They joyfully shared how these gathering spaces connected them to new friendships with ladies all over the world.
Black women have as much right to demand joy as we do equality and justice. You might just cultivate yours in one of the dynamic groups listed below. Do a little research to see which might be a fit for you. And, be sure to join over 75,000 of our friends who follow Sisters From AARP on Facebook , so you'll get the latest on contests, giveaways, live online events and replays. In 2020, we began hosting our popular, interactive conversations with smart, funny and inspiring women like gospel artist and pastor Shirley Caesar, TV host and comedienne Loni Love and wealth coach Deborah Owens.

Black Girls Culinary
You may not have prepared that traditional huge holiday meal this year or even those big Sunday dinners. You can still have some fun in the kitchen in this 20,000-member group that encourages women to create and enjoy new dishes. During a recent weeklong pumpkin challenge, home cooks discovered delicious ways to use the gourd for soups, stews, desserts and more. "BGC has definitely been a respite from 2020," Davicia "Dee" Harris says. "It's one of the few spaces where I can escape the troubles and heaviness of the world and just be. We have fun sharing what we make out of love and passion and it shows. It's like being with your best girlfriends in the kitchen (or virtual kitchen) after a great meal with a glass of something."

Black Women Who Love to Crochet/Knit
This group of 3,900 members brings women together to create and engage in the craft of crocheting and knitting. It welcomes all skill levels from beginners to advanced. Come here to learn needlecraft basics and enjoy participating in "knit-alongs." One crafty member told us, "I love being a part of this group. I love seeing the creativity and talent the members bring to projects."

Black Girls Read Too
This is a place where 12,000 bibliophiles "banter about books and characters with a great deal of respect for each other's perspectives," says Karen Talley, a member for two years. Founder Christy Palmer wanted to create a safe space for women of color to share their love of books and diversify their reading selections. With monthly read-a-thons, members are encouraged to catch up on their "TBR" (to be read) piles quickly. "Each month we get upwards of 100 books and over 20,000 pages read. It is always our most popular event," says Tiffany Richardson, the group's moderator.

Outdoor Afro
This network of more than 40,000 has a mission to "celebrate and inspire Black connections and leadership in nature." Lovers of birding, hiking, fishing, camping, snorkeling, kayaking, yoga and similar activities find like-minded outdoorswomen and their families to hang out and go "blackpacking" with. "I look forward to participating in future activities with my kids and instilling a love of the outdoors in them at a young age," says Yashica Williams.

Black Women Who Love Outdoor Living Spaces
This fast-growing group of over 210,000 members helps women find their power in design while sharing a mutual love of curating outdoor spaces. Members trade tips, how-tos and product recommendations. It's a space to post and show off their DIY projects, whether finished, in progress or at the vision board stage. "This is truly #blackgirljoy in a time where so much uncertainty exists. I created a space on my patio to give thanks, research, pray, redevelop, think and find an outlet for my family and friends through social distancing," says Drusilla Brewer.

Black Goddesses Evolving
With over 39,000 members, this group gives Black women an outlet to explore everything from spirituality to astrology and crystals. The group recently launched a manifestation thread on their Facebook page with posts encouraging support and positive energy for new job pursuits, love interests and other endeavors. "I'm glad to find a safe space among loving and nurturing goddesses," Tanika Mary says.

GirlTrek
With more than a million members pledging to walk, this group describes itself as a "movement for African American women and girls grounded in civil rights history and principles through walking campaigns, community leadership and health advocacy." The group recently launched Black History Bootcamp, a series of 21-day walks, with podcasts of Black history stories, including one hosted by Oprah. She helped pay tribute to Maya Angelou by reading a poem she received from the extraordinary poet in honor of her 50th birthday. "GirlTrek brings me Black Girl Joy by pushing me beyond my self-imposed boundaries and showing me what a badass I truly am," Althea Lawton-Thompson says.