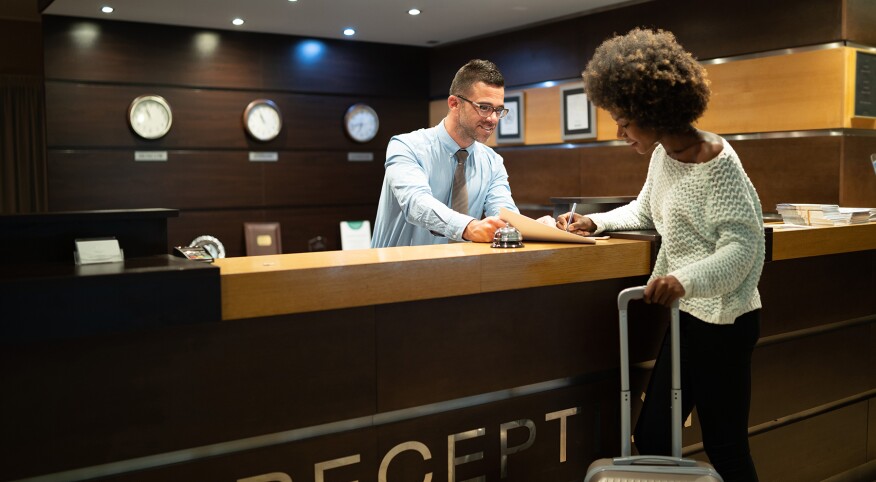 It's no secret that traveling can be expensive. Before you've even arrived at your destination, you've probably shelled out a decent amount of money to get there. So, it's a welcome relief on your wallet when you can take advantage of free perks during your stay.

But did you know many hotels go above and beyond the standard free shampoo and conditioner? Yes, sis, we're talking free drinks, free food and free use of items to make your stay more comfortable. While all these perks won't necessarily come standard in your room, many are available just by asking.

Here's a look at some freebies you can score during your next hotel stay.


Personal care items. We've all come to expect free shampoo, conditioner and other basic toiletries during our hotel stay, but many hotel brands are taking these offerings to the next level. You can score toiletries from quality brands, and many hotel chains, like Hyatt and Kimpton Hotels, have an expanded selection of items, including toothbrushes, toothpaste, lip balm, deodorant, razors, nail files and more.
Pillow menu. Upgrade your sleep by taking advantage of the pillow menu offered at some business and luxury hotels. Many locations offer a broad selection, including body pillows and hypoallergenic options.
Fitness classes. You don't have to ditch your fitness routine because you're traveling. Many hotels offer complimentary group exercise classes, including yoga and spin, or give you access to on-demand fitness videos.
Workout gear. Kimpton Hotels offers a yoga mat in each room, while several chains provide complimentary fitness kits. In Omni Hotels & Resorts' kit, guests receive a kettlebell, mini contour weights, a muscle therapy foam roller, push-up bars and a yoga mat.
Bike rental. Several hotel chains, including Wyndham and Kimpton Hotels, partner with local bike-sharing programs to offer free rentals, complete with a helmet, lock and maps. Perfect for getting in some exercise or exploring the area.
Health and wellness items. Enjoy some of the same comforts you have at home during your stay. Members of Omni Hotels & Resorts' complimentary loyalty program have access to noise machines or a sleep kit with a mask and earplugs. And Kimpton and Hyatt guests can borrow a humidifier and several other wellness items.
Household items. Some hotels provide complimentary sewing kits, stain remover wipes, lint rollers, umbrellas and laundry detergent.
Free electronics. No need to run out and buy a phone charger if you forget to pack yours. Many hotels stock a selection of chargers and other electronics, including headphones and outlet adapters for use during your stay.
Shoeshine and ironing. You can get your shoes shined for free at many hotels, while some offer complimentary ironing to loyalty program members.
Coffee and tea. From freshly brewed coffee and tea in the lobby, to a stocked coffee bar in your room, many hotels help you fuel your day for free.
Beer and wine. After a day of meetings or sightseeing, you can wind down with complimentary drinks at many hotels. Kimpton Hotels is known for its nightly wine hour, which often features local wineries, breweries and live entertainment. And Embassy Suites has a daily evening reception with free drinks.
Baby and kid essentials. Most hotels have cribs, high chairs and other gear available during your stay. But many hotels go further by offering games, welcome gifts and other amenities. Kimpton Hotels has a kids' happy hour, bunk beds, hula hoops in its fitness centers and child safety kits, which include ​​outlet covers, toilet latches and nightlights.
Pet amenities. Not only are your four-legged family members welcome at pet-friendly hotels, but you can also take advantage of free pet essentials like bed loaners, food, water bowls and courtesy bags for walking your dog.
Free food. Complimentary breakfast can be hit or miss these days, but some hotel chains, like Embassy Suites and Homewood Suites, offer the perk to all guests. And you may be able to score free drinks and breakfast by joining your hotel's loyalty program. Also, many hotels that offer a happy hour also serve snacks.
Extra nights. Many hotels offer a free night when you stay for two or more days. These promotions can save you hundreds of dollars, so browse your hotel's current offers before booking your next stay. Also, many hotels have loyalty programs where you can earn free nights.