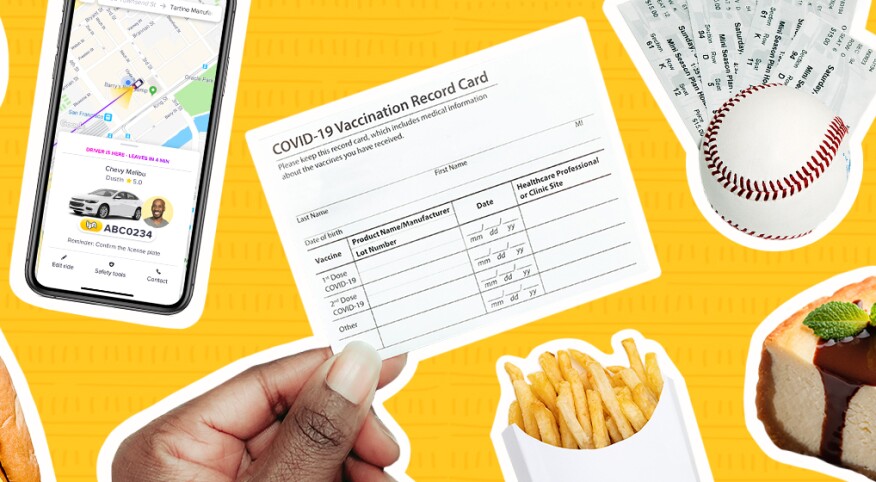 We've all endured a tough year of sheltering in place, distancing ourselves from our loved ones and battling the health impacts of the coronavirus. Now that the COVID-19 vaccines are available, we have the opportunity to protect ourselves from the disease, see our friends and family again and get back to some version of our former lives. If those aren't reasons enough to roll up our sleeves, a growing list of companies are making things even sweeter — literally. From desserts to cash, businesses across the country are giving out perks to celebrate and encourage vaccinations.

We rounded up some of the best COVID-19 vaccination promotions available now. (Hint: Be sure to check out the tips below for finding even more freebies as this trend gets even hotter!)

Food and Drink

National

Free Doughnuts — Krispy Kreme Doughnuts
If you're a fan of Krispy Kreme Doughnuts (who isn't, right?), you can get a free doughnut every day at participating locations through the end of the year. Just show your vaccination card, and you'll get one free glazed doughnut. (If you've decided not to get the vaccine, you can take advantage of the chain's doughnut and coffee promotion. Visit participating locations on Mondays through May 24, 2021, for a free glazed doughnut and a medium brewed coffee.)

Free Dessert — White Castle
Stop by your local White Castle location for a free dessert-on-a-stick with proof of your COVID-19 vaccination. The promotion ends May 31, 2021.

Near You

Free Hot Dog — Nathan's Famous
If you're in the New York area, Nathan's Famous in Coney Island is giving customers one free hot dog on the day they get their COVID-19 vaccination. You'll need to show proof with your vaccination card.

Free French Fries — Super Duper Burgers
The San Francisco-based restaurant is giving out free fries with proof of vaccination.

From desserts to cash, businesses across the country are giving out perks to celebrate and encourage vaccinations.
Free Chips and Salsa — Uno Dos Tacos
Score free chips and salsa at the San Francisco-based restaurant if you show proof of getting the vaccine.

Cheap Beer — Market Garden Brewery
OK, so it's not free, but it's pretty close at ten cents. Market Garden Brewpub & Restaurant in Cleveland is giving out one ten-cent beer to anyone 21 and older who shows their vaccination card.

Free Mini Cheesecake — Junior's Restaurant & Cheesecake
If you happen to be by Junior's Brooklyn, New York, location, flashing your vaccination card will get you a free mini cheesecake. A sweet reward for rolling up your sleeve.


Transportation

National

Free and Discounted Rides — Lyft and Uber
Lyft is giving out free or discounted rides to and from vaccination sites through the company's Vaccine Access Program. You'll need to complete a brief form to see if you're eligible. And Uber is partnering with organizations to provide transportation to and from vaccination appointments through its Vaccine Access Fund. You can schedule your vaccine at Walgreens, as well as your ride directly on the Uber app.

Near You

Free Transportation — Florida Blue
If you have health insurance with Florida Blue, the insurance company is partnering with Lyft and other transportation services to help you get to your vaccination appointment. Members can get ride credits up to $25 each way through Lyft or transportation with other partnering companies.

Cash for Giving Rides — Detroit
Residents can get a $50 prepaid card for driving someone to get their vaccination through the city's Good Neighbor program.

Work Perks

National

Bonus Payments — Kroger
The grocery store chain, which operates in 35 states, is giving $100 payments to employees who get fully vaccinated. Employees who cannot get the vaccine due to medical or religious reasons can also get the payment if they complete an educational health and safety course. Additionally, the company is rewarding its frontline and essential workers with a $100 store credit and 1,000 gas points. Also, Petco, the pet supply chain, is giving a one-time $75 payment to its employees who get fully vaccinated. The company will also donate $25 to its Partner Assistance Fund, which provides financial help to employees in need.

Paid Time Off — National Employers
Many employers, including Aldi, Chobani, Dollar General, McDonald's, Target and Trader Joe's, are giving employees up to six hours of paid time off to get vaccinated.

Near You

Gift Cards — Publix
The southeastern supermarket chain is giving $125 store gift cards to associates after getting fully vaccinated.

Recreation

Near You

Discounted Baseball Tickets — Cincinnati Reds
Fans can score Cincinnati Reds tickets for only $10 by showing their vaccination card. The discount is good for games Monday to Thursday through June 2021.

Free Game Tokens — Up-Down
The Midwest-based chain of arcade bars is running a Tokens for Poke'ns Promotion through July 2021. Visit any of the six locations and show your vaccination card within 21 days of your final dose to get $5 in free tokens.

Points and Rewards

National

Cash Rewards — Drop App
Earn between $20-$50 in cash rewards on the Drop app by snapping a selfie while you get vaccinated and posting it on Instagram. You can use the rewards at popular brands like Uber Eats and Amazon. Hurry while supplies last.

Rewards Points — John Hancock
Members of the insurance company's Vitality Program can earn 400 points if they show proof of their vaccination. The reward points are good for discounts and deals on merchandise, travel and more.

Tips for finding and getting vaccination freebies


Expect more freebies in the coming weeks and months. As the vaccine push continues, more businesses may jump on this trend of incentivizing the vaccine and generating buzz for their companies, so be on the lookout for more goodies on both the national and local levels.
Search for promotions in your area. Search online for COVID vaccination freebies [your state or city], and you may find local promotions near you. Also, check out the social media accounts of your favorite restaurants and stores, as many won't post these freebies on their websites.
Don't post your vaccination card on social media. When showing proof of getting the vaccine, don't show your vaccination card online. With your name, date of birth and other identifying information, it's an open invitation for identity theft! Some businesses simply ask to see a sticker or even an adhesive bandage.