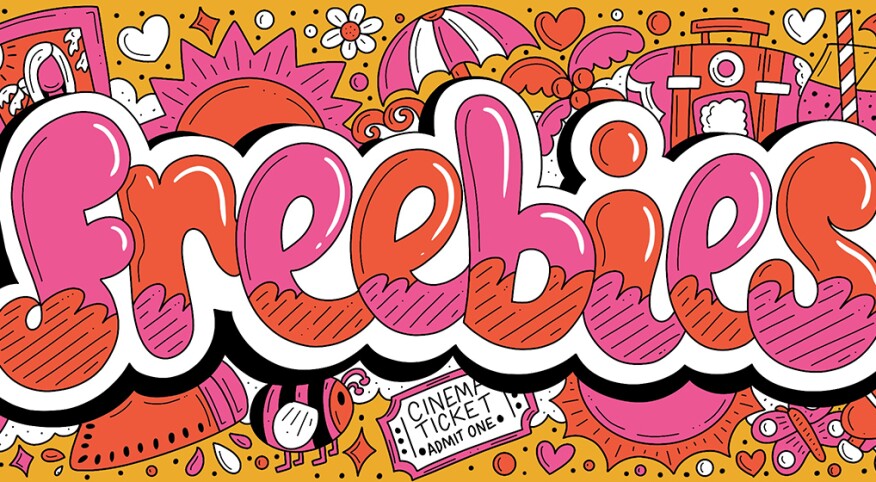 We're all feeling the pinch of inflation these days, but, thankfully, we can find a little relief by taking advantage of free services and products. From skin care to entertainment to delicious treats, here are some of the best summer freebies for you … and you won't have to pay a dime, sis.


Recreation & Entertainment

1. Free admission to national parks. Every year, the National Parks Service offers several free-entrance days. Head to your nearby national park on September 24, National Public Lands Day, when parks that usually charge admission will waive admission fees.

2. Free museum admission. The annual Smithsonian Magazine Museum Day falls on September 17 this year. Get free admission for two at participating museums and cultural centers. You'll have to register and download your tickets ahead of time. Also, check your state and county's official websites to see if they have free admission initiatives throughout the summer. For example, in Connecticut, children 18 and under and one accompanying adult can get into museums and other destinations for free this summer through the Connecticut Summer at the Museum program.

3. Free live events, classes and more. Look no further than your local library for summer entertainment and activities. You'll find numerous fun and free things to do, from concerts to fitness classes to trivia night. Hop onto your library's website for the latest happenings, and check out our guide to library freebies for more goodies and services you can get for free.

4. Free National Geographic subscription. Embark on new adventures with a complimentary one-month digital subscription to NatGeo.com.

5. Free outdoor sports. Check with your town or city's recreation department for free sports and fitness events. For example, in New York, Hudson River Park offers free kayaking, and many beaches and parks across the country offer free yoga. Also, check your local outdoor goods stores; they often run free demonstration events where you can try stand-up paddleboarding or other water sports.

6. Free bowling. Sign up your kids or grandkids for the Kids Bowl Free program, and they'll receive two free games at participating bowling centers every day this summer. Find nearby locations at kidsbowlfree.com.

7. Free plays and outdoor concerts. Summer is your chance to catch quality plays and shows for free. Many cities and towns offer weekly concerts and outdoor plays run by professional theater groups. To find events near you, search online for "free events" followed by your town or city's name.

8. Free roller-skating. For a bit of nostalgia, head to your nearest roller-skating rink. Kids can get two free skate passes each week this summer through the Kids Skate Free program. Find participating roller-skating rinks at kidsskatefree.com.


Food & Drink

9. Free doughnuts. What's better than a free Krispy Kreme doughnut? A hot free Krispy Kreme doughnut! If your local Krispy Kreme has a Hot Light, head in whenever you see it on and ask for a free Original Glazed Doughnut. The promotion ends on Labor Day, September 5.

10. Free fries. Join McDonald's rewards program through the McDonald's app, and get a free order of large fries. Also, as a MyMcDonald's Rewards member, you'll enjoy Free Fries Friday through December 31, when you can score free medium fries with any mobile order of $1 or more.

11. Free coffee. Mark your calendar for September 29, National Coffee Day, and look for freebies and promotions from your favorite coffee chains and convenience stores.

12. Free $5 coupon. Join Ruby Tuesday's SoConnected email club and get $5 off any purchase. Plus, as a member, you'll get a free burger or Garden Bar entrée on your birthday.

13. Free ice cream. Join Friendly's Sweet Rewards Club and get a free medium sundae.

14. Free kids' entrées. Many restaurants offer free kids' meals with a paying adult. For example, you can head to IHOP with the kiddos or grandkids from 4 p.m. to 10 p.m. and get a free children's meal with each adult entrée. And if you're an Ikea Family member, you can score up to two children's entrées with any adult entrée at the Ikea restaurant on Wednesdays through the end of the year.

15. Free appetizer. Get a free appetizer when you join Grimaldi's Pizzeria Rewards program.

16. Free coffee and pastry. You'll get a free coffee and bakery item when you join Au Bon Pain's email club.

17. Free kids' meals. Children and teens 18 and under can access free healthy meals through the USDA's summer meals program. Search here for meal sites in your area.


Beauty & Household Items

18. Free cosmetics samples. Get your summer glow on with free skin care and beauty samples. Right now, you can try CeraVe AM Facial Moisturizing Lotion, La Roche-Posay Mineral SPF Moisturizer and SkinCeuticals Vitamin C Antioxidant Serum for free. Head to freeflys.com to find more available samples. The selection changes daily, so check back frequently for new offerings.

19. Free COVID-19 tests. Stay safe and healthy with free at-home COVID-19 tests from covid.gov. Each household can receive eight tests.

20. Free pain-relief balm. Try Hit! Balm for pain relief for free. Choose between Daily Relief and Extra Relief and enter code "TRYFREE" at checkout. Each balm is infused with natural ingredients and blended with CBD.

21. Free Truvia sweetener. Sweeten things up with a complimentary Truvia sample. You'll also get a coupon for $1 off any Truvia sweetener.

22. Free park clean-up kit. Order a complimentary clean-up kit from the Alt National Park Service and head to your closest national park to help spruce it up. Each clean-up kit comes with biodegradable bags, gloves, sunscreen, a first aid kit and more items. When ordering, you'll need to indicate which national park you plan to clean up.


Pet Care

23. Free pet ID tag. Get a free dog or cat ID tag engraved with your pet's name from FidoAlert or TabbyAlert. You'll also be enrolled in their nationwide pet alert network.

24. Free doggie pads. Order free doggie pad samples from PooPeePads.

25. Free dog food. Get a complimentary dog food sample from Zignature.