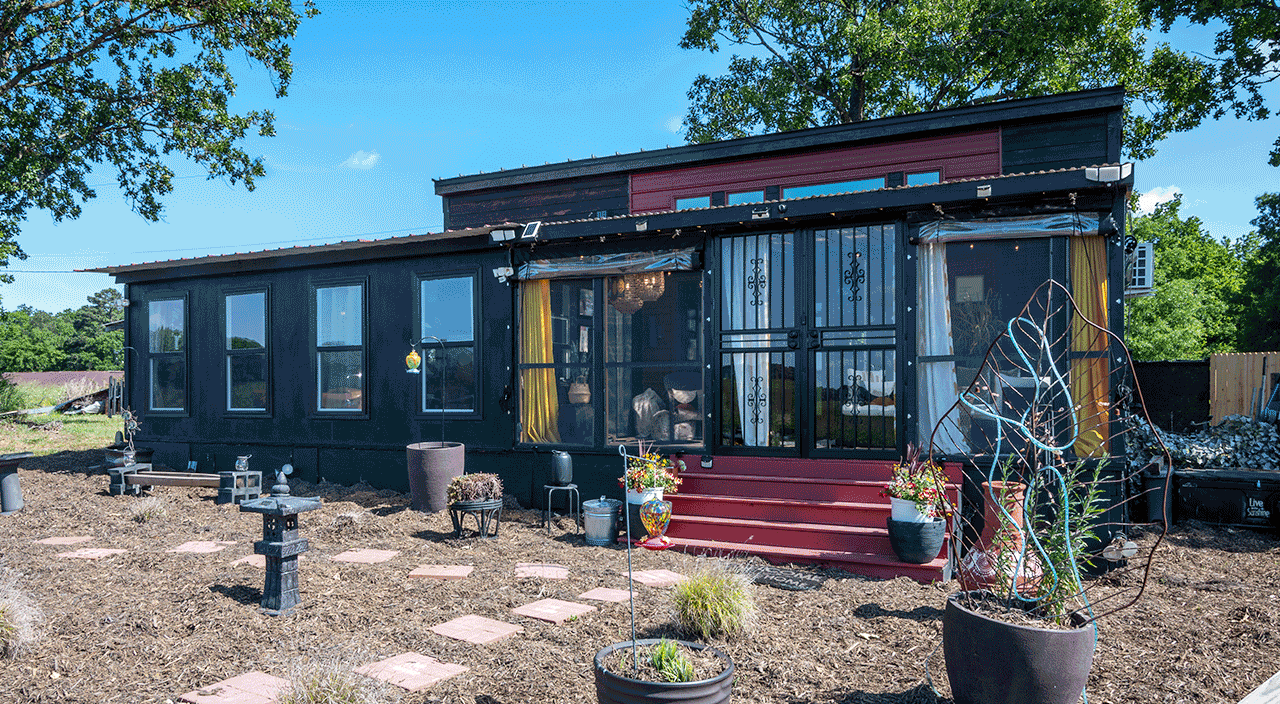 The idea of being tied down to an oversize house and spending thousands on a mortgage each month never appealed to Jewel D. Pearson. The 55-year-old single mom had always told herself she would live in an RV and travel the world once her daughter was grown and left the nest. When that day arrived, Pearson came across a story of a woman who had built a tiny house on a tiny budget. The idea resonated with her because it would allow her to spend her money on traveling and other things she wanted to do, rather than work feverishly to maintain living expenses.

In 2015, Pearson's idea took form. After taking money from her savings and borrowing from her 401(k), she paid $85,000 for a 280 square foot house on wheels that she parks in a rural area outside of Charlotte, NC.

"My tiny house is completely paid for," she says. With a walk-in closet, a full bathroom and plenty of room to play with her 7-pound Havanese fur baby, Brooklyn Simone, "I haven't given up anything along the lines of luxury," she says. She's not living like a hermit, either. "I still am able to entertain. Just a couple of weeks ago I had family over — 12 or so people," she adds.



Simple – and affordable — living
The idea of building tiny homes is not new. Typically sized between 100 and 400 square feet, tiny homes were used as temporary shelters for people who were displaced by Hurricane Katrina, and they gained more prominence when some people moved into them after the 2008 housing market collapse. If you're wondering how tiny homes compare to traditional dwellings, the median size of a single-family house in 2021 was 2,273 square feet.


A 2021 HomeAdvisor survey found that 86 percent of respondents would be willing to live in a tiny house and nearly a third of respondents would be willing to buy one. Of those who would buy one, 73 percent said the most appealing thing about tiny houses is their affordability.


The average cost of a tiny house is between $30,000 and $60,000, according to Rocket Mortgage, though they can cost a lot more depending on where they're located and the features they have. On the other end of the spectrum, the St. Louis Federal Reserve pegs the median cost of a traditional home in the United States at $436,800.



From tiny living to living large

Some point to tiny homes as a potential way to tighten the racial homeownership gap. In 2022, the homeownership rate for Black households was 45 percent compared to 75 percent for white households. One reason we're less likely to own homes is because we earn less, have fewer assets and are frequently priced out of the market. In Atlanta, Black-owned developer South Park Cottages is hoping to change that by creating a micro community of homes ranging from 335 to 615 square feet.


At least one savvy sister is even using tiny homes to create a passive income stream for herself. Precious Price, a marketing strategist and social entrepreneur in Atlanta, built a 296 square-foot tiny home in her backyard to live in while renting out her traditional house. Monthly expenses for both homes cost her $1,580, while she is able to bring in $2,725 per month by renting out her traditional house.


Today, Pearson works as a consultant to help others embrace a tiny house lifestyle through her company The Bohemian Brand. She's seen some people turn to tiny living as a way to move from renting to homeownership, and others do so as a way to save money and get out of debt.


For Pearson, being a tiny-home owner means she doesn't feel obligated to stay at a job she hates in order to pay the bills. She has also added onto her tiny home. It's now 470 square feet with a sunroom and a screened-in porch. Building a tiny house was one of her better decisions, she says. "My house is my retirement plan."