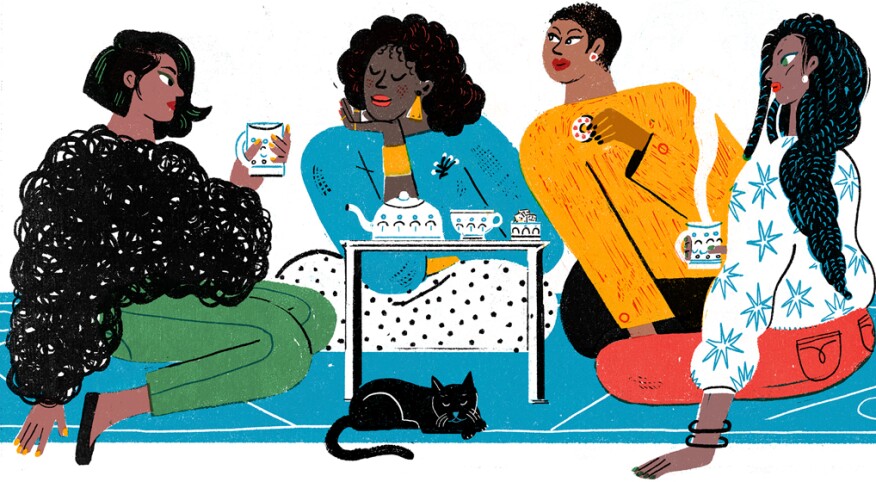 Sisters From AARP: Frequently Asked Questions (FAQ)

Q: What is Sisters From AARP?

A: Sisters From AARP is a free, weekly lifestyle newsletter celebrating Black women. Sisters readers get the very best in health, money, culture, style, relationships and more, and we feature exclusive related content here on our website. And the conversation continues in our social media communities, including Facebook and  Instagram .

Q: Who can subscribe to Sisters From AARP?

A: Anyone over age 18 can subscribe. For instance, subscribers will often tell us, "I shared this with my daughter" or "I sent this to my mom." That said, if you have questions about also becoming a member of AARP — which offers discounts on dining, travel and apparel; a rewards program; free brain-health games and other valuable benefits — you can learn more at aarp.org .

Q: How do I subscribe?

A: We appreciate your interest! To subscribe to the newsletter, visit our subscription page and enter your information , including your preferred email address.

Q: I was just asked to create a free account for Sisters. Why would I need a free account now? I didn't need one before.

A: Sisters has relaunched the website to offer readers new features, including community pages where readers can connect and communicate with one another; enhanced social sharing; plus additional interactive features, like the ability to connect with contributors and see their bios. We did this upgrade to make it easier to get girlfriends together 24/7, because many of you asked for this and we heard you! You'll find the same Real Talk for Real Sisters, powered by our Sister Squad. But because this is an updated site, a new signup is required to access all of the new features.

Q: Is there a print version of Sisters that you can send me?

A: We do not offer a print version. Sisters is a digital-only publication that you can enjoy on a desktop, smartphone or tablet. If you are interested in a print offering, AARP members enjoy receiving two print publications via mail: AARP The Magazine and AARP Bulletin.

Q: Why is AARP publishing a newsletter and website celebrating Black women?

A: AARP aims to connect with the people it serves — people from all walks of life — in an authentic and personalized way. So AARP offers unique and varied programs, platforms and resources. With 38 million members, the association tailors additional offerings for rural Americans, veterans and active-duty military, Spanish-speakers, caregivers, LGBTQ adults, adults living with diabetes and more.

Q. How do I reach the editors of Sisters with any comments, concerns, corrections or suggestions?

A. We do appreciate feedback! Please feel free to email the editors at sistersletter@aarp.org .

Q: Why isn't every story about someone my age?

A: While most of our readers are Gen Xers or boomers, we love connecting with readers of every generation. Regardless of your age and stage, we know you want to live your best life! And we seek to highlight this through Sisters articles, essays and more.

Q: Are Sisters contributors Black?

A: Dozens of talented Black editors, freelancers, photographers, illustrators, researchers and other professionals are pleased to be doing the work as part of the diverse Sisters team.

Q: I'd like to write for Sisters. How can I send story ideas for review?

A: We appreciate your interest! We receive many submissions and are not able to accept them all. That said, you can review our writer's guidelines for information about how to pitch us, which topic areas are open to freelancers, and more.

Q: I'd like to partner with Sisters or advertise with you. How do I get in touch?

A: Please feel free to email us at sistersletter@aarp.org to share detailed information about your marketing query, and we will follow up.

Q: How can I stream Sisters playlists and take my grooves on the move, including in my car?

A: Sisters' playlists are published on Spotify. You can find its auto-related instructions here. If you don't have the free app, visit spotify.com. (Note that there is a free ad-supported version and, separately, a free trial of the ad-free "premium" version. You must cancel the latter within a certain time frame to avoid charges. The ad-supported version is always free.) Take a moment to load the app onto whatever device you use to read Sisters. After that, you're good to go any time you press "play" on any of your favorite collections.

Q: How can I unsubscribe from the newsletter or change my email address?

We would be sorry to see you go. But if you'd like to unsubscribe from the newsletter, or from AARP email, simply click the link to unsubscribe at the bottom of any of your newsletter emails.

If you'd like to update your email address, we suggest subscribing to Sisters with your new email address here. Then you can click the link in existing emails from Sisters to unsubscribe your old address.

Thank you for checking out Sisters From AARP. Join the conversation!

AARP is a nonprofit organization that is the owner of Sisters From AARP registered trademark and Sistersletter.com website. AARP also holds the copyright to all original content on the site.