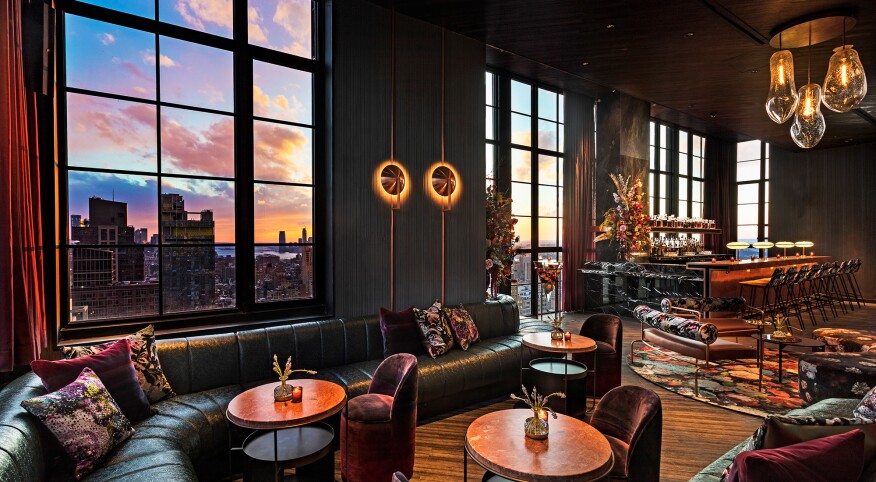 Fancy a cocktail or mocktail? Looking to relax and relate after work, celebrate a birthday or catch up after a weekend movie? Are you getting ready to toast (in moderation) a successful Dry January soon? If your usual gathering-with-the girls place is the nearest TGI Fridays, Applebee's or Olive Garden, consider a change of scenery once in a while. Maybe posh it up at a unique spot with plush decor and sweeping views of your city, or try a unique craft cocktail and apps at a different-from-usual happy hour spot or even some jazz at a sexy speakeasy-style hideaway.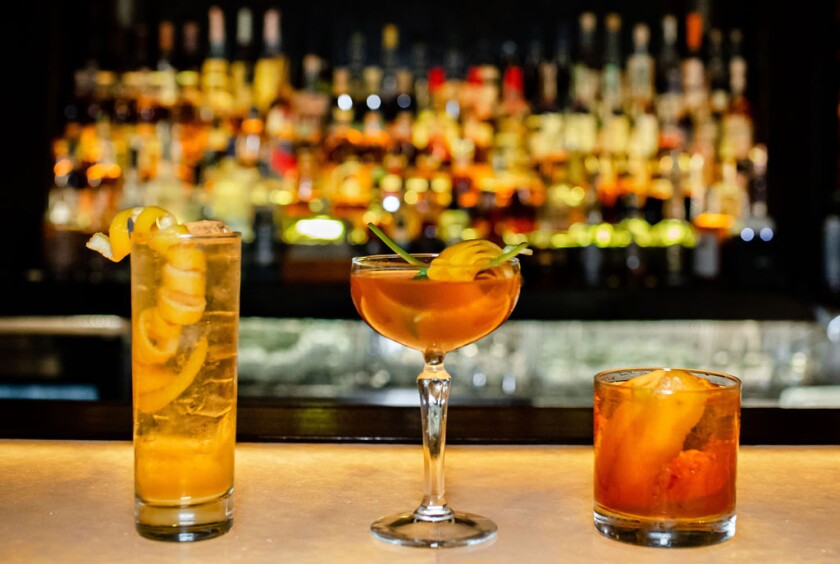 Red Phone Booth, Buckhead
Brittany Sloan
Bar Vegan, Ponce City Market, Atlanta
Madelynne Boykin of Bites and Bevs
The Rooftop by JG at the Waldorf Astoria Beverly Hills
Courtesy of Waldorf Astoria Beverly Hills
Quill at the Jefferson Hotel
Courtesy of The Jefferson DC
The Fleur Room, Chelsea
Courtesy of Moxy Hotels

Here are sophisticated watering holes we found around the country to inspire your next toast with girlfriends (or your sweetie). They include the bar at a Michelin-starred caviar-and-champagne restaurant, cozy igloos, nouveau vegan fare and lounges with hookah and cigar areas. Toast to your friendship or a friend's special day while also expanding your palate and exploring new places in your city. Our list may inspire some online searching of your own for more happy-hour hot spots to enjoy in your city or when visiting another one.





FLORIDA
Level 6, Coconut Grove

This stylish luxury rooftop oasis sits above Coconut Grove's hot new modern Lebanese restaurant, Amal.
Fab Features: A 4,000-square-foot posh rooftop lounge/restaurant with gorgeous views of Biscayne Bay, Coconut Grove and the Miami skyline. Glass walls allow you to enjoy the view from every seat, and retractable canopies protect you from the heat.
Menu: A modern and urban twist on Spanish cuisine. Try a vibrant handmade cocktail infused with fruit and herbs, or something from their extensive wine and champagne list.
When to Go: Enjoy a martini lunch, sip while watching a gorgeous sunset, or marvel at the view with late-night drinks.
level6miami.com


Bar One, Miami Beach

This restaurant/lounge is on the picturesque Biscayne Bay marina with views of Star Island and downtown Miami.
Fab Features: A celebrity hangout with sweeping views, sleek high-end decor and indoor-outdoor seating. Bar One is owned by restaurateur Peter Thomas, ex-husband of model Cynthia Bailey, formerly of The Real Housewives of Atlanta.
Menu: Spendy high-end menu including steak, surf and turf, and seafood entrées mixed with Jamaican and Caribbean selections. There are signature cocktails as well as bottle, wine and cigar lists.
When to Go: Open every day. Go for brunch or dinner, or catch their sunset happy hour.
baronemiamibeach.com


TEXAS
Z on 23, Houston

This chic and modern outdoor bar/lounge is located 23 floors up, at the top of Le Méridien Houston Downtown, with stunning views.
Fab Features: It is Houston's highest open-air rooftop bar, with 360-degree views of the Houston skyline and sunset.
Menu: Simple bar fare: flatbread pizza, burgers and tacos, and a wine, cocktail and beer menu.
When to Go: Catch their happy hour and specials Mondays through Wednesdays, or swing by any night for after-dinner drinks.
zutrorestaurant.com


LOUISIANA
The Bombay Club, the French Quarter, New Orleans

A martini bar with varied cuisine in the heart of the French Quarter, it's located in the historic Prince Conti Hotel.
Fab Features: Live jazz and happy hour specials at this sophisticated and old-fashioned cocktail lounge, walking distance from many of the French Quarter's top restaurants. Many unique martinis and cocktails, as well as spirits, wine and beer.
Menu: A mix of British gastropub and NOLA cuisine, along with an extensive list of signature cocktails; a selection of single malt scotches, ports and bourbons; wines; handcrafted cocktails; and the longest list of martinis in the city, they claim.
When to Go: Happy hour and live jazz Wednesdays through Sundays. A great place for after-dinner drinks, dinner or Sunday brunch.
bombayclubneworleans.com


The Country Club, Bywater, New Orleans

Renovated restaurant and bar is housed in a stately historic home that has been a Bywater neighborhood secret for four decades.
Fab Features: Dine in the formal dining room, sit outside in the garden, sink into one of the plush bar room chairs for a cocktail, or maybe lounge by the heated pool and enjoy a drink from the cabana bar. (Day passes or memberships are required for the pool.)
Menu: They specialize in Creole cuisine. Enjoy their extensive cocktail, beer or wine menu, or try a weekday happy hour special.
When to Go: For drinks at the bar, dinner, weekday happy hour or weekend brunch.
thecountryclubneworleans.com


GEORGIA
Red Phone Booth, Buckhead

Red Phone Booth is an elite prohibition-style whiskey lounge that opened in Buckhead in 2021. (There is also a downtown location.) Visit their website for information about membership.
Fab Features: The expansive, upscale space features brick and wood accents, plush Italian leather sofas, a fireplace, an extensive list of cigars and a state-of-the-art air-purifying system. Enter the club by dialing your special code in the antique British red phone booth at the secret entrance.
Menu: Artfully crafted cocktails, as well as an extensive list of whiskeys, bourbon, scotch and more. Tastings are available. Food includes small plates such as fresh seafood, carpaccio, Neapolitan pizza and house-made desserts.
When to Go: Early evening until late night every day. Try a whiskey, bourbon or scotch tasting, and maybe even a cigar.
redphonebooth.com


Bar Vegan, Ponce City Market, Atlanta

This elevated yet casual vegan tapas and cocktail bar is located in Ponce City Market and brought to you by Pinky Cole, creator of the successful Slutty Vegan chain that has a celebrity following.
Fab Features: The 100 percent vegan cuisine is reimagined in a chic, fun, music-inspired environment and includes signature cocktails and desserts.
Menu: Vegan small plates that are nothing like the all-burger menu offered at Slutty Vegan: salads, satay, pizza, "wings" and sandwiches, with handmade cocktails including classics like margaritas, mojitos, sidecars and more.
When to Go: It can get very busy after 8 p.m., so arrive early to eat and stay late if you are in the mood for the more "turned up" vibe that happens later. Open late on weekends. Check the website for hours.
barveganatl.com

NORTH CAROLINA
1501 South Mint, Charlotte

The Black-owned restaurant/cocktail lounge is found in the heart of Charlotte's fastest-growing historic districts: Wilmore, the Gold District and South End.
Fab Features: A speakeasy-style cocktail lounge with indoor and outdoor dog-friendly seating, this former gas station has a nice vibe and offers a cigar and hookah lounge area.
Menu: Simple American-style cuisine with a variety of cocktails, craft beers and wines.
When to Go: Dinner, after work or Sunday brunch.
1501southmintclt.com


Nuvolé Rooftop TwentyTwo, Charlotte

A very chic lounge in Uptown Charlotte, it's located on the 22nd floor of the AC Hotel.
Fab Features: With sweeping views of Charlotte, modern urban elegance and stylish firepits, it is the highest indoor-outdoor rooftop lounge in the city.
Menu: Unique handcrafted cocktails, an extensive wine and champagne list and New American small plates and desserts.
When to Go: Open Mondays through Saturdays; late night Fridays and Saturdays. Note: There is a dress code. Check the website for details.
nuvole22.com

CALIFORNIA
The Rooftop by JG at the Waldorf Astoria Beverly Hills

The premier Beverly Hills rooftop lounge may have the best views you'll ever see in Los Angeles. Why not go at least once just for the experience?
Fab Features: A gorgeous, chic and spacious garden lounge restaurant, 12 floors above the city. On a cool night, recline on one of the many sofas under a heater with a blanket provided by the venue.
Menu: The all-day menu is expensive, with dishes like osetra caviar, sashimi and a selection of salads, gourmet burgers and seafood. There is also wine, beer and a creative list of cocktails.
When to Go: Brunch daily, dinner and late-night dinning.
waldorfastoriabeverlyhills.com/dining/the-rooftop-by-jg


Apotheke, east Chinatown, Los Angeles

Opulent apothecary mixology bar and lounge with medicinal-themed cocktails. Winner of Time Out Los Angeles' most stylish bar award. (There are also two New York City locations.)
Fab Features: Out-of-the-way L.A. hot spot with a sexy vintage boudoir theme. Its patio has heaters and comfy sofas to lounge on while drinking one of their unique cocktails.
Menu: A creative menu of handmade cocktails using organic produce, herbs and botanicals. Choose from menus of Euphorics, Stimulants, Pain Killers, Aphrodisiacs, Stress Relievers and Health & Beauty elixirs.
When to Go: Open very late (check website for times). Stop by after dinner or after an event for a nightcap.
apothekemixology.com


WASHINGTON, D.C.
Quill at the Jefferson Hotel

Quill is an elegant and sophisticated VIP bar/lounge at the Jefferson Hotel.
Fab Features: A beautiful, dimly lit, low-key barroom with plush and comfortable leather chairs, wood-paneled walls and a pianist to help you wind down. It feels like a room that Sidney Poitier would stroll into wearing a tuxedo on his way from being honored at the Kennedy Center.
Menu: Expertly crafted signature seasonal cocktails, an impressive wine list and an inventive bar menu.
When to Go: Lunch, dinner or drinks until midnight. A nice place to wind down while catching up with your girlfriends.
jeffersondc.com/dining/quill


The Next Whiskey Bar at the Watergate Hotel, Northwest D.C.

Luxurious bar/lounge and restaurant is located at the historic renovated Watergate Hotel.
Fab Features: Chic indoor and outdoor lounge situated near the Potomac and the Kennedy Center. Heaters are available, or you can reserve a winter igloo on the terrace for your party.
Menu: Creative menu of small plates and seasonal cocktails. There is a high-end selection of scotch, American and Japanese craft whiskies, as well as a choice of cigars to enjoy on the terrace.
When to Go: Go for dinner, after work or for late-night drinks. Check website for times.
thewatergatehotel.com


NEW YORK CITY
The Fleur Room, Chelsea

This venue has floor-to-ceiling windows with 360-degree views of the Empire State Building and the Statue of Liberty from the top of the Moxy Chelsea hotel.
Fab Features: A lavish and exclusive celebrity hot spot with magnificent views, glass enclosed with retractable walls, stunning floral-inspired decor, plush floral sofas, chandeliers, a gleaming copper bar and a massive disco ball.
Menu: Gourmet light bites and cocktails, including floral-inspired concoctions.
When to Go: After-work happy hour, Tuesdays through Fridays, beginning at 5 p.m. Reservations are suggested, but walk-ins are welcome. A special attraction is their Floral Gardens, made up of thousands of hanging flowers with a backdrop of Manhattan. Tables during other hours are expensive and coveted.
moxychelsea.com/the-fleur-room/


The Bar at Caviar Russe, Downtown Manhattan

Attracting an international clientele, Caviar Russe offers a unique champagne-toasting and caviar-tasting experience. Unlike its Michelin-starred parent restaurant, the swanky bar/lounge caviar café downstairs is posh but not formal, offering a short menu of bites and drinks.
Fab Features: Luxury lounge atmosphere with a weekday caviar and champagne happy hour that's affordably priced and great for newbies looking for a first-class experience.
Menu: Caviar-tasting menu, raw bar, appetizers, wine, champagne and cocktails. Or visit the upstairs dining room for formal Michelin-starred fine dining.
When to Go: Happy hour from 4:30 to 6:30 p.m. Mondays through Thursdays in the bar/lounge. Sunday brunch or dinner in the dining room any night Mondays through Saturdays.
caviarrusse.com


The Cloak Room, Harlem

This dimly lit speakeasy-style lounge has an interesting menu and live music, and it's owned by Ady De Luna, a Latina sister.
Fab Features: Small, sexy, plush and intimate, this is a hidden gem in historic Hamilton Heights, Harlem. With dark wood and leather accents, it feels like a secret spot where you need to know a special knock to enter. Psst: Look for the red door.
Menu: Wine, beer and seriously crafted cocktails with unique small plates.
When to Go: Fridays or Saturdays for live jazz.
cloakroom.bar/


MASSACHUSETTS
Oak Long Bar + Kitchen at the Fairmont Copley Plaza, Boston

Modern and glamorous, Oak Long Bar + Kitchen was named the city's best hotel bar by Boston Common magazine in its 2022 "Best of the City" guide.
Fab Features: Dramatic and elegantly designed and restored room in which to see and be seen.
Menu: Fresh, classy, farm-to-table menu with locally inspired dishes and ingredients, serving a mix of everything from caviar to chowders, pizza, seafood and steak.
When to Go: Breakfast, weekend brunch and all-day dinning, including Thanksgiving, Christmas, New Year's Eve and New Year's Day.
oaklongbarkitchen.com

Contessa, Boston
Offering an opulent and upscale dining experience, it's located in the equally glamorous Newbury Boston hotel.
Fab Features: A beautiful formal garden in the sky with a glass retractable roof and stunning panoramic views of the Boston skyline and Back Bay.
Menu: Italian trattoria–style menu, signature cocktails and extensive wine cellar.
When to Go: Open for breakfast, brunch, lunch, dinner and drinks. Reservations recommended.
thenewburyboston.com/dine/contessa