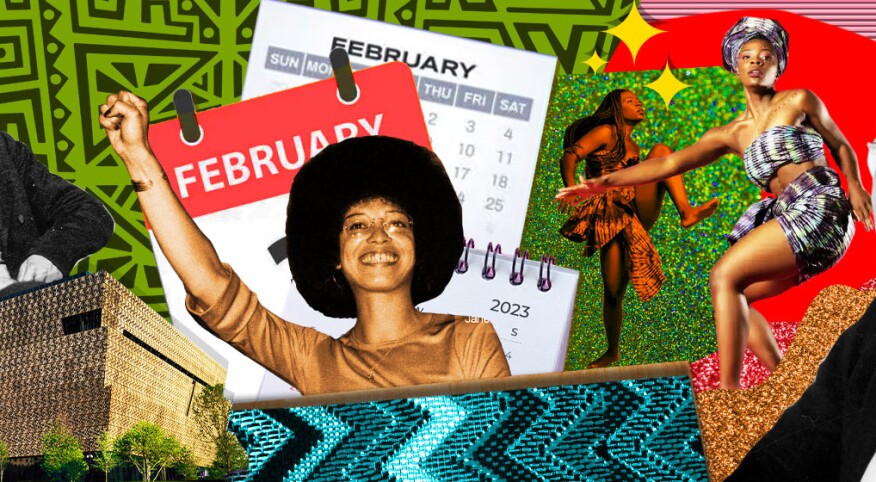 February is Black History Month — a special time in which the nation acknowledges, lifts up, celebrates and honors the achievements and accomplishments of African Americans.

This year's theme for Black History Month, established by the Association for the Study of African American Life and History, is "Black Resistance." Think Harriet Tubman, Ida B. Wells, Diane Nash, Rosa Parks, Fannie Lou Hamer and Angela Davis. These women were bold and brave, fearless and courageous. Their resistance changed the nation.

But joy can also be resistance. Here we introduce you to 28 ways to experience Black History Month that will bring you joy.

Feb. 1 – Today is the first day of Black History Month. Let's honor the Black women who were pioneers and trailblazers, leaving a legacy in every field.

Feb. 2 – Grab a girlfriend, visit a museum, and check out an exhibit that centers on the Black experience.

Feb. 3 – Take an African dance class and learn about the movement rituals of different African cultures.

Feb. 4 – Hulu is streaming a docuseries based on the New York Times 1619 Project led by Pulitzer Prize–winning journalist Nikole Hannah-Jones. Great time to have a discussion with teens about the continued impact of slavery on our daily lives.

Feb. 5 – Donate to a historically Black college or university (HBCU) and learn the unique origins of these institutions.

Feb. 6 – African Americans are part of the fabric of this nation. Black filmmaker Stanley Nelson has documented significant historical events in Black America. Check out one of his films, which include The Black Panthers: Vanguard of the Revolution, The Murder of Emmett Till, Harriet Tubman: Visions of Freedom and Freedom Riders.

Feb. 7 – Madam C.J. Walker was the nation's first self-made millionairess, according to Guinness World Records. In honor of her accomplishments, support a Black female-owned business today and read about how Madam Walker became successful.

Feb. 8 – Interview an elder in your family and start a genealogy tree. The National Archives has resources on how to begin to trace your ancestry.

Feb. 9 – Make a family recipe that has been passed down through several generations, and learn about the origin and significance of that dish to your family or region.

Feb. 10 – Support your local Black theater and have a discussion on Black female playwrights, including Lorraine Hansberry (A Raisin in the Sun) and Ntozake Shange (For Colored Girls Who Have Considered Suicide/When the Rainbow is Enuf).

Feb. 11 – Grab a pack of Urban Intellectuals' Black History Flash Cards and have a game night based on Black history trivia.

Feb. 12 – Volunteer to decorate a school, community center, senior home or shelter with posters of African American female pioneers and trailblazers in different fields and industries: community leaders, artists, civil rights activists, athletes, etc.

Feb. 13 – Join a GirlTrek club in your city, or start one. The organization says it aims to "heal intergenerational trauma, fight systemic racism and transform Black lives."

Feb. 14 – It's Valentine's Day! Check out the classic romantic movie Love & Basketball, written and directed by Black female filmmaker Gina Prince-Bythewood, and hold a discussion on other Black female filmmakers, such as Ava DuVernay and Julie Dash.

Feb. 15 – Do you have some old Black magazines cluttering your space? Donate them to a local women's shelter or teen nonprofit and lead vision board exercises.

Feb. 16 – Music is central to Black culture. Ask a music teacher if you can hold a class on Black female composers.

Feb. 17 – This year marks the 160th anniversary of the Emancipation Proclamation. Check out the film Harriet and hold a youth discussion on how Harriet Tubman led the way to freedom.

Feb. 18 – Check out a podcast focused on Black history, such as The Global Black History Podcast.

Feb. 19 – Can't make it to the National Museum of African American History and Culture? Explore some of the museum's free online programming.

Feb. 20 – Hold an open mic night or poetry slam based on Sojourner Truth's speech "Ain't I a Woman" or Maya Angelou's poem "Phenomenal Woman."

Feb. 21 – Coloring books aren't just for kids anymore. Get a Black history coloring book and volunteer with a youth group, educating them on our Black historical figures.

Feb. 22 – Kentanji Brown Jackson made history when she became the first Black woman to serve on the Supreme Court. Consider writing a letter to Justice Brown, to a Black female member of Congress or to Vice President Kamala Harris celebrating each woman's respective accomplishments.

Feb. 23 – Rent the film Hidden Figures and have a discussion with young Black girls interested in STEM fields (science, technology, engineering and math).

Feb. 24 – Marian Wright Edelman, founder of the Children's Defense Fund, designed the CDF Freedom Schools program to provide nurturing summer and after-school enrichment for thousands of children across the country. Find ways to support this project.

Feb. 25 – The film The Woman King, featuring Academy Award­–winning actress Viola Davis, was based on the real-life women warriors who fought for the Dahomey kingdom. Hold a session at your local library and learn more about these warrior women and their tribe.

Feb. 26 – A lot of us got our start in the Black church, whether it was singing in the choir or remembering that long Easter speech. Volunteer with the drama department and hold a Black history program featuring little-known Black history facts or hidden figures.

Feb. 27 – Visit your local Black bookstore and support Black female authors; maybe hold a book club reading at a juvenile justice center.

Feb. 28 — Let's not forget our Black women pioneers and trailblazers who are often overlooked, like Dorothy Height, Ella Baker, Constance Baker Motley, Daisy Bates and so many others. Search out their stories, learn more and share!