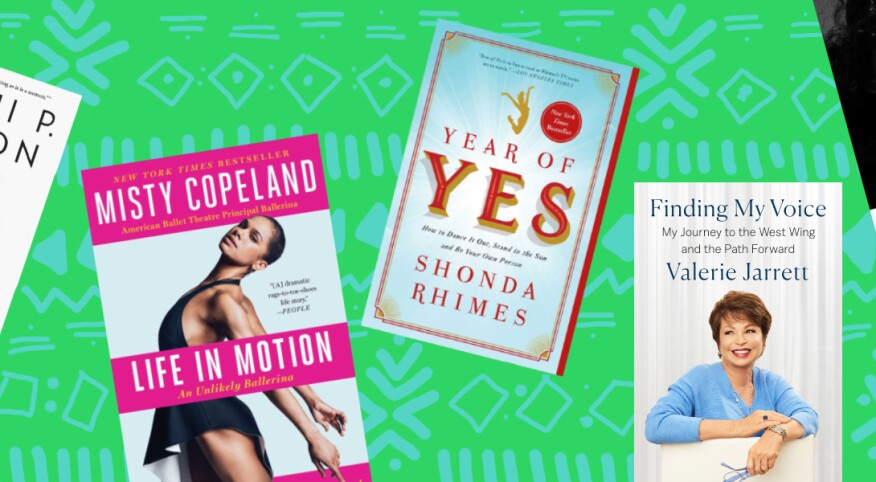 We loved discussing the former First Lady's raw, real and revealing memoir at book club meetings and over brunch for the last six months. Meanwhile she and her A-list moderators filled arenas on three continents during her historic book tour that recently wrapped in Nashville. With more than 10 million copies sold, Michelle Obama's Becoming is set to become one of the best-selling memoirs of all time. Way to support, ladies. If you're hungering for more inspiration, dish, VIP insights and literary Black Girl Magic, check out the can't-put-it-down personal memoirs of these superstar sisters.

Finding My Voice: My Journey to the West Wing and the Path Forward by Valerie Jarrett
Valerie Jarrett's memoir hit the shelves in April, just months after Becoming. Described by the former First Lady as "one of Barack and my closest confidantes," Jarrett is the one who brought the Obamas together, later convincing "44" to enter public service. She joined the White House team as an adviser on January 20, 2009, and her singular take on the Obamas before and during the White House years, intertwined with her own fascinating journey from corporate law to politics, makes this a must-read.

Life in Motion: An Unlikely Ballerina by Misty Copeland
Some stories inspire you, some leave you in awe. Misty Copeland's memoir does both. The woman who made history by becoming the first African American principal ballerina in the American Ballet Theatre recounts her trailblazing journey in a way that every sister, dancer or not, can relate to. From her first encounter with the barre as an anxious 13-year-old, to starring in iconic ballets and being named one of the 100 most influential people in the world in 2015 by Time magazine, Copeland's story of struggle, persistence and triumph encourages us to reach for the stars.

The Last Black Unicorn by Tiffany Haddish
Tiffany Haddish seems to be everywhere: TV commercials, box office blockbusters and, soon, producing HBO's new comedy series, Unsubscribed. Her story details her upbringing in one of the poorest neighborhoods in South Central Los Angeles. There, she learned to use humor to defuse fights, win friends and earn protection from bullies in foster care and, eventually, to earn a living. Haddish is alternately humble, hilarious and a tad foul-mouthed as she motivates readers to be loud and proud and to doggedly chase their dreams.

Around the Way Girl: A Memoir by Taraji P. Henson
Better grab a box of tissues before you sit down to read Henson's riveting release because tears of joy and sadness will flow. The Academy Award nominee, Golden Globe winner and Empire star tells her story with humor and honesty, sharing behind-the-scenes moments on the red carpet, her experience at Howard University and the challenges and joys of single motherhood. Henson is candid about her relationship with her Vietnam-veteran father and her mother, who faced down violence at home and on volatile streets of Washington, D.C. Read this yourself and then pass it on to your favorite sister on the move.

More Myself: A Journey by Alicia Keys
If you watched Alicia Keys host the Grammy Awards last February, you were likely impressed with her flawless performance. And in her memoir, due in November, you can learn just how one of the most celebrated musicians of our time prepared to ace the last-minute opportunity to present. More Myself reveals everything from the singer's childhood in Hell's Kitchen and Harlem to her present life juggling marriage, motherhood and an award-winning musical career. Keys shares intimate stories about her challenging relationship with her father, the loss of privacy in her romantic relationships and the burdensome expectations of female perfection. You'll find her stories relatable, despite her celebrity status.

Year of Yes: How to Dance It Out, Stand in the Sun and Be Your Own Person by Shonda Rhimes
Do you say "no" to things that scare you and then wish you hadn't? Shonda Rhimes has the antidote. Her memoir will inspire you to take a leap of faith in yourself and in life by saying "yes" to everything that scares your socks off. The book chronicles Rhimes' life before and after her "year of yes," highlighting how she grew from a nerdy book-loving kid to a high-powered television producer and the creator of some of the most compelling TV characters of our time. If you say "yes" to this book, you won't regret it.

This Is Just My Face: Try Not to Stare by Gabourey Sidibe
Senegalese-American Empire actress Gabourey Sidibe is candid and raw in her memoir, released last spring. In the hard-hitting and inspiring story, she describes her youth in Bedford-Stuyvesant and Harlem with a polygamous father and a gifted mother who supported her two children by singing in the New York City subway. Sidibe recalls her first job a phone sex "talker" and her breakout Oscar-nominated role in Lee Daniels's Precious. She offers her unique take on issues such as weight, celebrity and depression. If you've ever felt like an outcast or compelled to pursue a dream, this book will resonate with you.

More Than Enough: Claiming Space For Who You Are (No Matter What They Say) by Elaine Welteroth
You'll have a hard time putting down the memoir/manifesto by this maverick editor, famous for breathing social consciousness into the glossy pages of Teen Vogue. Born to an interracial couple in a small town in California, Welteroth shares the challenges and lessons she learned as a young boss who was often the only Black woman in the room and imparts relatable lessons on race, identity and success. The book, due out in June, is also a celebration of African American women, our power and history. Don't leave for the beach without it.