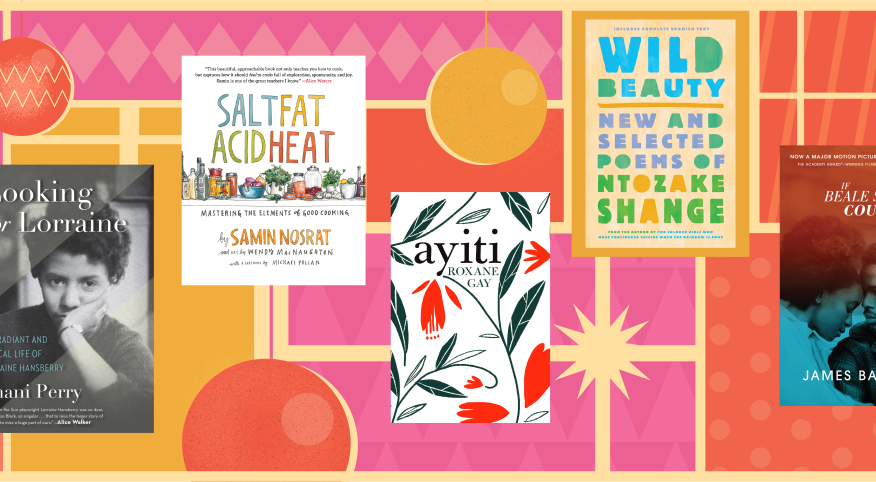 With so many titles out there, sometimes it's tough to figure out which to give to the booklover in your life. Here are five books that are guaranteed to delight this holiday.

CLASSIC
If Beale Street Could Talk by James Baldwin
Set in 1970s Harlem, this classic novel is a tender story of love amid struggle. Published in 1974, it manages to conjure up the New York of a bygone era while remaining remarkably relevant to current events. Moonlight director Barry Jenkins wrote and directed the film adaptation of the novel, which is due to be released Dec. 14. So get started if you want to read or reread it before you see the film.

BIOGRAPHY
Looking for Lorraine: The Radiant and Radical Life of Lorraine Hansberry by Imani Perry
Although Hansberry has largely been defined by her Broadway play A Raisin in the Sun, Princeton University professor Perry's biography of Hansberry provides a richly layered portrait of a complex, multitalented Black woman. Perry takes us beyond the standard Black History Month caricature of Hansberry and reintroduces her to us as a prolific writer, a radical activist and a flesh-and-blood woman. This biography will make you question how much you think you know about other Black women writers.

POETRY
Wild Beauty: New and Selected Poems by Ntozake Shange
Playwright, poet and artist Shange is most well known as the author of the choreopoem for colored girls who have considered suicide/when the rainbow is enuf. Even if you are not into poetry, Shange's work will win you over. Wild Beauty/Belleza Salvaje is a collection of new and previously published poems that includes a colloquial Afro-Latinx-Caribbean-Spanish translation. Capturing the rhythms and colors of the African diaspora, Shange's evocative work traverses Black life from lullaby to eulogy and from Soweto to St. Louis. Shange died at age 70 in October, and spending time savoring her poems is perfect way to reflect on her life and legacy.

FICTION
Ayiti by Roxane Gay
"Ayiti" is the Haitian Creole spelling for Haiti and the title of Haitian-American Gay's engaging multi-genre collection. Originally published in 2011, the reissued work includes two new stories. In this slim volume, Gay does not replicate the tragic, broken Haiti exploited in mainstream news coverage or traffic in stereotypes of the good immigrant. Instead, she illustrates the vibrancy of Haiti and the Haitian diaspora by offering a spare and sober meditation on language, culture, family and home.

COOKBOOK
Salt, Fat, Acid, Heat: Mastering the Elements of Good Cooking by Samin Nosrat
It's more than a cookbook! In Salt, Fat, Acid, Heat celebrated chef and food writer Nosrat shares recipes and menus, as well as her cooking philosophy. In this book and her Netflix series of the same name, she argues that mastering salt, fat, acid and heat is the key to great cooking. Filled with playful illustrations and helpful infographics, it is a user-friendly and fun read. Are you a novice in the kitchen? Learn how much salt is in a "pinch." Are you an experienced cook? Find out which variables determine the texture of doughs and batters. Or maybe you just like to eat. Discover why fat makes food taste so delicious. Nosrat shares the secrets of cooking chemistry and encourages experimentation and improvisation. Tuck into this book and become inspired to create your own pièce de résistance!