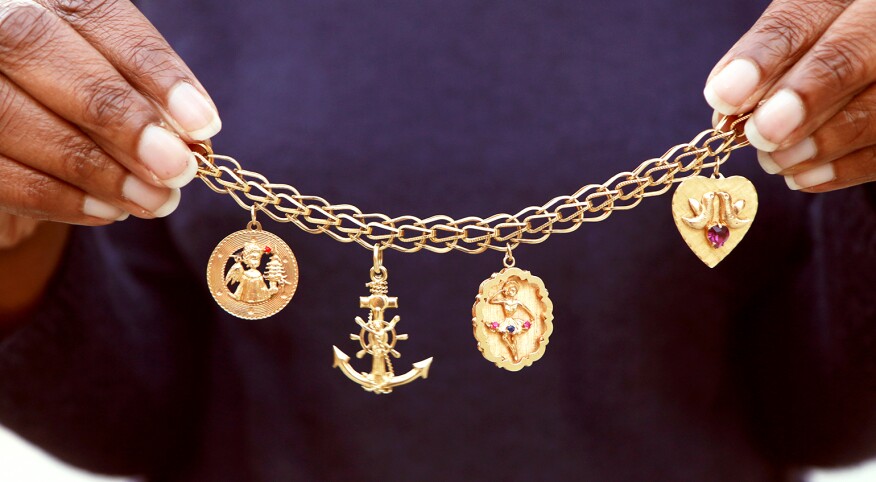 For my 25th birthday, my mother gave me a charm bracelet my father had given her. My parents met in junior high school, then married at 19, certain in that teenage way about each other and their forever. But when she gave the bracelet to me, they'd been apart for years, a fissure that eventually segued from a comfortable separation shaped by the banter of longtime friends to a snippy divorce shaped by long-held grievances.

The bracelet has thick gold links that look like a fishtail braid and a heavy slide and lock closure. When it was my mother's, it had a round charm with a Christmas angel and a tree on it and a second heart-shaped charm with two doves kissing above a faux garnet, markers of events in the beginning of a life together. I always loved that bracelet; I've always loved all bracelets. A signal of girl cool for me was stacked silver bangles; I loved how their chimes punctuated the around-the-way attitude of the kind of girl I thought I wanted to be.

When my mother gave the bracelet to me, she added an oval charm with a ballerina mid-twirl, engraved on the back with "Love, Mom" and the year. I couldn't believe it was mine. It had never occurred to me that she might give it to me. It hadn't even occurred to me to ask. Even better, I'd gained something that could keep improving. One year, she added a golden anchor to acknowledge my love of travel. When my son was born, I got a gold birth certificate charm with his name on it. Three generations on my wrist.

Over the years, I've squirreled away lots of jewelry from family. I have a pair of my paternal grandfather's cufflinks. I had a local craftswoman turn several pieces of my maternal grandmother's costume jewelry into an overwhelming statement necklace. I understand about legacy, about passing something tangible along to the next generation.

But the truth is, most days I don't wear a lot of jewelry. I don't even wear my wedding band. My wrists are typically bare because my beloved bracelets get in the way of my keyboarding. So, I only wear my charm bracelet a few times a year.

Yet it is the item I most worry about being stolen from my home. I store it in places I think a burglar would never look and move it around every few months. It's among the things I would grab if there were a fire.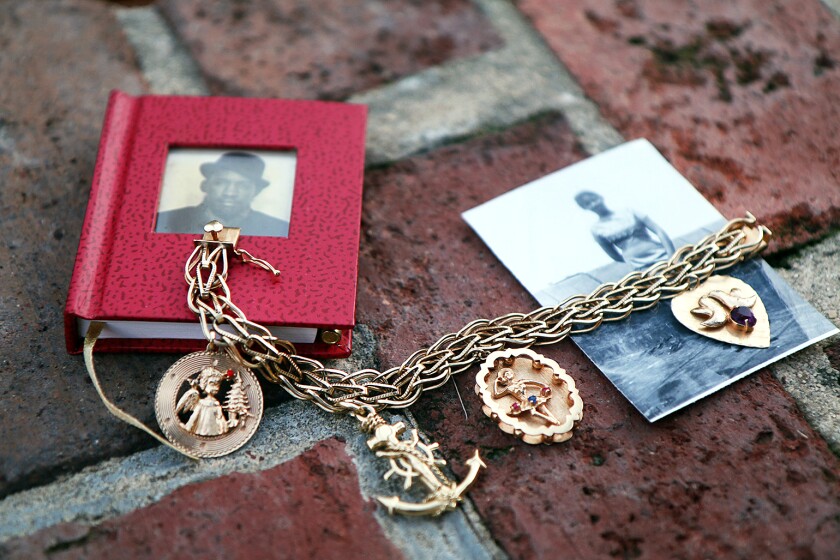 When I look at the bracelet, it's evidence that my parents — now no longer speaking — were once in love. It's a picture of who they were before they became parents, people who found each other, then chose each other.

I'm in my own marriage now, so I know how hard it is and I know the reasons why, sometimes, things don't work out. But some small part of me is still the kid who wanted her parents to get back together. When I ask, my mother doesn't have lovey-dovey memories of the heart-shaped charm. She says she just wanted to pass on something to her more emotional daughter, the one she thought would continue the story. After all, that's what the charms do — they tell stories.

I still wonder if passing the bracelet to me was also her moving on from her marriage. Maybe it was. But as much as it's a totem of a failed relationship, I think it's also a sign of my mother's hope for the life I'm building.