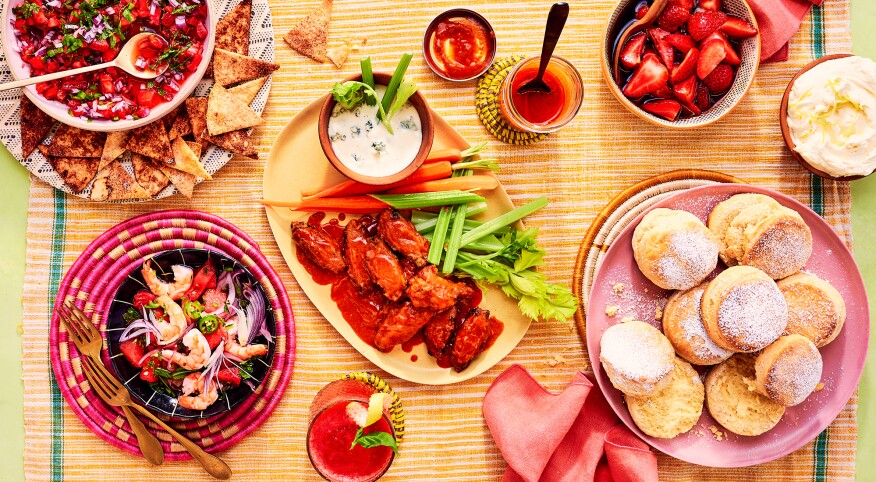 While Juneteenth seems to have made its way into the national consciousness in recent years, this day that symbolizes freedom and community has been celebrated for over 150 years. The origins of Juneteenth date back to June 19, 1865, when slaves in Galveston, Texas, received news that slavery was abolished, two years after the Emancipation Proclamation. Juneteenth is now a federal holiday, filled with hearty celebrations and colorful foods — with red being one of the prominent colors featured on many a Juneteenth spread. Red foods, according to
The New York Times
, are "a symbol of ingenuity and resilience in bondage," and naturally red foods happen to be great for us as well!
According to Renée Simpson, a registered dietitian nutritionist, a plant-based chef and founder of Well Diva Lifestyle, eating red foods provides a slew of benefits for our bodies. "The great benefit of eating red foods is that they contain cancer-fighting chemicals," Simpson says. "The red pigment is from lycopene, which is a phytonutrient and antioxidant. In addition to fighting cancer, phytonutrients also can slow the effects of aging."
Phytonutrients are plant powerhouses that are beneficial not just for plants but for us too. "Phytonutrients are naturally occurring chemicals found in plants," Simpson says. "They serve as a natural pesticide, protecting plants from insects while also protecting us when we consume them by providing antioxidants."
For everything from a refreshing watermelon and shrimp ceviche to a classic strawberry shortcake, read on for recipes by Simpson and more Black chefs for your Juneteenth celebration!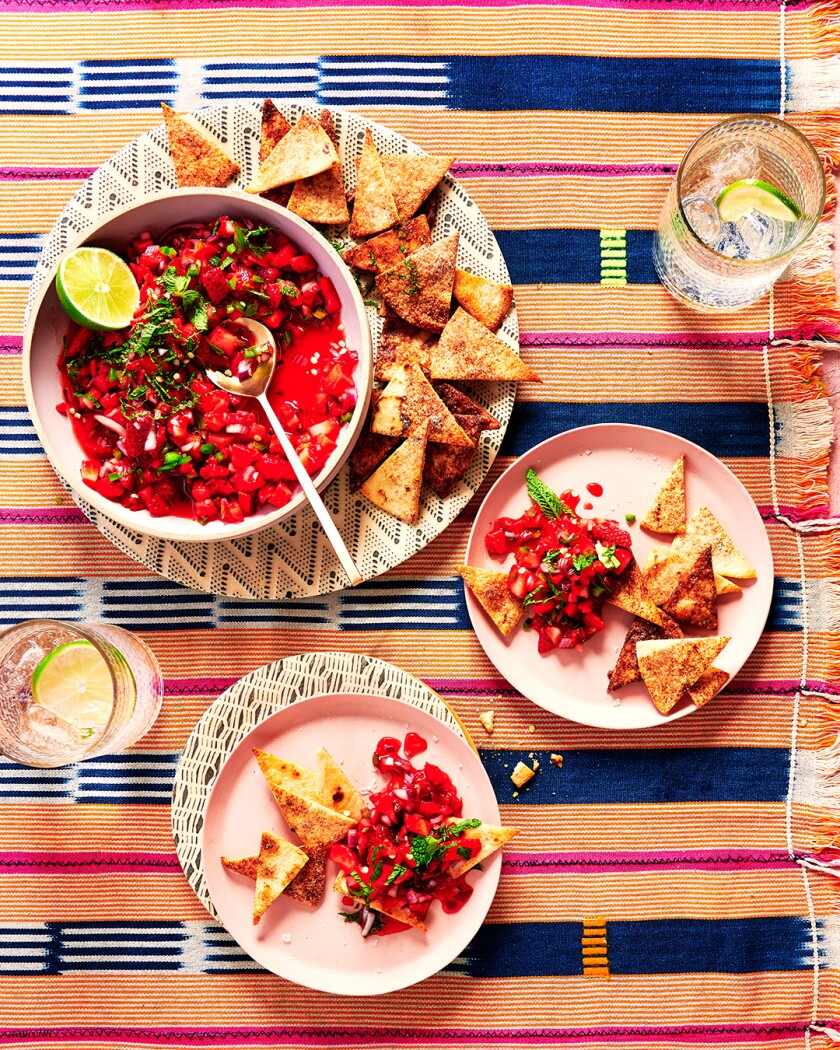 Strawberry Salsa With Cinnamon Chips
from Chef Tanorria Askew of Tanorria's Table
(tanorriastable.com)
Ingredients:
1 16-oz. container fresh strawberries
1 jalapeño, diced
1 small red onion, diced
4 large mint leaves, chiffonade (fancy word for super-thin ribbons)
1 lime, juiced
1 tablespoon honey
1 teaspoon salt
Method:

Remove stems from each strawberry and cut strawberries into small dice. Combine all ingredients in a bowl and toss until well combined and lime juice and honey are evenly distributed.
Serve immediately, or chill before serving.
Note: Store salsa in an airtight container in the refrigerator for three to four days.


Cinnamon Sugar Chips

Ingredients:

1 package soft taco flour tortillas (10-count)
4 tablespoons butter, melted
¼ cup sugar
3 tablespoons cinnamon
Method:

Preheat the oven to 350°F.
Cut tortillas into triangles. In a small bowl, combine cinnamon and sugar. Stir until well combined.
In a large bowl, drizzle tortillas with melted butter and sprinkle generously with cinnamon sugar.
Toss tortillas until fully covered in butter and cinnamon sugar. Lay tortillas on a baking sheet and bake for 10-12 minutes or until golden brown.
Note: Store cinnamon sugar chips in an airtight bag or container for one to two weeks.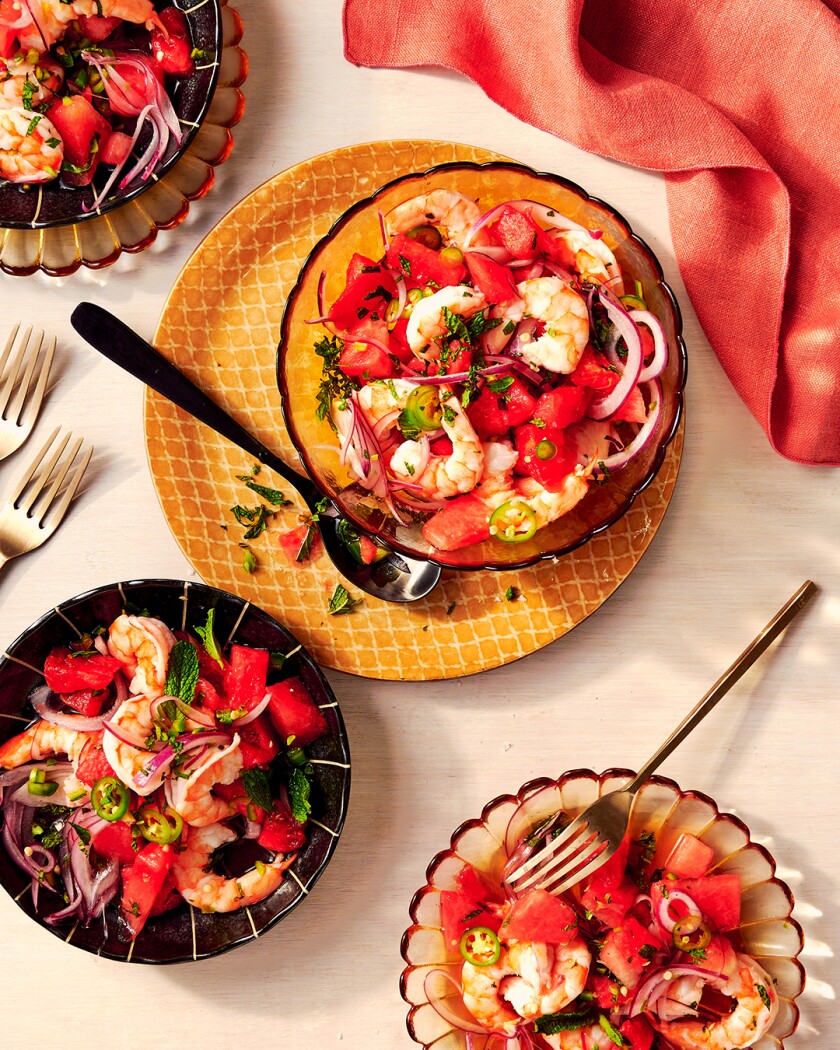 Watermelon and Shrimp Ceviche
from Renée Simpson, R.D.N., founder of Well Diva Lifestyle
(welldiva.com)

Ingredients:

2 limes, juiced
1 tablespoon peach balsamic vinegar
¼ medium red onion, thinly sliced
1 serrano pepper, finely minced
20 or so medium-size shrimp, cooked and peeled
2 cups watermelon chunks
approx. 10 mint leaves, finely chopped
coarse salt, to taste
Method:

Place lime juice, vinegar, onion, pepper and shrimp in a dish.
Cover and let marinate for about 5 minutes.
Mix in the remaining ingredients and serve.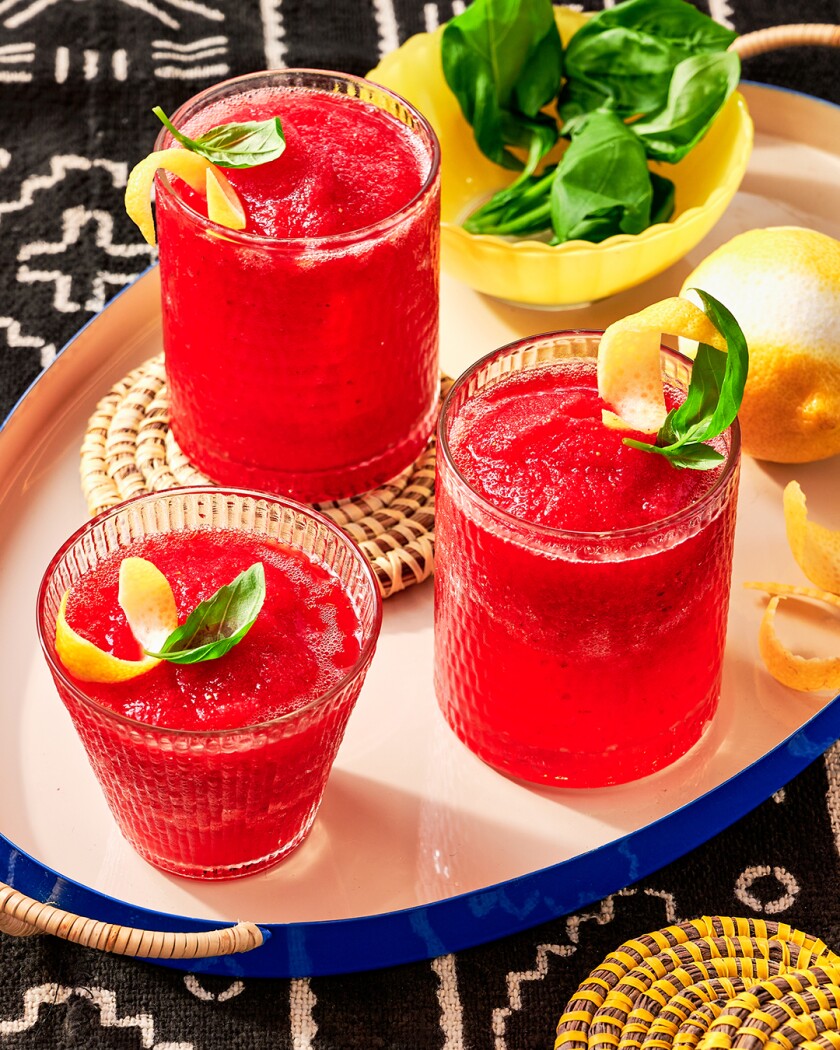 Strawberry Basil Cocktail
from Desirée Daniels of I Can You Can Vegan
(icanyoucanvegan.com)

Ingredients:

1 cup fresh strawberries
1 tablespoon organic cane sugar
1 tablespoon fresh lemon juice (save lemon peel for garnish, optional)
2 tablespoons chopped leaves of fresh basil, plus more for garnish
1½ shots bourbon or more to taste
1 heaping cup ice, plus more for serving
Method:

Add all ingredients to a high-speed blender and blend until just combined (they should appear somewhat slushy-like).
Once finished, serve over ice and garnish with lemon peel (optional) and fresh basil.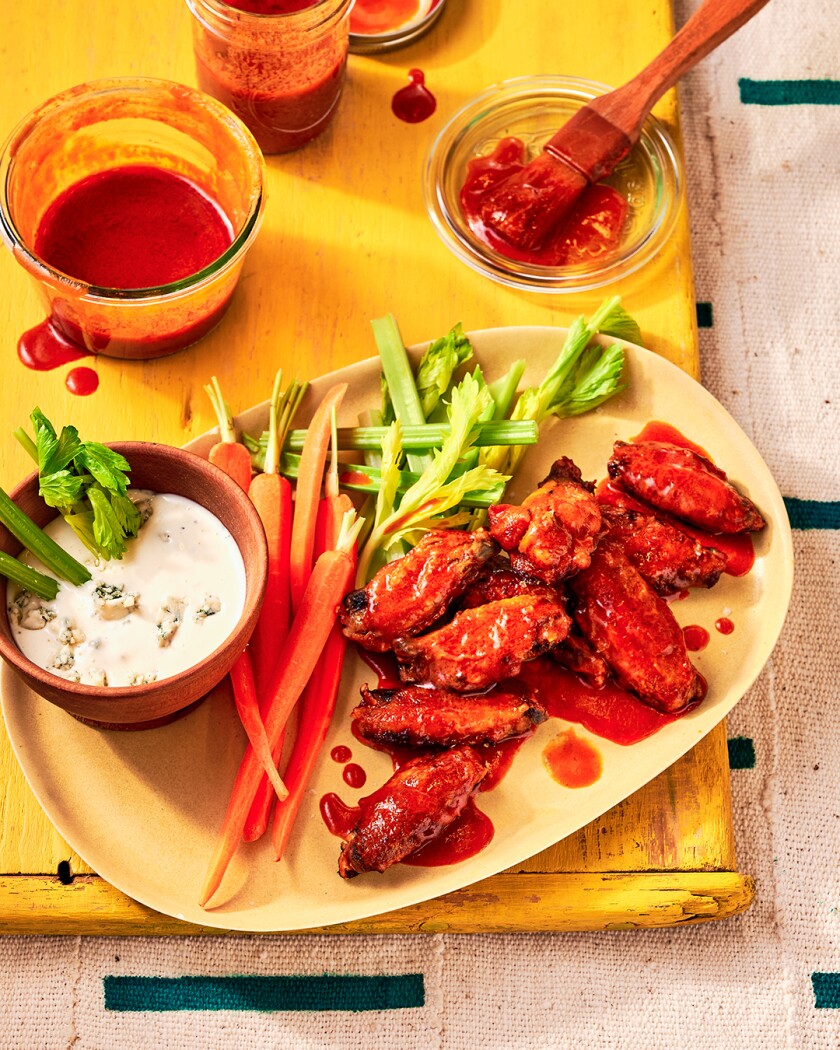 Smokey Buffalo Sauce
from Chef Evelyn R. Cooke
(evelyncooke.com)


Ingredients:

2/3 cup of your favorite hot sauce brand
1½ tablespoons lemon juice or white vinegar
¼ teaspoon soy sauce
1/8 teaspoon liquid smoke (optional)
½ teaspoon cayenne pepper
1/8 teaspoon garlic powder
½ cup cold butter (cut into pieces)
Salt, to taste (if using unsalted butter)
Method:

In a small saucepan or pot, combine hot sauce, lemon juice, soy sauce, liquid smoke (optional), cayenne pepper, garlic powder, butter and salt (if needed).
Cook on medium heat. Whisk constantly.
Once the mixture begins to bubble, remove from heat.
Immediately use to coat wings or set aside for later use.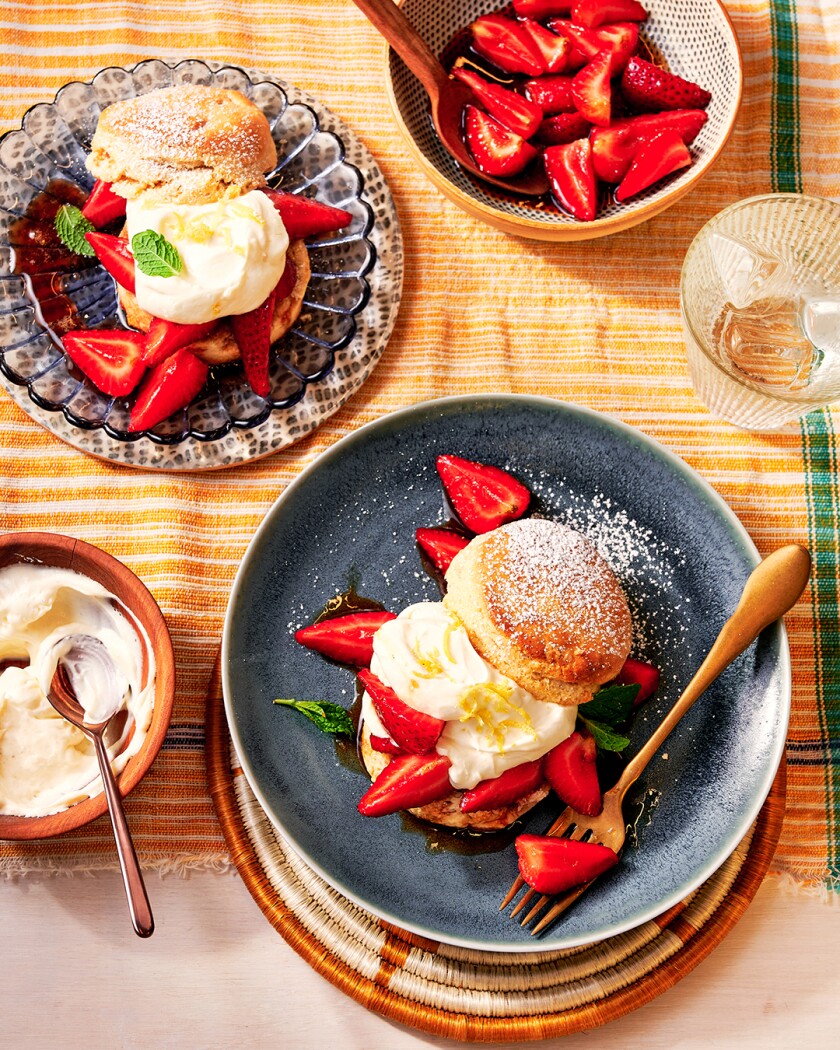 Homemade Strawberry Shortcakes
from Chef Starr Montout of The Tastery
(tastery.co)

Sweet Biscuit Ingredients:

2 cups all-purpose flour, sifted
¼ cup all-purpose flour, for patting out the dough
1 teaspoon regular table salt
1 tablespoon baking powder
¾ cup powdered sugar
¼ lb. ice-cold unsalted butter
¾ cup half-and-half
2 tablespoons half-and-half (reserved)
powdered sugar (for dusting)


Method:

Preheat oven to 400°F.
Combine dry ingredients.
Cut in butter using a grater.
Stir in liquid until it just begins to pull from the sides (it will be pretty moist).
Spread ¼ cup flour on a pastry board and dump the dough onto the flour.
Gently turn the dough until all sides are covered with flour.
Knead by gently rubbing the dough into the flour.
Pat the dough into 1-inch-thick slabs.
Cut into rounds with a sharp, round biscuit cutter (2½-inch cutter).
Push the scraps together to make room to cut a few more, but try not to knead it too much.
Place on a cookie sheet about ½ inch apart.
Brush the biscuits with the reserved half-and-half.
Place in a hot oven and bake for 12-15 minutes.


Strawberry Topping Ingredients:

1 pint strawberries (cored and cut into quarters)
3 tablespoons turbinado sugar
3 tablespoons balsamic glaze
3 tablespoons honey
1 lemon (for zesting)
mint leaves (for garnish)

Method:

Combine and mix all the ingredients in a bowl.
Allow the strawberry to macerate and soften.

Filling Ingredients:

2 cups milk
1 5-oz. box instant white chocolate pudding mix
1 tablespoon vanilla paste or extract
1 8-oz. package cream cheese, softened
1 14-oz. can sweetened condensed milk
1 12-oz. container frozen whipped topping, thawed

Method:

In a bowl, combine the milk, pudding mix and vanilla paste, and blend well using a handheld electric mixer.
Using another bowl, combine the cream cheese and condensed milk together and mix until smooth.
Fold the whipped topping into the cream cheese mixture.
Add the cream cheese mixture to the pudding mixture and stir until well blended.
Slice a sweet biscuit open and plate, then add a layer of the strawberry topping,
Place a dollop of the cream filling in the center.
Place the other half of the biscuit on top (off to the side). Sift some of the reserved powdered sugar, and garnish with lemon zest and mint leaves.