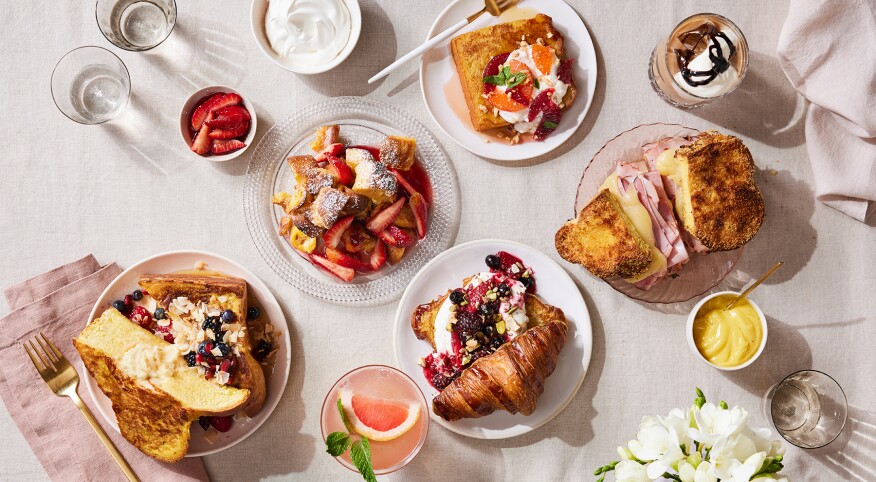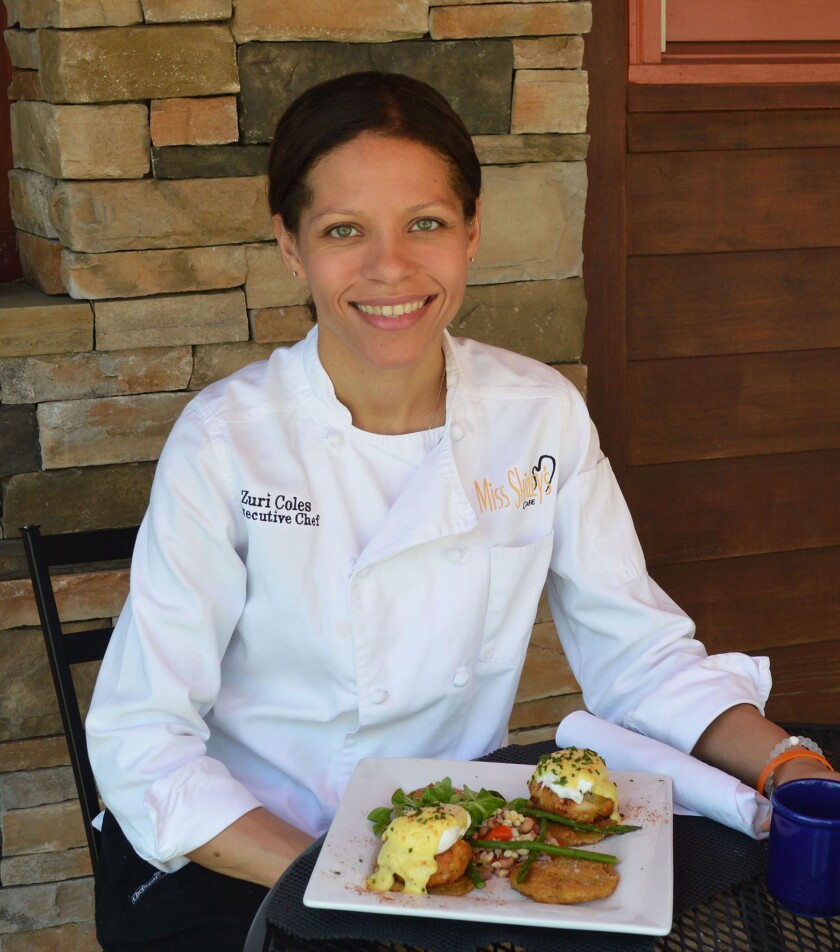 Executive Chef Zuri Coles is a big reason Miss Shirley's Cafe, with several locations in Maryland, perennially wins regional awards for best brunch, and has been featured on Food Network. AARP turned to Coles for Mother's Day meal ideas that are both easy and elegant. (Hey, even little ones looking to put a smile on Mom's face can help make French toast!)

The Basics
Each recipe serves 2

Bread: Use 4 to 6 slices. Dense breads soak up batter best, with fluffy results.
Batter: Mix 4 large eggs, ½ cup heavy cream and up to 2 tablespoons sugar. Flavor with vanilla, almond or maple extract, plus spices such as cinnamon or cardamom.
Skillet skills: For crispy-outside, gooey-inside French toast, set your burner at medium high, get your pan hot and grease with butter or cooking oil before adding batter-soaked bread slices. When the bottom is golden brown, flip. Cook until both sides are of similar color and doneness.


1) Savory Toast
Coat dipped brioche slices in panko-style bread crumbs, cook and layer with Swiss cheese and ham. Melt cheese in oven. Serve with mustard aioli.

2) Dessert French Toast
Batter and cook thick-sliced lemon pound cake or marble cake. (Turn carefully; slices will be soft.) Top with fruit, whipped cream or hot fudge sauce.

3) Croissant French Toast
Halve a croissant sandwich-style; dip it in batter and cook. Serve with whipped cream, toasted nuts and berry compote.

4) French Toast for a Crowd
Multiply ingredients as needed. Spread cubed bread in a greased casserole dish; soak thoroughly with batter. Refrigerate overnight. Bake for 30 minutes at 425 ° F. Serve with chocolate, syrup or fruit.

5) Stuffed Coconut-Cream Toast
Blend cream cheese, mascarpone, shredded coconut, honey and vanilla to taste. Put a half-cup in slit in each 4-inch-thick challah slice. Batter, cook then finish in oven (350 ° F for 5 minutes). Serve with berries.

Prefer plant-based options?
For a delicious vegan main for brunch, check out Chef Zuri Cole's breakfast skillet prep, plus ideas for avocado and cocoa toasts, here.

Sunday Sips
Cocktail: Grapefruit Crush
Add 6 ounces fresh, chilled grapefruit juice and 2 ounces grapefruit vodka to a tall glass filled with ice. Top off with a splash of soda water; garnish with fresh mint.

Mocktail: Wake-Up Call
Stir together 6 ounces brewed coffee with 1.5 ounces coconut milk; top with chocolate syrup and whipped cream (serve hot or cold).



This article has been adapted from AARP The Magazine. The definitive lifestyle publication available to AARP members only, it offers celebrity interviews, features on health and tech, plus tips, recipes, book and movie reviews and more.

If you're not yet an AARP member, join today to get your subscription to AARP The Magazine.