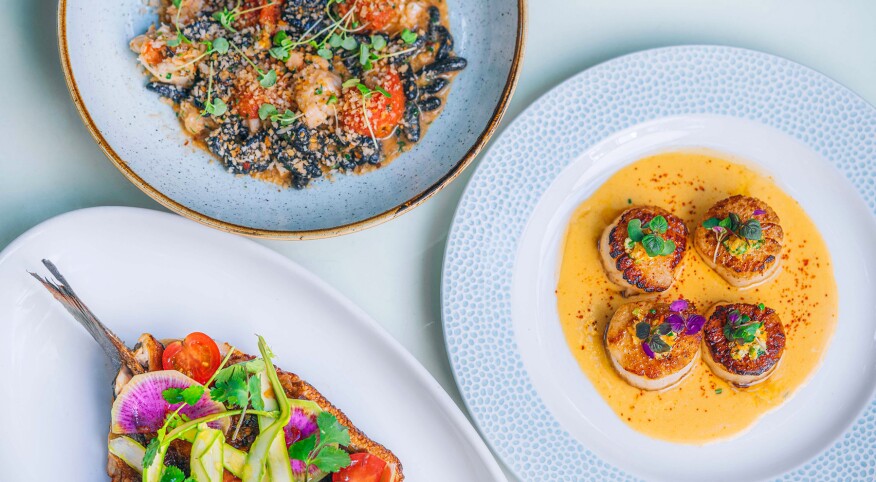 What's better than a good restaurant with good food? A good restaurant with good food where you might get a glimpse of your favorite celebrity. Here's a list of eateries owned or partly owned by African American A-listers. With diverse menus ranging from chicken and waffles to pizza, steak, BBQ and tapas, one of these hot spots near you is bound to satisfy your summer cravings.
Kale My Name, Los Angeles
Celeb owner: Vegan cook/influencer Tabitha Brown
KaleMyName.com
While in Chicago shooting Showtime's
The Chi
, actress/vegan TikTok star Tabitha Brown fell in love with the food at Nemanja Golubovic's successful vegan eatery Kale My Name. The two teamed up to open Kale My Name Los Angeles in December 2021. Popular items on the menu: cauliflower wings, empanadas and fried oyster mushrooms, as well as refreshing beverages like lemonade and limeade.
Hilltop Coffee + Kitchen, Downtown Inglewood, California
Celeb owner: Actress/producer Issa Rae
FindYourHilltop.com
Issa Rae, who grew up in Los Angeles, has created an impressive career as an actress and television producer. She spent many hours over the years in coffee shops working on her television projects. So, it was fitting for her to team up with Hilltop Coffee cofounders Ajay Relan and Yonnie Hagos as part owner of Hilltop Coffee + Kitchen, Inglewood. Aside from coffee and tea, the shop also has hot and cold sandwiches, acai bowls, salads, pastries and more.
1000 North, Jupiter, Florida
Celeb owner: NBA legend Michael Jordan
1000North.com
NBA Basketball legend Michael Jordan is part owner of 1000 North, along with managing partners NFL's Tucker Frederickson, developer Ira Fenton and others. The upscale Miami-chic restaurant offers modern American dishes, steak and seafood, along with gorgeous sweeping water views. Dine in the formal restaurant or check out the bar scene at any of its three hot spots, The Club Lounge, The Tavern or The Terrace — all under one roof.
Bar One Miami Beach, Miami
Celeb owner: Former Real Housewives of Atlanta cast member Peter Thomas
BarOneMiamiBeach.com
Restauranteur Peter Thomas, cast member and ex-husband of
The Real Housewives of Atlanta
reality star and model Cynthia Bailey, is owner of the uber chic Bar One Miami Beach. Located in the iconic Bentley Bay Building with Biscayne Bay front views, the hot spot attracts celebrities and socialites and boasts a top-tier menu, signature handcrafted cocktails and beautiful views of downtown Miami.
Swan and Bar Bevy, Miami
Celeb owner: Producer Pharrell Williams
SwanBevy.com
Located in the heart of Miami's Design District, Swan is a sexy and fashionable indoor/outdoor cafe from hospitality magnate David Grutman and music producer Pharrell Williams. Swan's European-style menu features top-tier refined rustic cuisine and communal plates. Stop in for lunch, brunch, dinner, dessert or just to have cocktails upstairs at Bar Bevy's rooftop lounge. Both are popular places for late night dining and celebrity spottings.
Blaze Steak and Seafood, Atlanta
Celeb owner: Platinum singer/songwriter Kandi Burruss
BlazeSteakandSeafood.com
Owners of the popular Atlanta restaurant Old Lady Gang, power couple Kandi Burruss and husband Todd Tucker of
The Real Housewives of Atlanta
, are also owners of Blaze Steak and Seafood. Blaze is an upscale steakhouse also serving fresh seafood, traditional Southern side dishes, signature desserts and craft cocktails. "Beautiful people, beautiful food and beautiful atmosphere" is their slogan.
Esco Atlanta, Atlanta
Celeb owner: Rapper Tauheed "2 Chainz" Epps
EscobarAtlanta.com
Esco Atlanta on Peters Street downtown is a go-to for area celebrities and A-listers. Esco is a restaurant and tapas lounge owned by rapper 2 Chainz along with Mychel "Snoop" Dillard, owner of The Hookah Hideaway. With two locations in the Atlanta area, the eatery is lux and contemporary with chic décor and features organic and locally harvested foods.
Fellaship, Castleberry Point, Atlanta
Celeb owner: Patriots quarterback Cam Newton
fellashipatl.com
Premium dining, live music, chic decor and authentic Southern cuisine in downtown Atlanta are brought to you by NFL star Cam Newton and his brother, Cecil Newton, Jr. Fellaship is a swanky hangout featuring food, cocktails and cigars. On Sundays, they offer their Jazz & Juice brunch, and they are located near the Mercedes-Benz Stadium for pre- or post-event gatherings. Business casual attire is recommended, except for Sunday sporting events.
Johnny's Chicken and Waffles, College Park, Georgia
Celeb owners: Singer/songwriter Ne-Yo and reality star Karlie Redd
JohnnysChickenandWaffles.com
Multi-platinum singer and songwriter Ne-Yo, his wife chef Crystal Smith and
Love & Hip Hop
star Karlie Redd are the celebs behind this all-day breakfast spot. Their signature chicken and waffles are customizable with mix-and-match proteins, a choice of waffle flavors including classic and red velvet, and don't forget the sauces, add-ons and sides. French toast logs, hot skillet cobbler desserts and more are also on the menu.
40/40 Club, New York City
Celeb owner: Rapper/entrepreneur Shawn "Jay Z" Carter
The4040Club.com
The 40/40 Club is one of the many business ventures of sports fanatic and billionaire rap star Jay Z. 40/40 is both a sports bar and upscale lounge. It's multi-level elegant decor appeals to those who like to dine in style, while the club's impressive collection of sports memorabilia and endless number of big screens, brings in the fans. The menu features traditional sports bar cuisine, along with entree items, signature cocktails and desserts.
Sweet Chick, New York City (Manhattan, Queens and Brooklyn)
Celeb owner: Rapper Nasir "Nas" Jones
SweetChick.com
Have fun, eat well and spread love is the Sweet Chick philosophy. Sweet Chick, the newest venture from rapper Nas, along with restauranteur John Seymour, is a well-known New York brunch hot spot. With several locations in the New York area, fans visit for the vibe as well as the fried chicken and waffles, their most popular dish. The eatery also wins with its fun twists on classic dishes, signature cocktails and stylish outdoor dining areas.
Michael Jordan's Steakhouse, The InterContinental Hotel, Chicago
Celeb owner: Chicago Bull's star and actor Michael Jordan
MichaelJordanSteakhouse.com
With other locations in Oak Brook, Illinois; Mohegan Sun in Connecticut; and Ilani Casino in Washington state, this elevated steakhouse serves hand-selected, grass-fed and dry-aged meats. Steaks are cooked to five-time MVP perfection, and the wine list features selections from Jordan's personal collection.
Wingstop, more than 25 locations around the country
Celeb owner: Rapper Rick Ross
WingStop.com
Rick Ross says he's always loved Wingstop, a multi-national chicken-wing-and-thigh fast food chain. He turned that love into a successful business venture when he purchased more than 25 Wingstop stores in the last 10 years, creating a profitable chicken empire. His lucrative fried chicken business is the reason Ross has repeatedly made
Forbes
magazine's "Hip-Hop Cash Kings" list of the richest hip-hop stars.