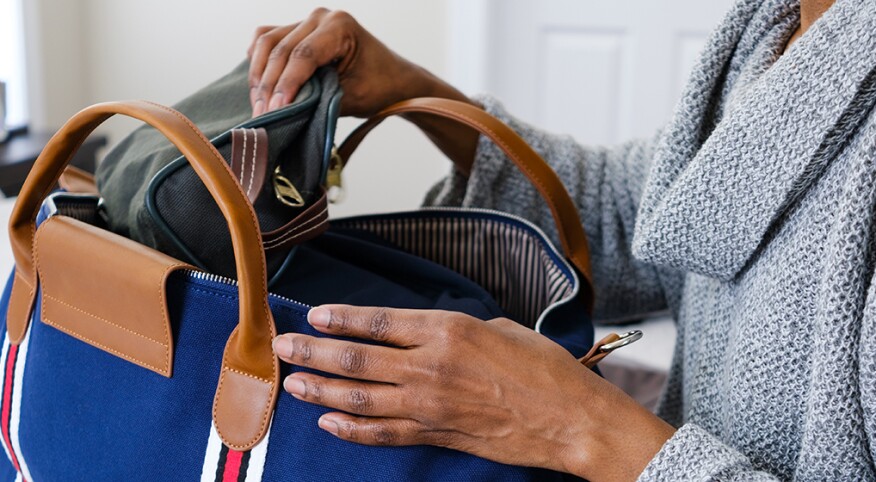 During the 2022 holiday season, hundreds of thousands of Southwest Airlines passengers were stranded at airports across the country due to dated technology that led to a shortage of staff amid winter storm conditions. The flight cancellations caused panicked customers to miss family and vacation time, and separated would-be flyers from their checked luggage even if they never boarded a flight. Whew!

This mishap got us thinking about how to prepare for a similar chaotic scenario. For starters, a lounge pass membership such as Priority Pass (starting at $99 per year and lounge entrance for $35 per visit, prioritypass.com). These offer access to hundreds of swanky foreign and domestic airport lounges with complimentary food, drinks and Wi-Fi — not to mention welcome respite and relative calm. Or get one-time access through LoungeBuddy ($25 and up, loungebuddy.com) or through some credit card issuers.

Another smart travel tip to consider is not checking a bag unless it's absolutely necessary. But if you must check your luggage, here are 15 items to keep in your carry-on or personal item in the event of flight delays and cancellations.

1. Your phone, loaded with handy flight-tracker apps like Flight Tracker, FlightAware and Flight Board that will send alerts about flight delays and cancellations, and an app for your airline carrier so that you can book and manage trips, track your bags and avoid long wait times at the gate or on the phone with customer service should you need to make flight changes.

2. Quick-drying travel underwear. Slip a clean pair of underwear into your personal item. When you're packing light, antimicrobial quick-dry panties allow you to wash and rotate just a couple of pairs. ExOfficio Women's Give-N-Go collection ($20, exoffico.com) and REI Co-op Active Briefs ($18, rei.com) get great reviews.

3. A phone charger so that you can text, make calls and update your family and friends.

4. A photo of what's in your checked luggage in case it gets lost and you need reminders of what you packed and images to help with reimbursement.

5. A water bottle. Staying hydrated can help to improve your mood, lessen joint aches and pains, and regulate body temperature. Bring an empty bottle through security and refill it at an airport water filling station.

6. Luggage tracking tags. Plane overfull? You may be asked to gate check that carry-on. A Bluetooth tracker might help you locate your luggage in a sea of black suitcases. Options include Apple AirTag for iPhone users and Samsung Galaxy SmartTag for Android users. Tile Pro and Chipolo One work with both iPhones and Androids.

7. Writing journals and pens. Jot down your thoughts, your to-do list and things to be grateful for. Black-owned brand offerings include Be Rooted journals at Target ($13 to $15) and The Audacity Suite journal and pen set from HerSpace Co. ($35, herspace-co.myshopify.com). Ballpoint pens by Craft Smart are inscribed with encouraging messages like "Positive Vibes" and "Love More Worry Less" ($3.50, michaels.com).

8. A crossword puzzle or word search book. Focusing on such engrossing challenges can help connect you with calm.

9. Heart-healthy snacks. Skip the bag of overpriced chips and other empty-calorie items in the airport terminal and bring a few wholesome and yummy snacks with you, like popcorn (ideally, air-popped!), almonds (hold the salt) and, for a treat, dark chocolate (in moderation).

10. Premoistened disposable towels. Find brands like Venture Wipes ($13.50 for 10, venturewipes.com) or OnTheGo body wipes ($9.50 for 10 wipes, onthegotowels.com). Or, tuck a washcloth into a resealable bag. Either way, you can discreetly freshen up if you're stranded.

11. A great read. As in a physical book. Do you really need pricy, often glitchy in-flight Wi-Fi?

12. A tablet. If you do opt for in-flight Wi-Fi, loading an app ahead of time may be required and buying a pass before you board may make it cheaper. Then you can access Netflix and try to chill, catch up on an audio book or stream Sisters' soul-satisfying music playlists on Spotify.

13. Noise-canceling headphones. Tune out airport commotion and negative chatter from other frustrated passengers.

14. Disposable face masks. New and easily transmittable variants of the coronavirus continue to emerge, so it's still wise to mask up on flights, as well as in crowded indoor spaces like airports. KN95 and three-ply options are available online at Maskc, Amazon and Staples.

15. A quart-size zip-close bag of liquids, gels and aerosols 3.4 ounces or less. This one bag that each passenger is allowed is where to keep your travel-size lotion, mouthwash, deodorant, eye drops, contact lenses solution and a soothing fragrance. (For now, TSA allows up to one hand sanitizer container up to 12 ounces, in a carry-on bag.) To save space, you might consider packing toothpaste tablets.