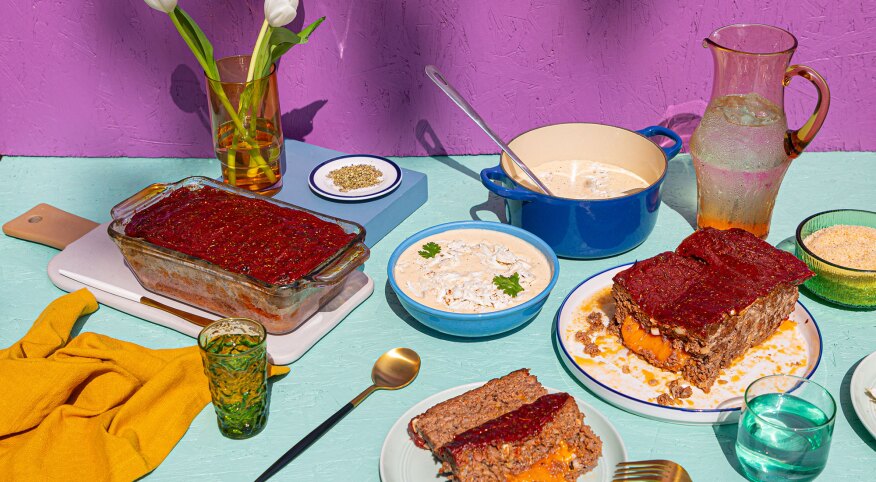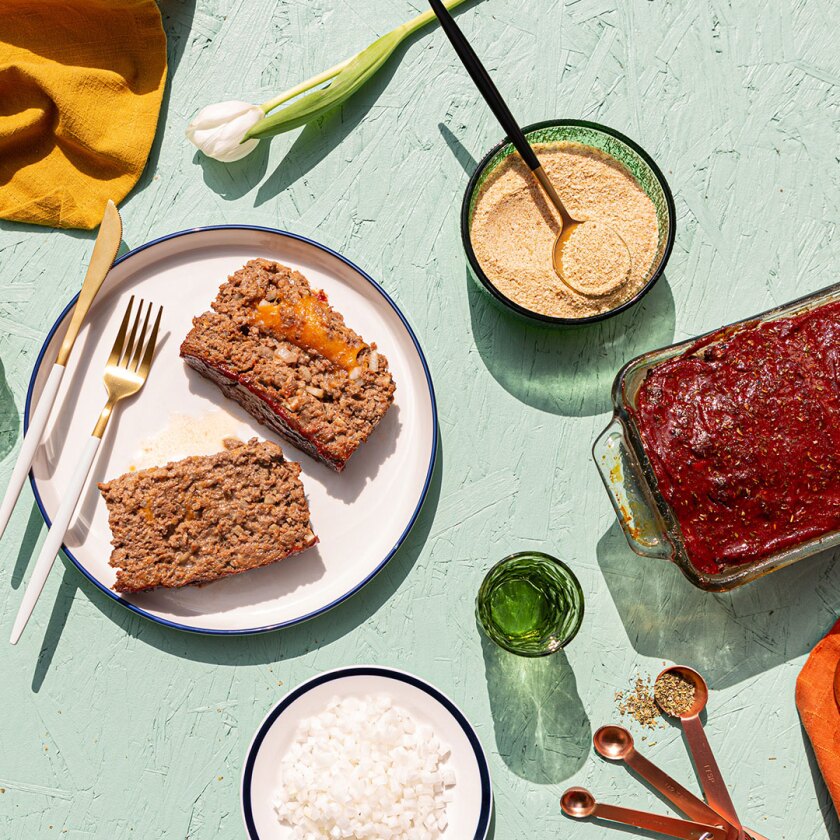 Momma's Cheesy Stuffed Meatloaf

My mom's cheesy stuffed meatloaf is a great weeknight dinner. She would make it on Sunday, and we'd have it for dinner until it was gone. Nothing went to waste in our house! For this recipe, you'll need a 10-inch metal loaf pan. If you don't have a 10-inch pan, you can use a 9 x 5-inch pan, but only use 1 1/2 pounds of ground beef. It is crucial to let the meatloaf rest after taking it out of the oven. If you try to slice it while it's hot, the cheese will ooze out.




This recipe serves 6.

For the meatloaf, you'll need:

Nonstick cooking spray
2 pounds 80/20 ground beef
1 small onion, minced
1 large egg
1/2 cup plain breadcrumbs
1/2 cup ketchup
1 tablespoon Worcestershire sauce
2 teaspoons garlic powder
Kosher salt
Freshly ground black pepper
8 ounces extra sharp yellow cheddar cheese

For the sauce, you'll need:

1/2 cup ketchup
1 teaspoon Worcestershire sauce
1 teaspoon garlic powder
2 tablespoons tomato paste
1 teaspoon Italian seasoning
Heavy pinch of sugar

Preheat the oven to 350°F. Spray a 10-inch loaf pan with nonstick cooking spray and set aside.

To make the meatloaf:

In a large bowl, combine the beef, onion, egg, breadcrumbs, ketchup, Worcestershire sauce, garlic powder, a pinch of salt, and a pinch of pepper.
Mix with hands until well combined.
Pack half of the meat mixture tightly into the bottom of the prepared loaf pan.
Add the block of cheddar cheese and then the remaining meat mixture, packing it securely.
Place the pan on a rack in the middle of the oven. Place a cookie sheet on the bottom rack to catch anything that bubbles over.
Bake for 45 minutes.
To make the sauce:

While baking, prepare the meatloaf sauce.
In a small bowl, mix the ketchup, Worcestershire sauce, garlic powder, tomato paste, Italian seasoning, sugar, and salt and pepper to taste.
Increase the oven temperature to 400°F.
Brush the sauce on top of the meatloaf.
Return it to the oven and bake 10 minutes longer.
Remove the meatloaf from the oven and cool 15 minutes.
Drain off the grease, slice the meatloaf, and serve.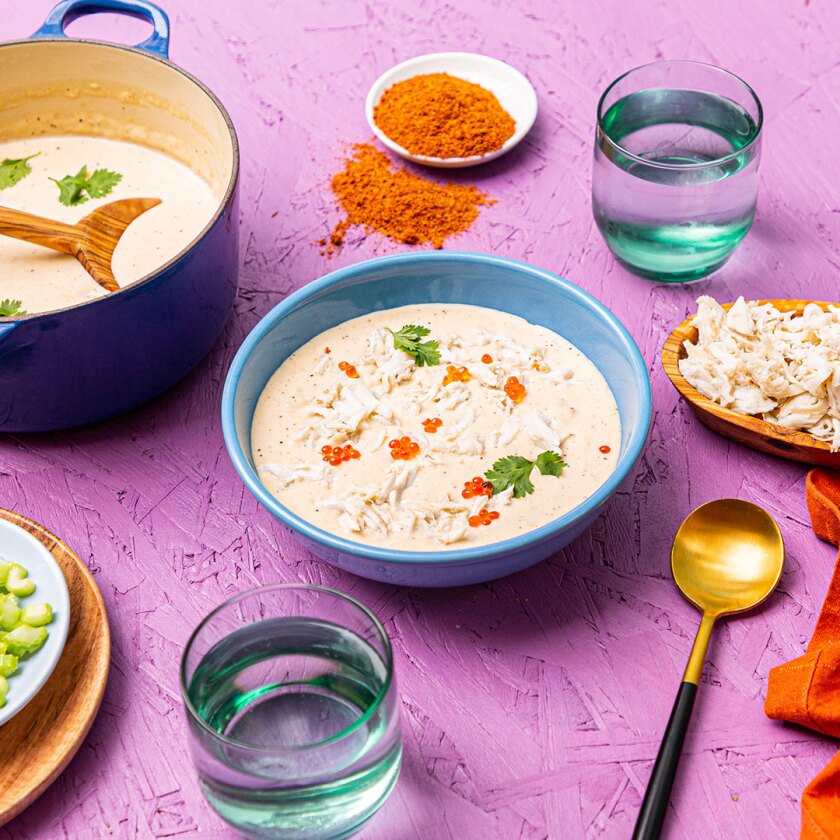 She Crab Soup

This seafood soup is typically served on special occasions, like a small family gathering or an intimate dinner for two.

Editor's note: Crab roe (listed as an optional ingredient) refers to the eggs produced by female crabs. If you catch your own crabs and regulations in your area permit harvesting of female crabs, then you may have this delicacy on hand. It may also be available online or at a fish market during the season. If you are getting your crabmeat in a tub from the supermarket, you can simply skip the roe.

This recipe serves 4 to 6.

You'll need:

8 tablespoons (1 stick) unsalted butter
1 medium onion, diced
1 stalk celery, diced
1/3 cup all-purpose flour
1 teaspoon seafood seasoning, such as Old Bay
1/4 teaspoon grated nutmeg
1 bay leaf
Freshly ground black pepper to taste
1/3 cup dry sherry
1/3 cup clam juice
3 cups seafood stock
1/2 cup crab roe, plus a little more for garnish (optional)
2 cups heavy cream, at room temperature
1 teaspoon Worcestershire sauce
Kosher salt
1 pound lump blue crabmeat

To make the soup:

In a large pot or Dutch oven, melt the butter over medium heat.
Add the onion and celery and cook, stirring occasionally, until the onion is soft and translucent, about 10 minutes.
Reduce the heat to medium-low, whisk in the flour and continue to cook, stirring constantly. (You are essentially making a roux without browning it.)
Stir in the seafood seasoning, nutmeg, bay leaf, and pepper, then whisk in the sherry and clam juice.
Increase the heat to medium and bring to a simmer.
Cook, stirring frequently, until very thick, about 10 minutes.
Stir in the seafood stock and crab roe, if using.
Bring to a simmer and cook for 15 minutes.
Add the heavy cream and Worcestershire sauce, return to a simmer, and cook until thickened and reduced slightly, another 15 minutes.
Remove the bay leaf, then puree the soup with an immersion blender until smooth. (If using a regular blender, let the soup cool slightly first, and use caution when blending hot liquids.)
Season with salt.
Stir in the crabmeat and garnish with crab roe, if using.
Recipes excerpted with permission from The Way Home: A Celebration of Sea Islands Food and Family (HarperCollins)