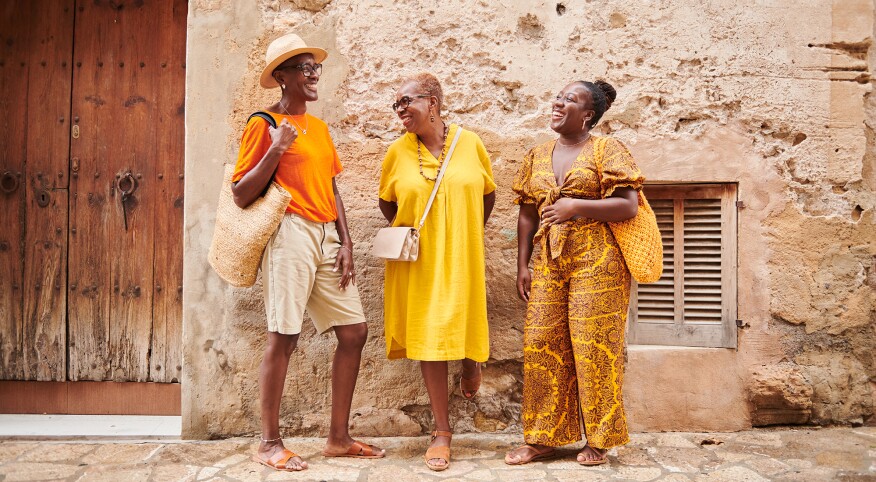 It's finally happened! You've arrived at the season in your life when you can do something about that travel bug you caught years ago.

The kids are older, and you have more time and disposable income to visit the destinations you've dreamed about. Everything has fallen into place expect one thing … having someone who is able to pack up and go with you.

I often found myself in this dilemma. Although I don't mind traveling solo, there are some locations I don't want to visit alone. Instead of crossing those sites off my list, I explored other travel options.


Travel with women-owned travel companies (WOTC)
Did you know that there are travel companies out there just for you?

WOTCs are great for women who want to explore the world but hesitate because they don't want to go alone. In addition to helping you meet your travel goals, WOTCs connect ladies who share the same passion. This is accomplished by limiting the number of travelers per trip, offering a roommate-matching option and planning events that require group participation.

Shanda Carter still relishes her first cruise with Power to Exhale Travel (PowerToExhaleTravel.org) in 2018. Initially, Carter was a solo traveler, but she felt comfortable enough to participate in the roommate-matching program. It was a perfect fit. "The connections formed during my travels with Power to Exhale have allowed me to connect with friends who are also eager to travel," Carter says. The group heads to Tanzania, South Africa and Amsterdam next year.

Before planning your next expedition, check out these two WOTC. This I Do for Me (ThisIDoForMe.com), founded by Robin Tillotson, caters to Black women over age 50, and Sisters Traveling Solo (SistersTravelingSolo.com), established by Cole Banks, designs luxury vacations for Black women. Both focus on international travel and have explored Sydney; Paris; Hoi An, Vietnam; Morocco; and Ghana, to name just a few destinations. You'll find other options by searching "women owned travel companies."


Travel with tour agencies

Tour agencies are another means of enjoying traveling with others. I did an eight-day trip to Colombia with Gate 1 Travel (Gate1Travel.com), and it was one of the best travel experiences I've ever had.

Though the number of people traveling with a tour agency can be large, a good guide can encourage connections among the tourists. The guide on my trip accomplished this with simple practices like holding a get-acquainted night and having us switch seating at meals and events.

His purpose was to give everyone the opportunity to click and not feel like a stranger. It worked. By the end of the second day, we felt like a newly formed travel family.

Akua Clark went on an eight-day Moroccan tour with Gate 1 Travel. There was a mixture of ethnicities and personalities, but these differences didn't prevent anyone from getting along and enjoying the tour. "There was one tourist who was by herself. Everyone embraced her and made her feel comfortable and connected," Clark says.


Connect with expat communities
Expats are unofficial guides. They can direct you to the best restaurants, beaches, historical sites and social gathering. In addition, they host meetups, and tourists are welcome.

Research Facebook for expat communities prior to your next trip. Some to consider: 60+ Black Women Expats, Black Women Expats in Latin America and Expat Black Women in East Asia.


Join Facebook travel groups

Your future travel buddy could be waiting for you in the metaverse. Facebook groups are a wonderful way to connect with other travelers. In addition to providing advice, some organize meetups both locally and abroad. Be sure to check out She Travels the Globe, which provides "all things travel" for women.

Also add Black Boomers Travel Too, started by husband and wife Robert and Adrienne Lee, to your list. In addition to providing information, they organize and host trips. They recently set out for Alaska and are doing a Royal Caribbean cruise next May.

So if you don't have an on-call travel buddy, don't despair. There are several ways to connect with like-minded women who are ready to see the world, and who knows? You may even meet a few women who can become your designated travel BFFs.