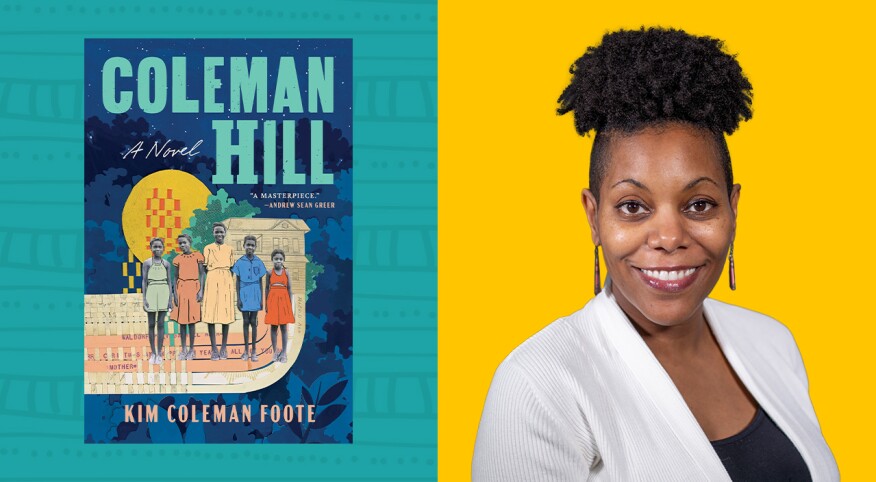 "Once in a while, a writer comes along with a brilliance that stops the breath. Kim Coleman Foote is that writer," observes novelist Jacqueline Woodson. "This is book club gold," agrees Publishers Weekly in a starred review for this buzzed-about "biomythography" that's also been longlisted by The Center for Fiction for its First Novel Prize. Below, I'll share the publisher's synopsis and my fascinating email chat with Kim Coleman Foote. Best of all, I'll tell you how to enter for a chance to win a free copy!


From publisher Zando's imprint SJP Lit:
In Coleman Hill, Kim draws from her own family legend, historical record and fervent imagination to create a novel centered on two families, the Colemans and the Grimes, as told by nine family members across three generations and 70 years. She begins with matriarchs Celia Coleman and Lucy Grimes, who flee the racism and poverty of the post-Civil War South for the North in 1916. Soon they learn that even in Vauxhall, New Jersey, Black women are mainly hired for domestic work, money is scarce, children don't progress in school and Black men die young.

Within a few short years, both women's husbands are dead. Left to navigate this unwelcoming place alone, Celia and Lucy turn to one another for support in raising their children far from home. They become one another's closest confidantes and, encouraged by their mothers' friendship, their children's lives become enmeshed as well. However, as the children grow into adolescence, two are caught in an impulsive act of impropriety, and Celia and Lucy find themselves at irreconcilable odds over who's to blame. The ensuing fallout has dire consequences that reverberate through the next three generations of their families.


Enter here for a chance to win a free copy of Coleman Hill.


Meet novelist Kim Coleman Foote

What is a biomythography? This is a first for many readers.

While writing Coleman Hill, I couldn't figure out what to call my process. The book is inspired by my family, but it isn't exactly nonfictional. I only knew scant details about family members' lives, so I had to rely heavily on fiction to figure out my characters' motivations and create a three-dimensional world. Then I remembered "biomythography," the term the late writer Audre Lorde coined for her memoir, Zami. She defined it as a work of literature that combines many sources to create a modern myth, a new history, which is essentially what I did.

You are one of the first authors published under Sarah Jessica Parker's new imprint. What has this experience been like?

Working with the Zando team has been a dream come true. I've experienced the attentiveness that I've heard is characteristic of indie presses, while benefiting from the expertise of professionals who have years of publishing experience. Not to mention the avid support of Sarah Jessica, who is not only a renowned actor but a bibliophile and book influencer.

We often frame The Great Migration as a path to a better life for Black families, but the matriarchs in your story encounter hardships. What inspired you to dig into this complexity?

On one of my family research trips to Alabama, I met extended kin who'd never left the South and was stunned to learn that they far surpassed my branch of the family in education and homeownership. It reminded me that the North hadn't exactly been a paradise because of the racism and discrimination that existed there too. I believe that life in the North was so much better overall for my family and for many others who fled the South during the Great Migration, but I decided to discuss the shortcomings of the Migration since their implications are still apparent today.

What elements of your own family narrative inform this multigenerational story?

I'd been hearing my mother and her sisters and cousins share stories about their childhood in the 1940s and '50s since I was a kid myself, in the '80s. I was both fascinated by the historical details and disturbed by the abuse and other trauma mentioned, especially how my Coleman great-grandmother forcibly separated my grandmother from her children, and how my grandfather did nothing to stop it. In college, I took up genealogy. I found census and other records and interviewed relatives, including a great-aunt who was a reputed liar (details from her stories later helped me with some roadblocks in my research). I also collected family artifacts and photos that would have been thrown away and lost to history. Coleman Hill came into existence because of one of those photos, which appears in the section "The Pose."

Which authors inspire your own writing?

Octavia Butler, Ayi Kwei Armah, Caryl Phillips, Cristina García and Hermann Hesse are some of my favorite writers in general. For Coleman Hill, various novels that experiment with infrequently used points of view inspired me to do likewise for the first time. They include Nuruddin Farah's Maps, which uses the second person ("you"), and Julie Otsuka's The Buddha in the Attic, which uses the collective first person ("we"). Elizabeth Strout's Olive Kitteridge helped me see my Coleman great-grandmother (known as "Gra' Coleman" in family stories) as a through line for the book. I read Maisy Card's novel, These Ghosts Are Family, and Asako Serizawa's story collection, Inheritors, after finishing Coleman Hill, but I greatly admire both books for their skillful craft and for the similar ways in which they interrogate marginalized histories and the nature of memory.

What surprised, encouraged or delighted you in the process of crafting this tale?

I love making people laugh, and humor helped me balance the heaviness, for myself included, as I struggled through traumatic scenes. In one section of the book, Gra' Coleman's young grandchildren plot to kill her. It has tragicomic and absurdist overtones (the children consider, for one, strangling her with her own hair), and the children also band together despite their hierarchies and differences, and they nurture each other in their mother's absence.

Might exploring African American history play a role in healing generational trauma?

I think learning about the origins of generational trauma is important for anyone who's experienced it, regardless of their background, because it can help people see and understand its cyclical nature. For that reason, I believe that exploring the roots of Black trauma (and indigenous people's trauma too) and how it correlates with the roots of white trauma is vital for understanding and healing the longest-standing racial rifts in our nation. My Grandmother's Hands, by therapist Resmaa Menakem, is one major resource I've found so far that does this beautifully.

What is your hope for the next generation?
I hope they'll use continuing developments in technology to connect with more people both within and beyond their borders, and listen to each other more, respect each other more, and be kinder to each other and our planet.

 Enter here for a chance to win a free copy of Coleman Hill.