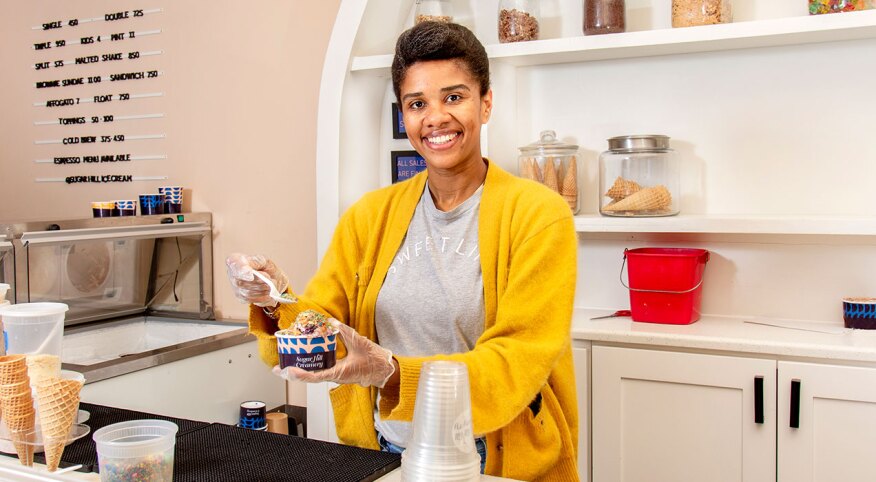 With the weather heating up comes the quest for cool and refreshing ice cream. Whether you're craving a traditional ice cream cone, milkshake or soft serve, or something vegan or gourmet, there's a new world of selections waiting for you. Black-owned ice cream parlors have sprung up all over the country with unique themes and artisan flavors you'll love. Memorial Day, Father's Day, graduations and Juneteenth call for a sweet celebration!

Here are some shops to check out. We've also listed some brands available at select grocery stores, at mass retailers such as Walmart and Target, and at popup locations or for online delivery.

Sweet Dreams Tasty Treats, Decatur, Georgia
Owners: Cyntauria Jones and Len Davidson created Sweet Dreams in the Decatur neighborhood where they grew up. The couple wanted to bring something new to the community while also providing jobs for young people.
The scoop: The area's first rolled ice cream shop offers a variety of flavors, plus a build-your-own option with cookies, candy, cereal and fruit toppings.
Signature offerings: Strawberry Cheesecake, plus customers' own creations.
Dairy-free options? Yes
Seating? Yes
SweetDreamsTastyTreats.com

Cool World Ice Cream Shop, Athens, Georgia
Owner: Seventeen-year-old high school student Victor "Beau" Tracy Shell, aka Lil' Ice Cream Dude.
The scoop: Shell started out selling ice cream from a cart at age 8. He opened his ice cream shop in June 2019 at age 15! His shop serves hand dipped and soft serve ice cream, novelty ice cream, Italian ices, milkshakes, sundaes, ice cream sandwiches and floats.
Signature offerings: Custom ice cream sandwiches, Coolie Pies and Coolie Shakes, which are dairy-free.
Dairy-free options? Yes
Seating? Yes
CoolWorldIceCreamShop.square.site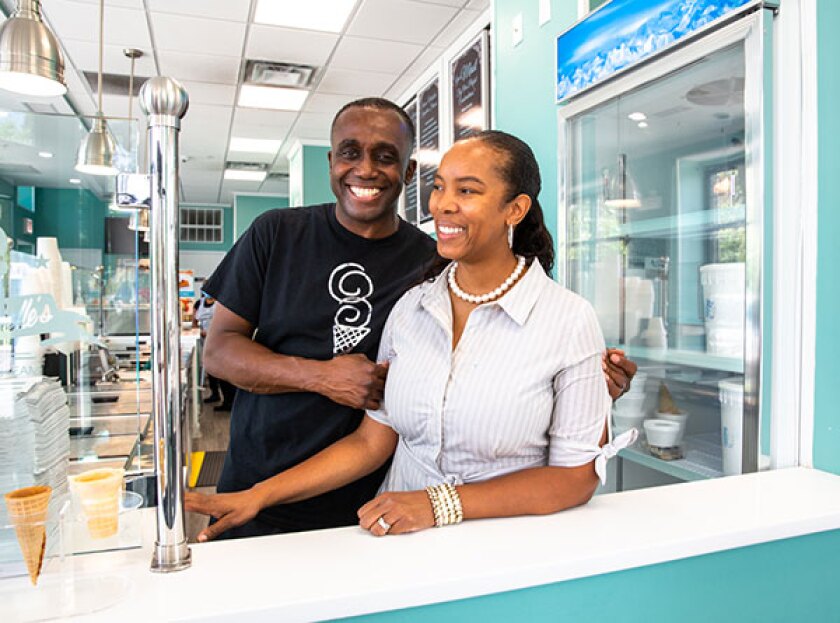 Shawn Michelle's Homemade Ice Cream, Time Out Market Chicago
Owners: Husband-and-wife team Yahya and Nataki Muhammad. Yahya has been making fresh hand-churned ice cream since college.
The scoop: With a bright, clean and modern decor, the shop also operates in the historic Rosenwald Courts Apartments building in Chicago's Bronzeville section.
Signature offerings: Grandma's Old-Fashioned Vanilla, Barack Supreme (pralines and cream with chocolate) and Stairway to Heaven (Jamaican rum raisin and strawberry cookies and cream).
Dairy-free options? Yes
Seating? Yes
ShawnMichelles.com

Cathy's Gourmet Ice Cream Sandwiches, Downtown Cleveland (also in Midtown and West Midtown, Atlanta)
Owner: Cathy Greene, an attorney, avid baker and ice cream connoisseur.
The scoop: Bring the kids to enjoy build-your-own ice cream cookie sandwiches. They'll make cool creations using quality ingredients, including fresh-baked cookies, unique ice cream flavors and toppings like Fruity Pebbles and Oreos.
Signature offerings: Scoops: white chocolate truffle, carrot cake and banana pudding. Cookies: snickerdoodle, peanut butter and ginger-molasses.
Dairy-free options? Yes
Seating? Yes
Cathyscle.com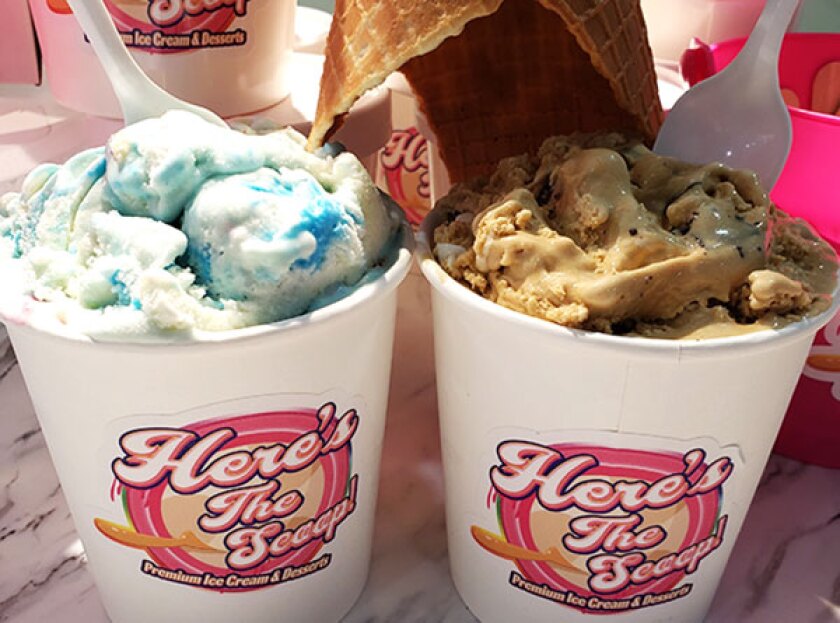 Here's The Scoop, Washington, D.C.
Owner: Karen Sellers believes in giving back. Her shop supports community events and partners with local Black businesses.
The scoop: Located in the historic Georgia Avenue corridor, steps away from Howard University, this small shop also serves desserts, hot chocolate and snacks such as Caribbean meat patties.
Signature offerings: Campfire S'mores and Cinnamon Churro.
Dairy-free options? Yes
Seating? Yes, outdoor only
HeresTheScoopDC.com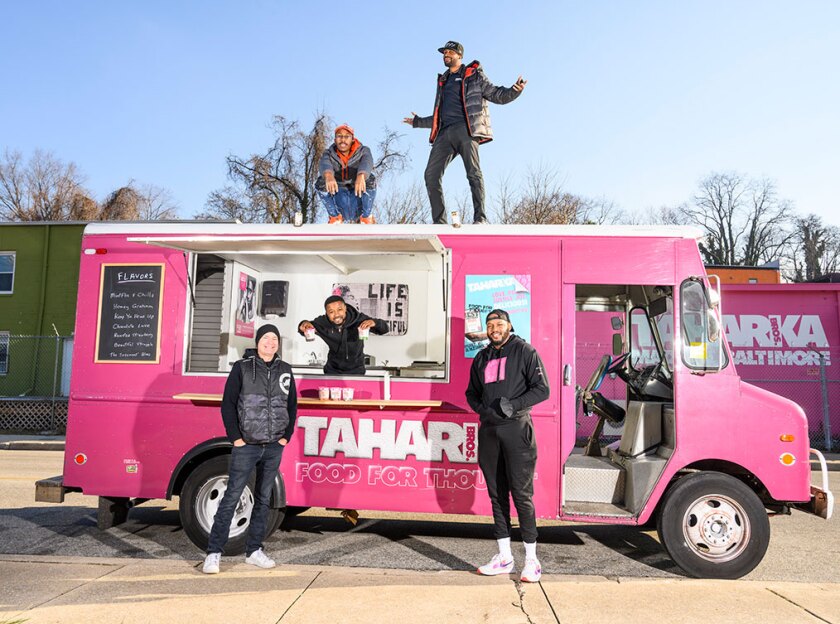 Taharka Brothers Ice Cream, Broadway Market, Baltimore (with two additional locations in Baltimore)
Owners: The employee-owned business was started by Sean Smeeton and the late Taharka McKoy as a youth-empowerment project.
The scoop: The brand's mission is to transform the lives of troubled youths, teaching them leadership skills, teamwork and how to run a profitable business.
Signature offerings: Honey Graham, Mintflix & Chillz, Key Lime Pie and Caramel Crunch.
Dairy-free options? Yes
Seating? Yes
TaharkaBrothers.com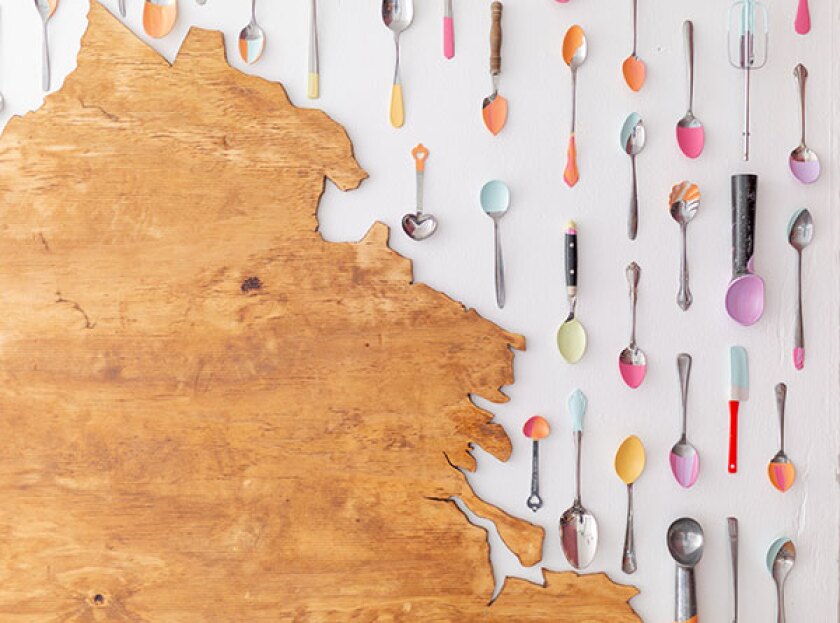 Ruby Scoops, Richmond, Virginia
Owner: Rabia Kamara, a graduate of L'Academie de Cuisine.
The scoop: Kamara took the top prize on the Food Network competition Ben and Jerry's "Clash of the Cones," letting the world know that she is not just a local ice cream authority but a national creamery expert.
Signature offerings: Vanilla, dulce de leche and chocolate.
Dairy-free options? Yes
Seating? Yes, limited
RubyScoops.com


Ice Cream Heaven, Miami Gardens, Florida
Owners: Blogger Starex Smith, tech influencer Felecia Hatcher and Miami socialite Nicky Prince.
The scoop: Handcrafted gourmet ice cream and sweet treats. Celebrating a grand reopening, the brand leverages the broad reach of food blogger Starex, along with Black Tech Week co-founder Hatcher's following.
Signature offerings: Butter pecan and ice cream novelties like the Big A** Ice Cream Sandwich.
Dairy-free options? Yes
Seating? Yes
IG: @IceCreamHeavenMG

Wynwood Parlor, Miami Beach, Florida
Owner: Larry McMillion, a food-and-beverage executive, launched the side project to teach his young sons about entrepreneurship.
The scoop: Handcrafted ice cream sandwiches made from small-batch cookies, artisan ice cream and roll-on extras. The shop offers delivery around the country through Goldbelly as well as ice cream catering. Some of Miami's top restaurants and hotels serve their products.
Signature offerings: Bedrock, Mister 305, Cookie Monster and Secret Vegan.
Dairy-free options? Yes
Seating? Yes
WynwoodParlor.com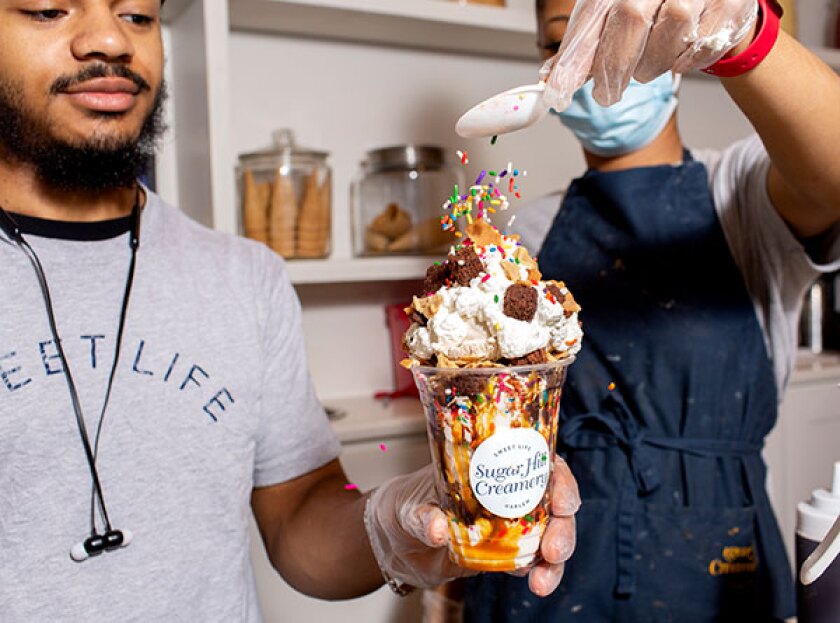 Sugar Hill Creamery, Harlem, New York (with additional locations in Brooklyn and Hamilton Heights, Manhattan)
Owners: Nick Larsen, a fine-dining chef, and Petrushka Bazin Larsen, a Harlem art educator, have crafted handmade frozen desserts inspired by their Harlem neighborhood and their Caribbean and Midwestern roots.
The scoop: The artistic, retro decor was inspired by the legendary ice cream parlor Thomforde's. The Harlem landmark was a fixture on 125th Street from 1903 to 1983.
Signature offerings: Blueberry Cheesecake, NuNu's Peach Cobbler and Cafe Touba (coffee-based ice cream).
Dairy-free options? Yes
Seating? Yes
SugarHillCreamery.com

Mikey Likes It Ice Cream, Lower East Side, Manhattan, New York (with additional locations in Harlem and Midtown, Manhattan)
Owner: Michael "Mikey" Cole loves to cook. After a brief stint in jail, he learned to make ice cream using his late Aunt Lucy's recipe. The ice cream was "so damn good," according to his friends, that Mikey was encouraged to open this pop-culture-inspired shop.
The scoop: Small takeout spot with a mix of creative and classic ice cream shop decor. Images of iconic pop celebrities from comedy to music and sports grace the walls.
Signature offerings: Mikey's Signature Triple Vanilla Ice Cream by the pint and Mac Daddy Waffle Ice Cream Sandwich.
Dairy-free options? Yes
Seating? Yes, limited
MikeyLikesItIceCream.com

Ken's Ice Cream, Carson, California
Owner: Original owner Wanda Johnson-Pope opened the shop in 1980 and passed the business to her grandson Keaton Johnson a few years ago.
The scoop: A legendary family-owned and -operated shop serving old-fashioned ice cream, milkshakes and sundaes for over 40 years.
Signature offerings: Banana sundaes and old-school milkshakes.
Dairy-free options? Yes
Seating? Yes, limited
KensIceCream.net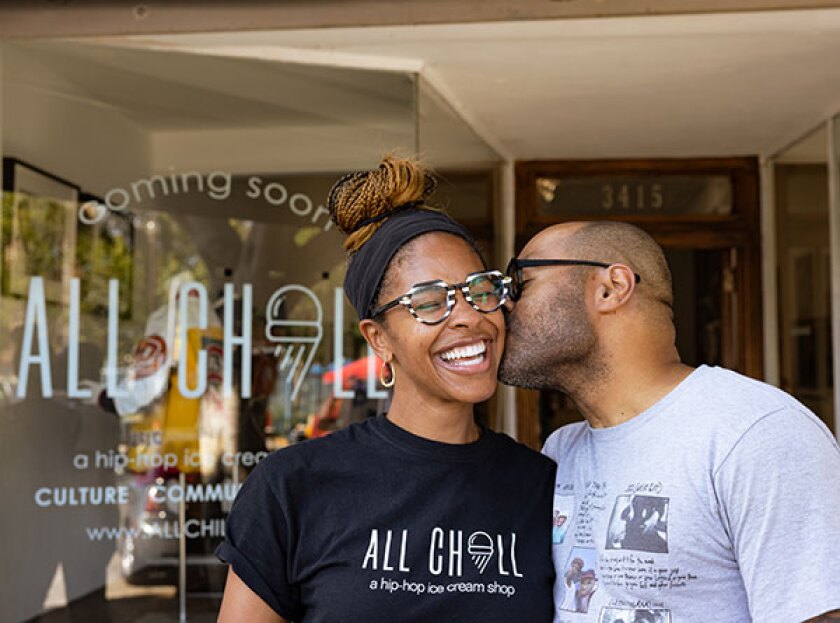 All Chill Ice Cream, Crenshaw District, Los Angeles
Owners: Genelle Brooks-Petty, an interior designer with a passion for ice cream, and her husband, Julian Petty, a music industry VP and hip-hop enthusiast.
The scoop: Located in the historically black neighborhood of Leimert Park, the shop features a rotating exhibit of hip-hop memorabilia along with homemade and organic ice cream with ingredients like fresh fruit, lavender, saffron and natural extracts. Currently only open on weekends. Check their Instagram page for hours and exhibit info (@AllChillInc).
Signature offering: Whiskey Praline.
Dairy-free options? Yes
Seating? Yes, limited
AllChillInc.com

Also: Look for these Black-owned ice cream brands at select groceries, online and at other locations
Lotus Scoop, based in Brooklyn, New York
Owner Adriane Stewart, who holds degrees in economics and law, offers
indulgent flavors made with fresh premium ingredients from the African diaspora such as maracuyá (passion fruit) with caramel swirl.. Tropical fruits and homemade desserts are incorporated. Pints of Lotus Scoop are sold in New York at Key Food, Foodtown, ShopRite, CTown, Bravo and Gala stores.
LotusScoop.com

Goon With the Spoon, Oakland, California
Bay Area rap star Earl "E-40" Tywone Stevens Sr. is owner of the Goon With the Spoon ice cream brand, made without artificial growth hormones in facilities powered by solar. The brand is set to be available in select stores.
TheGoonWithTheSpoon.com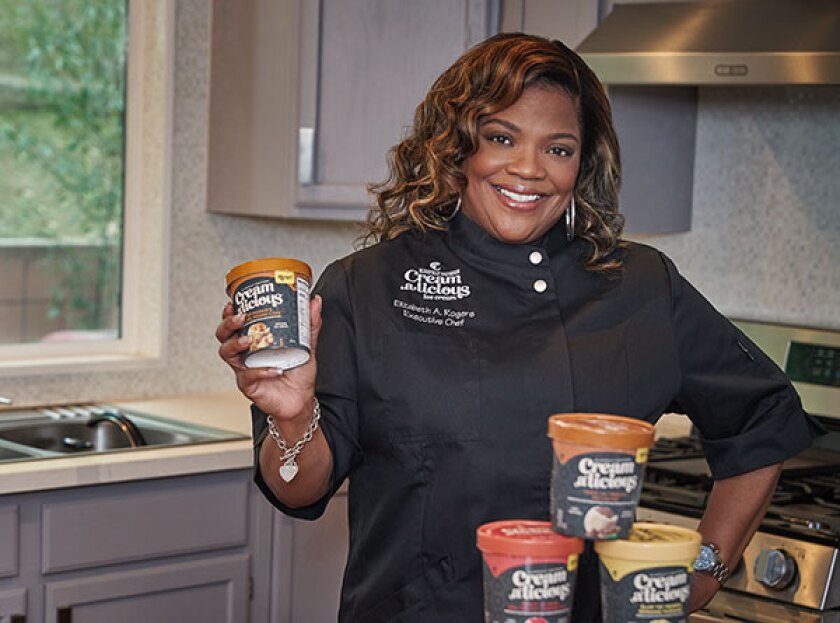 Creamalicious, based in Ohio
Owner and chef Liz Rogers pairs fresh-baked pastries with homemade ice cream to create unique flavors. Her ice cream can be found by the pint at Target and Walmart stores.
ShopCreamalicious.com

Just Luv Creamery, Los Angeles
Dominique Scott loves ice cream and decided to bring delight to others by creating Just Luv Creamery, an ice cream truck and creamery in Los Angeles. Check out her Instagram page (@JustLuvCreamery) for her upcoming truck locations.
Just-Luv-Creamery.square.site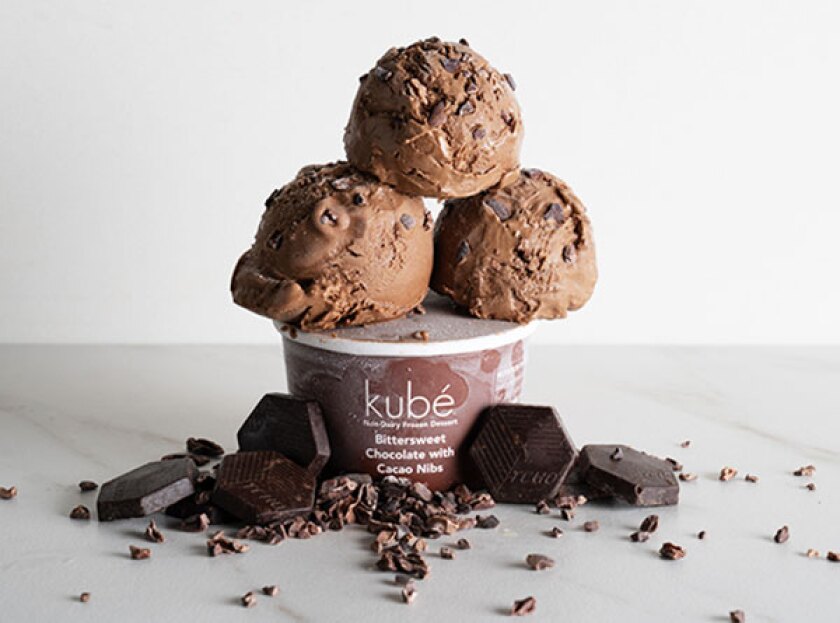 kubé, Oakland, California

Kai Nortey is the CEO and woman-facturer of kubé, an artisanal, vegan, full-fat coconut ice cream that ships nationwide. kubé is also dedicated to hiring formerly incarcerated citizens and mothers returning to the workforce.
KubeNiceCream.com

Hood Cream, New Orleans
Owner Nikki Thompson is a nondairy ice cream maker famous for her community ice cream socials. She takes ice cream orders directly from customers and makes the rounds at local New Orleans–area pop-ups.
Hood-Cream.com