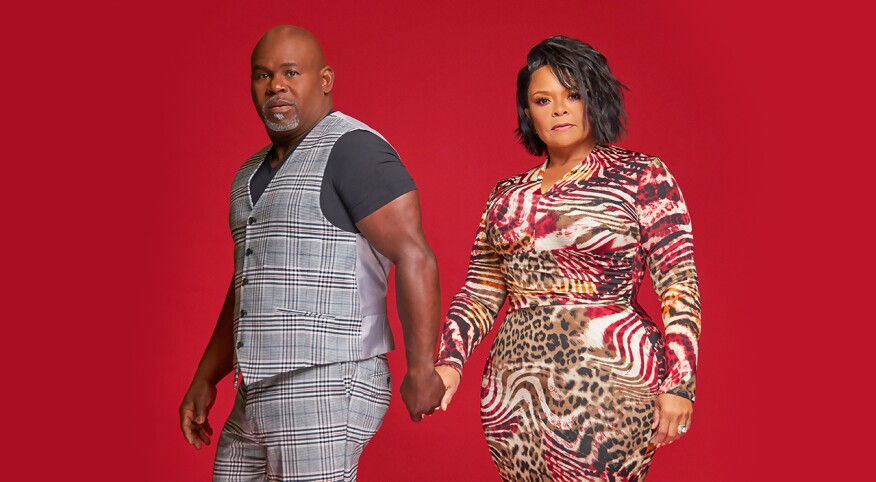 We know and love the Manns from their respective roles as the quirky Leroy Brown and his sweetheart daughter, Cora, from the Tyler Perry stage play, movie and sitcom Meet the Browns, and from starring in the BET+ holiday film Soul Santa and the current BET series Tyler Perry's Assisted Living. Together the native Texans are a dynamic duo who got their start singing with high school friend Kirk Franklin. David is an NAACP Image Award recipient for his comedic acting, and Tamela is a Grammy Award–winning singer whose latest album, Overcomer, features "Touch From You," her seventh No. 1 on Billboard's Gospel Airplay chart.

So let's get a glimpse of how this committed couple works, laughs and loves together, and celebrates the holidays with their blended family of five children and eight grandchildren.

(This interview has been edited for length and clarity.)


On the longevity of their marriage:

David: We always tell people we've figured out how to stay in love. You have a lot of couples who've been married this long. They love each other, but they're not in love. And we genuinely enjoy each other's company.

Tamela: And I like him. I'm in love with him, and I like him. For us [faith works]. Wanting to please God and loving the Lord. The Lord is first, and everything else kind of falls into place for us after that. Just loving the Lord and then loving each other and making each other a priority.

David: It doesn't hurt that she looks good, too.


On keeping that spark alive:

David: I think because we started out as friends as teenagers. We've been together for three decades. It's amazing. We started out singing together, then we've fallen in love together and we've just grown together. We've been together most of our lives. So [being together] that long you got to figure out, hey, we are in it for the long run. Let's figure out how to live the best time of our lives.


On what they appreciate most about each other:
Tamela: I love that David is protective. He's a provider, and he's very loving. He's concerned. He pays attention to everything. I can't drop a button and he doesn't know that it's dropped.

David: I'm passing her money right now for saying this.

Tamela: No, it's the truth. I'm really grateful and thankful to God for him and how he caters to me and to the family. He caters to whatever our needs are. If we say something, it's like mentally, his clock is starting to tick, to make it happen for me and for the family.

David: Her superpower is her ability to love unconditionally. When she loves [you], she loves you. She's a true caregiver. When I tell you she loves you with her whole heart.


On their biggest challenges working together:

Tamela: A challenge for me sometimes can be that David is like the Energizer Bunny. He goes on and on and on. I'm like, wait, I just need a minute. Just to gather my thoughts. Just give me a little break, and then I can catch up. And it's like he never gets tired. Other than that, I prayed and asked God for someone that loved and did the same things that I did, and the Lord blessed us with that.

David: Sleep is for suckers. [Tamela laughs.] That's the challenging part for me, [when] she needs a break.


On meeting and working with Tyler Perry:

David: I first met Tyler in 1999 in Chicago. [We had the same promoter] and I used my frequent-flier miles to go out and meet this up-and-coming writer who was doing a play. The play was I Can Do Bad All By Myself, and he had this character named Mr. Brown. So I auditioned. Tamela wasn't there, and I told [Tyler], my wife and I came as a package. She sings [with] Kirk Franklin and The Family, but she doesn't act. And it was from that point that this thing started to grow. The character Mr. Brown was developed. When people look at [Mr. Brown's] clothes, how that happened was I didn't have any wardrobe for the show. So I went down to the local thrift store in Chicago, right down from the Regal Theater, and picked up a bunch of stuff, like this will work, that will work. That's how it started and I added antics throughout the years.

Tamela: I was terrified going into it. Like David said, I was just coming on as his wife, and I was really there just to sing. [Tyler] decided to do something different. He said, we're gonna change your role. Cora is going to be [my character, Madea, and Mr. Brown's] daughter. He said, David, go home and get her ready. I'm grateful that David was coaching and directing me.

David: It wasn't that easy. She was upset with me.

Tamela: I was mad because I was like, I don't know how to act. Tyler said, if you're acting, it's wrong. He said, just come from a real place of how you would respond. I was like, OK, I think I could do that. And here we are.


On Tamela's health and wellness journey: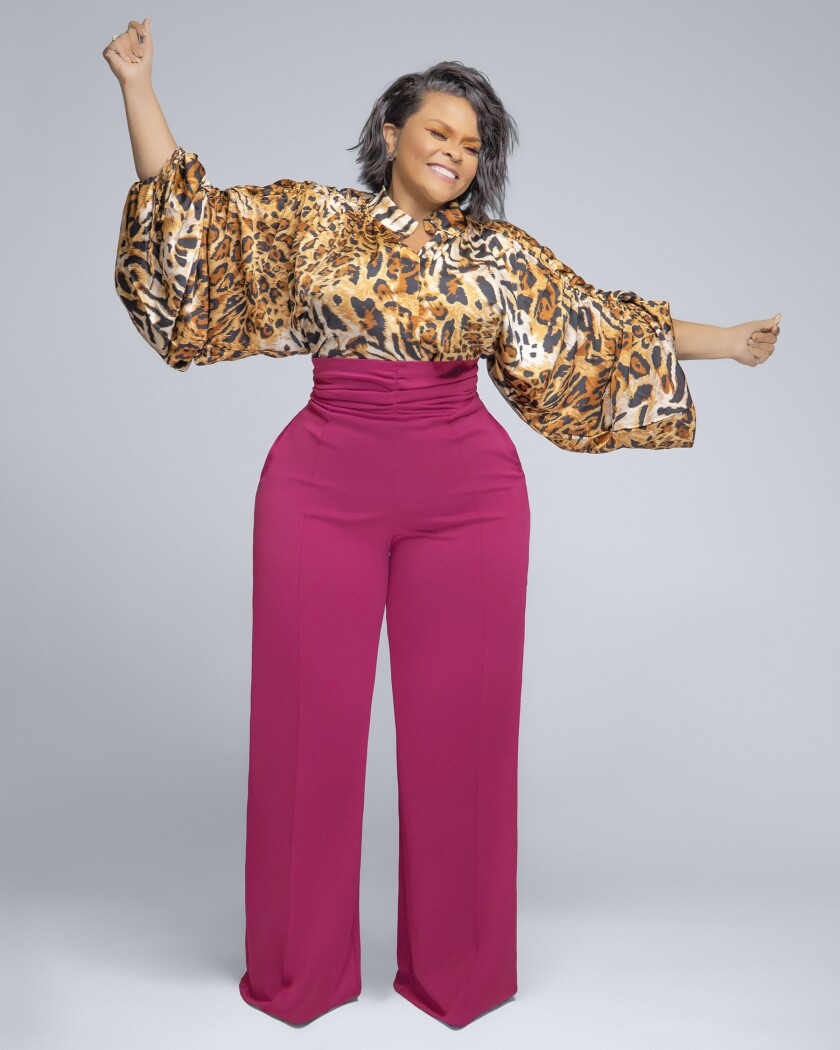 Tamela: Well, it is truly a journey. But I didn't want to be a liability to my family. Diabetes was bad on my father's side and hypertension was on my mother's side. So I want to be whole. I want to be well, to be able to do the ministry of the work that I do. A few years ago, I joined up with WW [Weight Watchers], and they really helped me see that I needed help with it. It's like I've been dealing with weight issues my whole life, still dealing with it. And it's one of those things that is a thorn in my side, with the ups and downs of it. I'm constantly asking in prayer for God to help me do better, to be a good steward over this body. I think it's important for us to just encourage other women dealing with the same issues, that we can do it and it takes time. It's not going to happen overnight. We didn't gain all the weight overnight. Sometimes I can be hard on myself because it's like, man, I just made the wrong choice today with what I ate. But it's an uphill journey and I'm really praying to overcome it where I'm not fighting with it so much.

David: We have to learn to celebrate those mountain victories. When we're dealing with those valleys, we think of [them as] losses. There's more to it than, hey, I lost these [pounds]. There's the mental part of it. So for us it's about spiritually, mentally and physically taking control of this whole man, this whole body.


On encouraging other sisters and taking time for self-care:

Tamela: It's important to take care of yourself as a woman in order to take care of your family. I realized a few years ago that sometimes I just have to steal away, maybe if that's going to get my nails or my feet done. Just take a walk, sit outside for a few minutes to just gather my thoughts, sit in a bath or something like that. Whatever it is, it doesn't always have to incorporate spending money. A lot of times we think, in order to enjoy ourselves, we have to have money, but not necessarily. Find whatever [means] of escape that you can. When it comes to our body, meaning the weight, let's just work on it. We can overcome it one day at a time.


On Tamela's new fashion and shape wear line:

Tamela: Yes, Tamela Mann Collection (tamelamann.com). I'm so excited about it. It's athleisure wear for the everyday woman. It's comfortable pieces from size 12 to 32, with some pieces that you can dress up, run your errands in or wear when you go and work out. Pop and go pieces. You don't have to do a bunch of ironing. And I'm really excited about the shape wear [sizes L/XL and 2X/3X] because it's not too tight where you are uncomfortable, but it holds you and lifts you up, like back there in your bun-buns. [I was inspired] because I was trying to find some things [for myself] that were good quality. Like, in some leggings, you can see through them, like see people's behinds.

David: Yes, Lord!

Tamela: So I wanted something that wasn't a bunch of floral prints and something really cute for us thick girls. We want to look just as cute as the smaller ladies.

David: It was really birthed out of frustration, just not being able to find something cute for the thick girl by the thick girl. I was there, so I was just throwing in my two cents.


On what's on their Thanksgiving table:

Tamela: [With] the holidays coming up, it's very important to me that we are all corralled together. I love cooking and preparing food for my family and even my presentation. I want it to look good and taste good. David usually does my meats and things that I want to be grilled or smoked outside. So we do share [cooking duties]. My dressing is a specialty, and I can't even try to do a smaller pan.

David: No, not going to work. Can't happen.

Tamela: So I would say my dressing, yams, greens …

David: Beans, potatoes, all of the stuff. You name it!

Tamela: Mac 'n' cheese. I have several [dishes] that they request. They always request this pound cake I do.

David: Now, her non-holiday specialty is her world-famous meat loaf.

Tamela: I may make meat loaf for Thanksgiving this year because I haven't had a chance to make it. I usually try to have three or four meat choices.


Tamela on her gospel music influences and favorite songs:

Tamela: Growing up, it was the Hawkins Family, Andraé Crouch, the Clark Sisters, Vanessa Bell Armstrong and James Moore. The first song that I sang was "I Don't Feel No Ways Tired," by James Cleveland. Another song I sang a lot was "Endow Me," by the Clark Sisters. My favorite kids' song would be "Jesus Be a Fence Around Me." Now I've been listening to a lot of Todd Dulaney and Todd Galberth.


David on his influences in comedy and acting: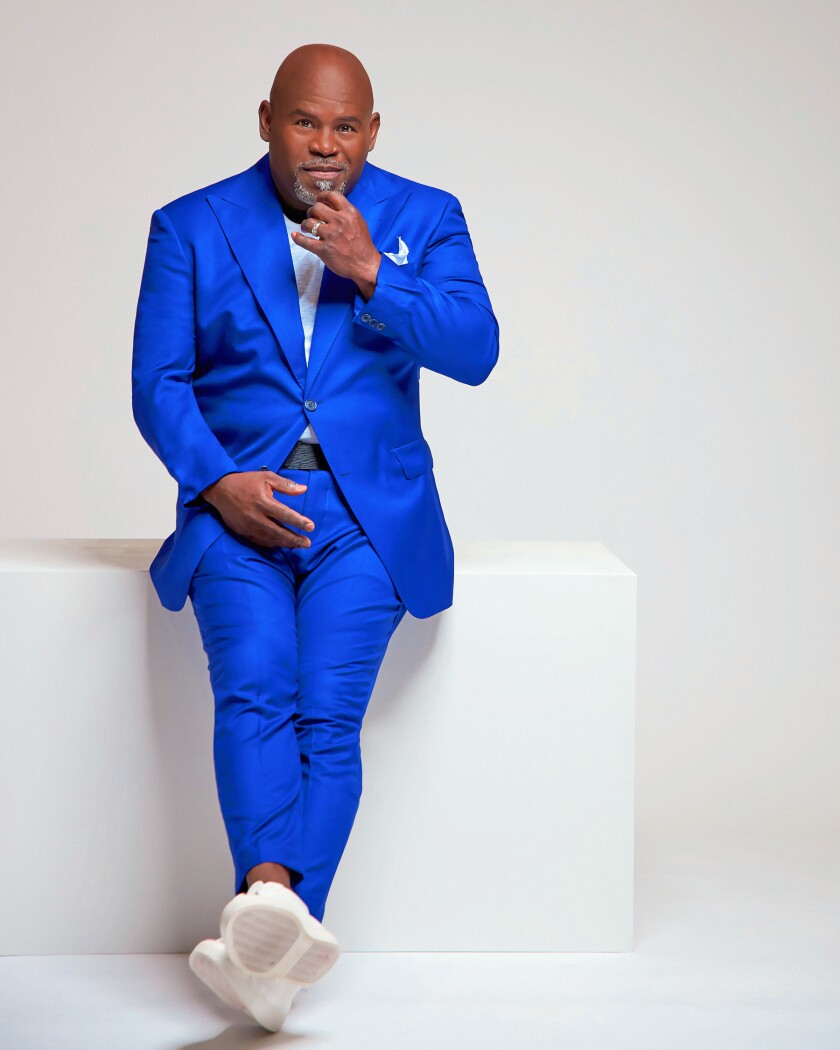 David: One of my favorite slapstick comedians was John Ritter from Three's Company and Rich Little. People like Flip Wilson, Richard Pryor, all those guys from back in the day. One of the actors that I met where I couldn't say anything was Sidney Poitier. I just was just like, yes, sir. He and Muhammad Ali were two people that I met that I just couldn't find the words.


On the importance of family:

Tamela: We taught our kids, family is all you have. You [may] have disagreements, but you have to get along. I would tell them, God forbid, if something happens to me and your dad, I don't want you to just fall apart and not be with each other, not see each other and not let the kids see each other. … We encourage families to not give up on each other. I know that we have obstacles and things that happen that are pretty rough. But let's just be more forgiving and thankful at the same time that we have each other. Because we have less time than we have more time. A lot of us are getting older. And a lot of young people are leaving the world early. Let's take advantage of the hour and love each other.

David: We extend grace to everybody else outside of the family, but in the family, we have to learn to extend more grace to each other. That's what I've been preaching to my kids for years. Grace. I think if we extend more grace to each other, more love will show up. Oh, I need to preach that. Hallelujah!